Brazil's President Dilma Rousseff breaks silence over unrest, promising reforms
In a televised address, she also referenced her own struggles against the country's former military junta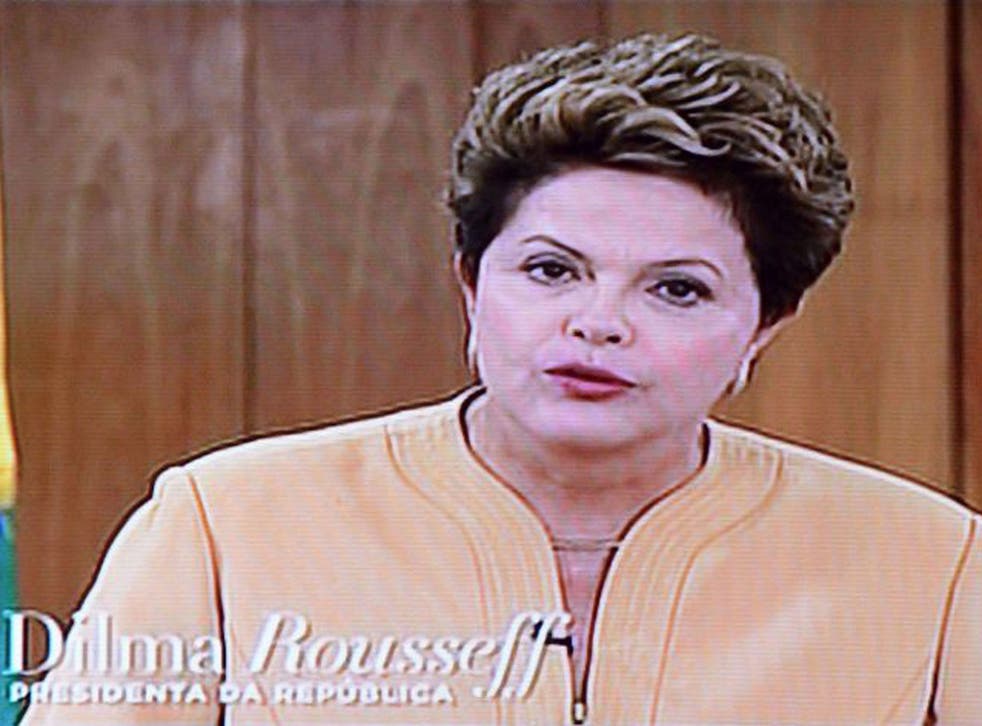 Brazil's president, Dilma Rousseff, has invoked her own past, battling the country's military junta, in a televised speech to placate youthful protesters who have energised widespread and at times violent anti-government protests.
Breaking her notable silence since the unrest broke out, she also promised to make improvements in urban transportation and battle corruption, but offered few specific details.
The leader added she would soon hold a meeting with leaders of the protest movement, governors and the mayors of major cities. But it remained unclear exactly who could represent the massive and decentralised groups of demonstrators taking to the streets, venting anger against woeful public services despite a high tax burden.
A hike in bus and subway fares in many cities, notably Sao Paolo, was the protests' original complaint.
The leader, a former Marxist rebel who fought against Brazil's 1964-1985 military regime and was imprisoned for three years and tortured by the junta, pointedly referred to earlier sacrifices made to free the nation from dictatorship.
"My generation fought a lot so that the voice of the streets could be heard," Rousseff said, during the pre-recorded speech. "Many were persecuted, tortured and many died for this. The voice of the street must be heard and respected and it can't be confused with the noise and truculence of some troublemakers."
During the 10-minute prime time speech, which followed an emergency cabinet meeting, she also said that her government would create a national plan for public transportation in cities. She also reiterated her backing for a plan before congress to invest all oil revenue royalties in education and a promise she made earlier to bring in foreign doctors to areas that lack physicians.
"I want institutions that are more transparent, more resistant to wrongdoing," Rousseff said in reference to perceptions of deep corruption in Brazilian politics, which is emerging as a focal point of the protests. "It's citizenship and not economic power that must be heard first."
Edvaldo Chaves, a 61-year-old doorman in Rio's upscale Flamengo neighborhood, said he found the speech convincing.
"I thought she seemed calm and cool. Plus, because she was a guerrilla and was in exile, she talks about the issue of protests convincingly," Chaves said. "I think things are going to calm down. We'll probably keep seeing people in the streets but probably small numbers now."
But Bruna Romao, an 18-year-old store clerk in Sao Paulo, said Rousseff's words probably wouldn't have an impact.
"Brazilians are passionate," she said. "We boil over quickly but also cool down fast. But this time it's different, people are in full revolt. I don't see things calming down anytime soon."
Trying to decipher the president's reaction to the unrest had become a national guessing game, especially after some 1 million anti-government demonstrators took to the streets nationwide on Thursday night to denounce everything from poor public services to the billions of dollars spent preparing for next year's football World Cup and the 2016 Olympics in Brazil.
Join our new commenting forum
Join thought-provoking conversations, follow other Independent readers and see their replies