Brazilian football fans shot in the head by gunmen who stormed barbecue in Sao Paulo
Eight members of the Pavilhao 9 group were murdered by the gang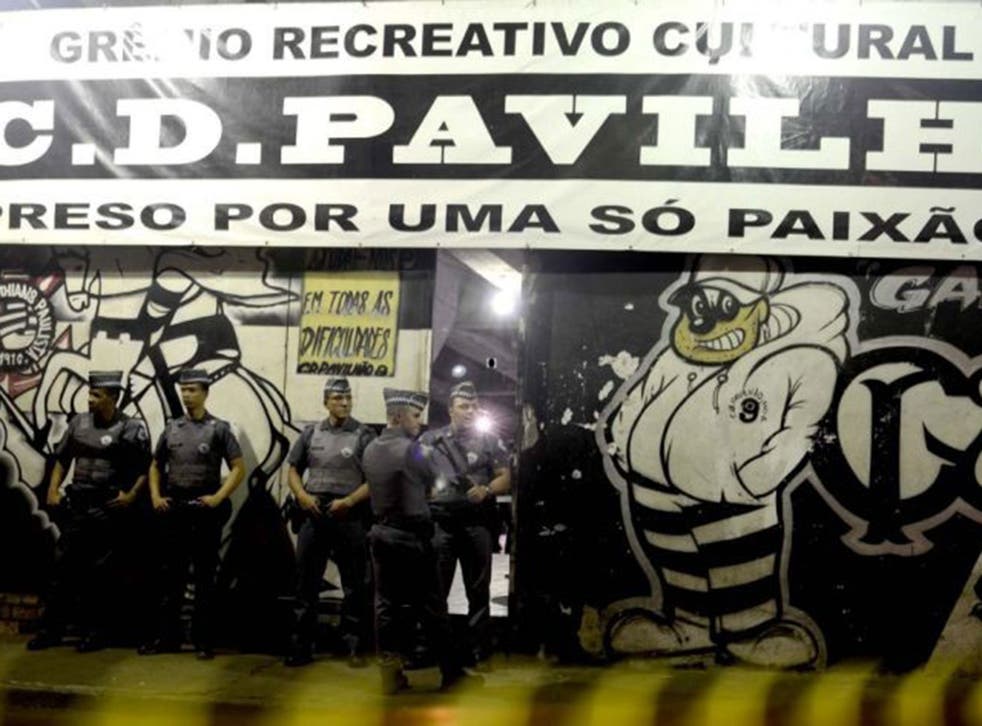 Eight football fans have been murdered in Brazil by gunmen who ordered them to lie down and shot them in the head.
Police said the gang targeted a fan group for the Corinthians in São Paulo, said to have links to the notorious Carandiru prison.
Witnesses said that members of Pavilhao 9 were having a barbeque beneath a motorway overpass when the gunmen stormed in and executed the eight victims – seven lying face-down on the ground and an eighth who managed to escape.
He was shot but reached a petrol station and was taken to hospital, where he died.
Detective Arlindo Jose Negrao ruled out a fight between rival fan groups as a motive and would not reveal police's suspicions in case it interfered with the investigation.
"Through witnesses, we are already exploring a line of investigation, which is not leading us to believe it was caused by fan rivalry," he said. "We even have possible suspects."
The victims had been enjoying their club barbecue and making flags for the Corinthians' match against the Palmeiras on Sunday.
The team plays in Campeonato Paulista, São Paulo's premier state league, as well as in top national division Campeonato Brasileiro Série A.
Pavilhao 9 was founded by a group of fans who played football with inmates at the Carandiru Penitentiary, known widely for a massacre that left 111 inmates dead in 1992.
Military police sent in to supress a prisoners' revolt were accused of shooting more than 100 of the victims, while others died at the hands of fellow inmates. The prison was closed and demolished in 2002.
The Corinthians team posted the word "luto", meaning "mourning" against a black backdrop on its official Facebook page, where fans have been flooding to pay their respects to Saturday's shooting victims.
Andres Sanchez, a politician and the team's former president, said he was "deeply saddened to learn of what had happened at Pavilhao 9, with which I had a strong bond since I was a child".
Football fan groups are often the subject of police investigations in Brazil for links to drug traffickers and violence at stadiums.
Last year, members of another Corinthians group called Gavioes da Fiel invaded the team's training centre, enraged with a poor match performance.
They allegedly attacked staff and grabbed Peruvian striker Paolo Guerrero by his neck, forcing other players to barricade themselves inside changing rooms until police arrived.
"It is widely known that criminal organisations are inside of all fan clubs. Organised crime uses these fan groups as a front for their misdeeds," Juca Kfouri, one of Brazil's best-known sports commentators, told CBN radio.
Additional reporting by AP
Register for free to continue reading
Registration is a free and easy way to support our truly independent journalism
By registering, you will also enjoy limited access to Premium articles, exclusive newsletters, commenting, and virtual events with our leading journalists
Already have an account? sign in
Register for free to continue reading
Registration is a free and easy way to support our truly independent journalism
By registering, you will also enjoy limited access to Premium articles, exclusive newsletters, commenting, and virtual events with our leading journalists
Already have an account? sign in
Join our new commenting forum
Join thought-provoking conversations, follow other Independent readers and see their replies