Breitbart plans global domination after helping send Donald Trump to White House
Right-wing news site that helped elect The Donald with inflammatory stories has global ambitions
Wednesday 16 November 2016 13:57 Comments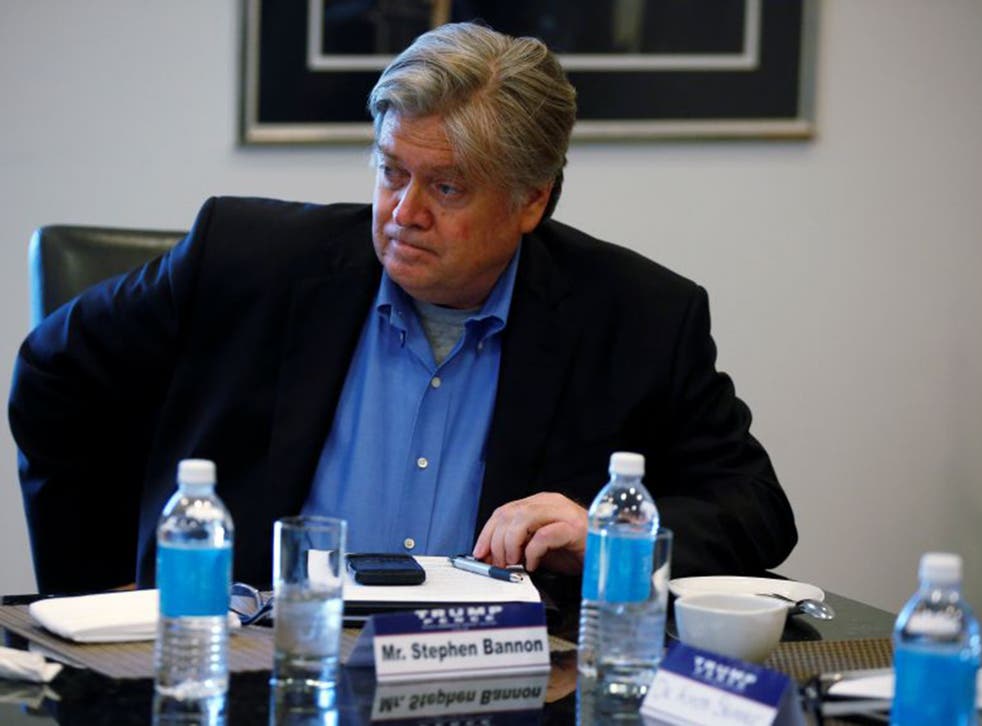 The far-right news website Breitbart helped send Donald Trump to the White House with no-holds barred opinions and incendiary headlines that drew fire from mainstream media and pundits.
Now, it seems, it wants to take that movement global.
Growing out of its origins as a community of conservative bloggers, Breitbart News Network mirrored the tone of Mr Trump's campaign with provocative and sometimes inaccurate claims, and was accused of being racist, xenophobic and worse.
Breitbart, whose former chairman Steve Bannon has been tapped for a key White House post after helping to mastermind Mr Trump's campaign, outperformed many media outlets to get the fourth largest number of "engagements" by internet users on election night, according to the analytics group NewsWhip.
Breitbart has signalled its intention to expand its global footprint, with sites expected in France and Germany after moving into Britain and supporting the Brexit campaign.
The site was created by the late conservative commentator Andrew Breitbart, and some examples of Breitbart headlines include "Gay rights have made us dumber, it's time to get back in the closet", "There's no hiring bias against women in tech, they just suck at interviews", and "Science proves it: fat-shaming works".
The website was among the outfits cited for the "worst journalism" of 2014 by the Columbia Journalism Review for erroneously reporting that the nominated attorney general Loretta Lynch had been a lawyer for Bill Clinton – and failing to correct the mistaken report that was based on another lawyer named Loretta Lynch.
Breitbart did not respond to a query about its expansion plans.
But a leader of France's far-right National Front said on Tuesday that she welcomed reported plans by the group to expand and support the party's presidential campaign.
"All alternative media are generally positive. Donald Trump is the demonstration of that... they're among the useful tools," said Marion Maréchal-Le Pen, whose aunt Marine is the leader of the National Front.
Placing Breitbart's former chief in the White House could create some awkward situations and potential conflicts of interest, according to some analysts.
Former Breitbart spokesman Kurt Bardella – who quit earlier this year – told The New York Times Mr Bannon's role will mean Breitbart will be "as close as we are ever going to have – hopefully – to a state-run media enterprise".
Angelo Carusone of the left-leaning watchdog group Media Matters for America, also predicted Mr Bannon's role will create a difficult diplomatic position for the Mr Trump administration if Breitbart is "supporting foreign movements while his government is engaging with those governments".
Ken Paulson, a former USA Today editor-in-chief who is dean of the College of Media and Entertainment at Middle Tennessee State University, said it's not clear what the rise of Breitbart and other partisan news outlets means for the mainstream media.
"The real question is whether there will continue to be a market for well researched and balanced coverage that doesn't pander to one side or the other," he said.
Mr Paulson drew a parallel between Breitbart and early newspapers that were designed "to share a political philosophy and undermine political rivals".
The site "feels very 18th century to me", he said.
Jeff Jarvis, a City University of New York journalism professor who blogs on media, also described Breitbart last month as one of several "political movements masquerading as media".
For Mr Carusone, Breitbart appears to be "challenging global power structures, and the way they do that is by preying on racial anxieties".
While Breitbart offers a "veneer" of being a media organisation, he said, "they have no noticeable editorial standards or journalistic practices, they do function like a political organism".
Mr Bardella this year quit the organisation, protesting that under Mr Bannon's leadership it became "the de facto propaganda machine for Donald Trump" and filled with "hateful rhetoric".
"Steve ran the site and controlled the content as a dictator, not only limiting the expression of his journalists but also purposefully changing the narrative to increase vitriol, playing to the fears of his readers," Bardella wrote in a column in The Hill newspaper.
President Trump protests

Show all 20
Breitbart has lashed out at critics who allege it has links to extremists, and has threatened to sue one media outlet.
In a statement to The Hill, the group said it "is preparing a multimillion dollar lawsuit against a major media company for its baseless and defamatory claim that Breitbart News is a 'white nationalist website'."
On its site, Breitbart has also hit back at claims Mr Bannon is anti-Semitic.
"The losers of the left have worked themselves into such a bizarre hysteria over the fact that they lost the White House that they have lost all connection to reality," said an article on Monday by David Horowitz.
"I can't think of anything stupider than the charge coming from all quarters of the left – including a headline in the pathetically wretched Huffington Post – that Bannon is an anti-Semite."
AFP
Register for free to continue reading
Registration is a free and easy way to support our truly independent journalism
By registering, you will also enjoy limited access to Premium articles, exclusive newsletters, commenting, and virtual events with our leading journalists
Already have an account? sign in
Join our new commenting forum
Join thought-provoking conversations, follow other Independent readers and see their replies