Trump supporter found guilty over death threats to Congress
Brendan Hunt faces up to 10 years in prison over threat to 'slaughter' Democrats after Capitol riot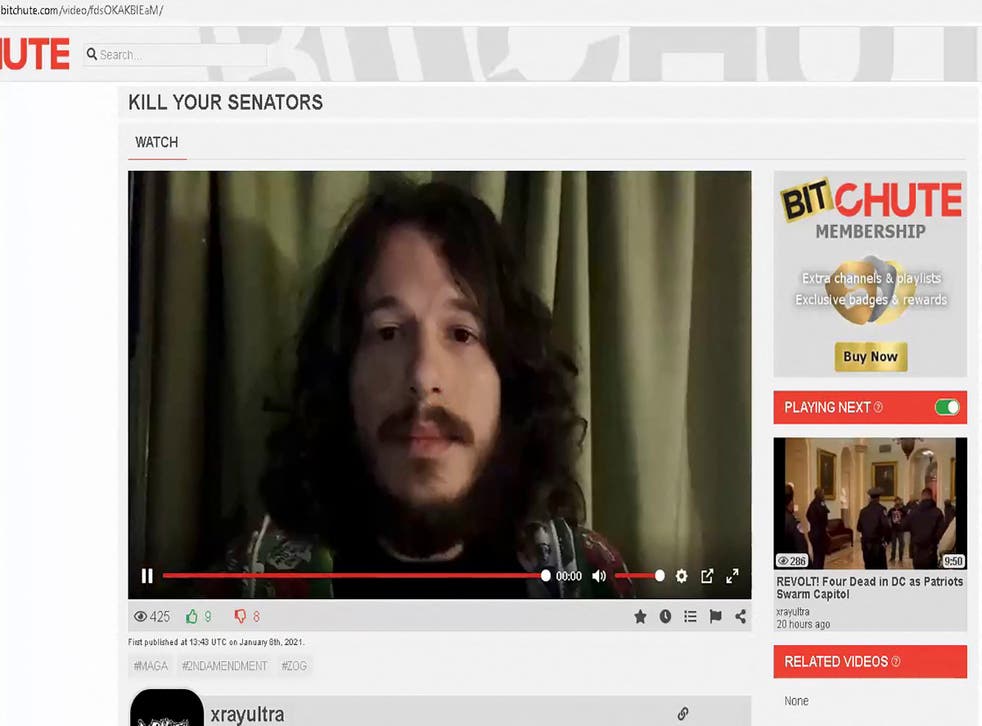 Leer en Español
An ardent supporter of Donald Trump who called for the "slaughter" of members of Congress two days after the Capitol riot faces up to 10 years in prison after a jury found him guilty of threatening lawmakers.
On 8 January, two days after the assault on the Capitol, Brendan Hunt posted a video titled "KILL YOUR SENATORS: Slaughter them all" to a website popular with the far-right.
He also posted several threats on social media in December targeting Democratic lawmakers, including House Speaker Nancy Pelosi, Senate Majority Leader Chuck Schumer and US Rep Alexandria Ocasio-Cortez.
The 37-year-old was arrested on 19 January. He will be sentenced in June.
"We need to go back to the US Capitol, when all of the senators and a lot of the representatives are back there, and this time we have to show up with our guns," he said in a video posted to BitChute. "And we need to slaughter these mother*******."
On the right-wing platform Parler, he also called for Trump supporters to "bring your guns" to the Capitol on 20 January, the date of Joe Biden's inauguration, according to court documents.
Attorneys for Mr Hunt, who was prosecuted in US District Court in Brooklyn, argued that the comments made from his home in Queens were constitutionally protected speech that did not constitute legitimate threats, despite their content.
In testimony to the court on Tuesday, Hunt – the son of a retired judge – said he was joining in with inflammatory online rhetoric at the time and was under the influence of drugs and alcohol while posting.
"The idea that I would somehow borrow somebody's gun, waltz into Biden's inauguration ceremony like some Looney Tunes character and somehow line up all senators and execute a firing squad on them, I think is a pretty ridiculous idea," he said. "I'm sort of just a YouTube guy who makes controversial content and clickbait videos."
The jury returned a verdict after three hours of deliberation on Wednesday.
In their verdict, jurors indicated that they found only the video – not the Facebook and Parler posts – to be a true threat for his conviction.
Though Hunt did not participate in the deadly riots at the Capitol on 6 January, he is among the first to be convicted of crimes in connection with the attacks, and the first to face a prison sentence for online threats made in its wake.
The Justice Department has charged at least 400 people in connection with the assault on Congress, fuelled by the former president's persistent lie that the election was stolen from him and supporters.
Federal prosecutors expect "at least" 100 more people will face charges, they revealed in court documents last week.
"The investigation and prosecution of the Capitol attack will likely be one of the largest in American history, both in terms of the number of defendants prosecuted and the nature and volume of the evidence," prosecutors wrote in district court filings on Thursday.
Prosecutors are targeting individuals as well as members of far-right groups as part of several conspiracy investigations, they said.
"As the Capitol attack investigation is still on-going, the number of defendants charged and the volume of potentially discoverable materials will only continue to grow," they argued in filings. "In short, even in cases involving a single defendant, the volume of discoverable materials is likely to be significant."
Join our new commenting forum
Join thought-provoking conversations, follow other Independent readers and see their replies