'Say her name': Breonna Taylor and the underreported scourge of police violence against black women
'It's not that we lack stories of black women killed by the police; rather, it seems that we don't know what to do with them'
Friday 05 June 2020 21:37 Comments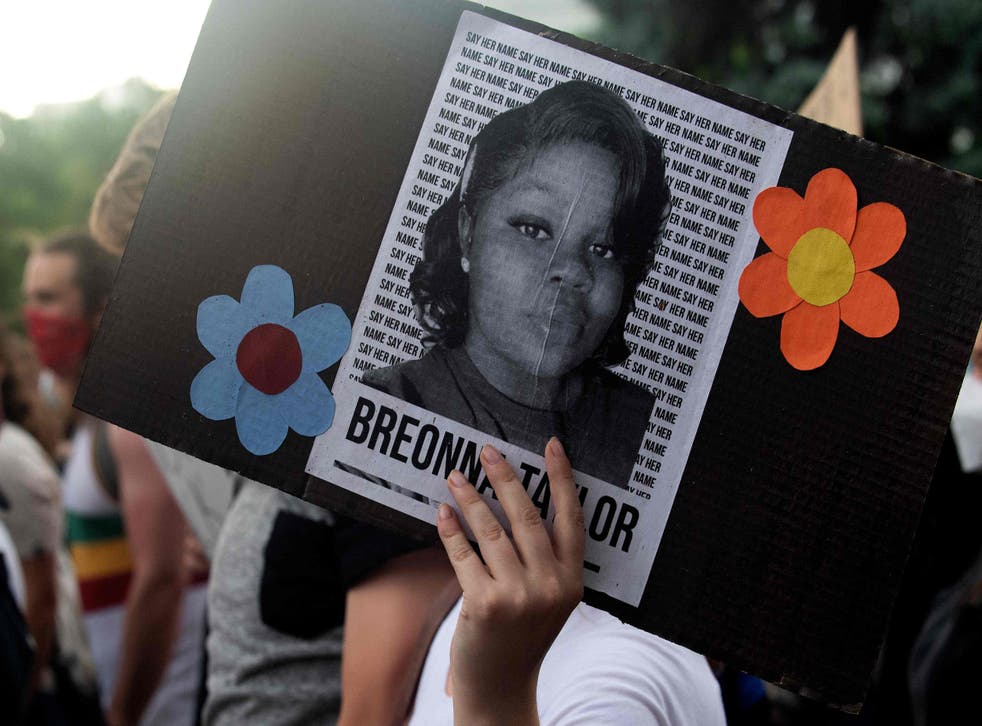 Before George Floyd, there was Breonna Taylor.
The 26-year-old's name now appears on signs and is shouted aloud alongside Mr Floyd's at protests across the United States, amid a national reckoning over police violence against black people. She, too, was killed at the hands of police, on March 13, as they stormed into her Louisville home in the middle of the night to serve a controversial 'no-knock' warrant.
But at the time, her death went largely unnoticed outside of her hometown. Until the subsequent killings of Mr Floyd and Ahmaud Arbery — who was shot by two white men in Georgia while jogging — her family had struggled to have their case heard. Even today, the officers who killed Ms Taylor have not been charged or fired.
Her story is one of many cases of police violence against black women that have failed to attract nationwide attention. On what would have been her 27th birthday, activists are raising awareness of the hidden scourge they say deserves separate consideration in the conversation around racial violence by police.
"The erasure of black women is a consequence of that fact that we don't know their names and therefore we don't know their stories," said civil rights advocate and law professor Kimberlé Crenshaw, who founded the 'Say Her Name' campaign to highlight police violence against black women.
George Floyd death: Minneapolis protests erupt in the streets

Show all 30
"If black lives really do matter, all black lives have to matter. That means black lives across gender have to be lifted up," she told Good Morning America on Friday, as her campaign encouraged people online to discuss the share the names of other black women who died at the hands of police: Atatiana Jefferson, Natasha McKenna, Pamela Turner, Sandra Bland and Kayla Moore, to name a few.
The killings of black women follow a familiar pattern, according to Professor Crenshaw. Commenting in October 2019 on the death of 28-year-old Ms Jefferson, another black woman at the hands of police, she wrote:
"It's not that we lack stories of black women killed by the police; rather, it seems that we don't know what to do with them," she wrote.
"The families of these women often suffer in relative obscurity. Their daughters' deaths don't elicit the marches or news coverage that could catalyze accountability. When most people think about anti-black violence, like lynchings or police killings, they think about men," she continued.
While the risk for black men dying at the hands of police is significantly higher than for women — police killings account for 1.6 percent of all deaths of black men aged 20 to 24 nationwide — black women are killed at a disproportionate rate compared to other races.
They make up just 10 per cent of the population and account for 33 percent of all women killed by the police. They are "the only race-gender group to have a majority of its members killed while unarmed," according to a study by the Fatal Interactions with Police (FIPS) research project, and cited by Professor Crenshaw. The same study found that 57 per cent of black women were unarmed when they were killed.
Separate research also shows that black women are disproportionately at risk of arrest. A 2017 study noted that the rate of arrest for black women is 2.8 times the arrest rate of white women.
Ms Taylor was one of those unarmed victims. She was an emergency medical technician, an essential worker, and had been working long hours as coronavirus cases were spreading across the country.
"She had a whole plan on becoming a nurse and buying a house and then starting a family," she said at a vigil in Louisville last month. "Breonna had her head on straight, and she was a very decent person."
In an interview to mark her daughter's birthday, she added: "In that brief moment, where people forgot about her for two months at a time, people need to know that Breonna Taylor mattered and that Breonna Taylor was great."
Ms Taylor was killed in her bed as officers rushed into her apartment. Police had obtained a controversial 'no-knock warrant' to investigate acquaintances of Ms Taylor's boyfriend they believed were selling drugs.
The officers, who were not in uniform, fired 20 rounds during the raid. Eight of them hit Ms Taylor. Police said they fired in response to the boyfriend, Kenneth Walker, firing his weapon. According to a lawsuit filed by the family over Ms Taylor's death, Mr Walker thought he was firing at intruders.
"Breonna had committed no crime, posed no immediate threat to the safety of the defendants, and did not actively resist or attempt to evade arrest prior to being repeatedly shot and killed by the defendants," the lawsuit says.
The officers behind the raid, Jonathan Mattingly, Brett Hankison, and Myles Cosgrove, are currently on administrative leave pending the results of an investigation, which is being aided by the FBI.
George Floyd protests: the understated peaceful side of the movement
Louisville's mayor, Greg Fischer, last week announced the suspension of all 'no-knock' warrants. But many people have grown frustrated over the slow pace of justice in the case.
In a statement to mark her birthday on Friday, Kentucky state representative and US senate candidate Charles Brooker called for major police reform.
"Breonna Taylor should be alive to celebrate her birthday today," he said in the statement.
"We are going to celebrate it for her, by demanding justice, accountability, and the complete overhaul of policing so that this never happens to anyone ever again."
Today, in protests across the country, protesters shout Ms Taylor's name alongside George Floyd's.
"Let me tell y'all something," said one black woman at a recent protest in Brooklyn, addressing a crowd of several hundred. "Whenever we talk about black lives, let me just remind everyone. The black woman is the most hunted person on this earth."
"If we want to bring change, it starts with us now."
Register for free to continue reading
Registration is a free and easy way to support our truly independent journalism
By registering, you will also enjoy limited access to Premium articles, exclusive newsletters, commenting, and virtual events with our leading journalists
Already have an account? sign in
Join our new commenting forum
Join thought-provoking conversations, follow other Independent readers and see their replies