Cartoon depicting Brett Kavanaugh's daughter sparks fierce backlash
Cartoonist Chris Britt depicted the Supreme Court nominee's 10-year old daughter praying for her father's salvation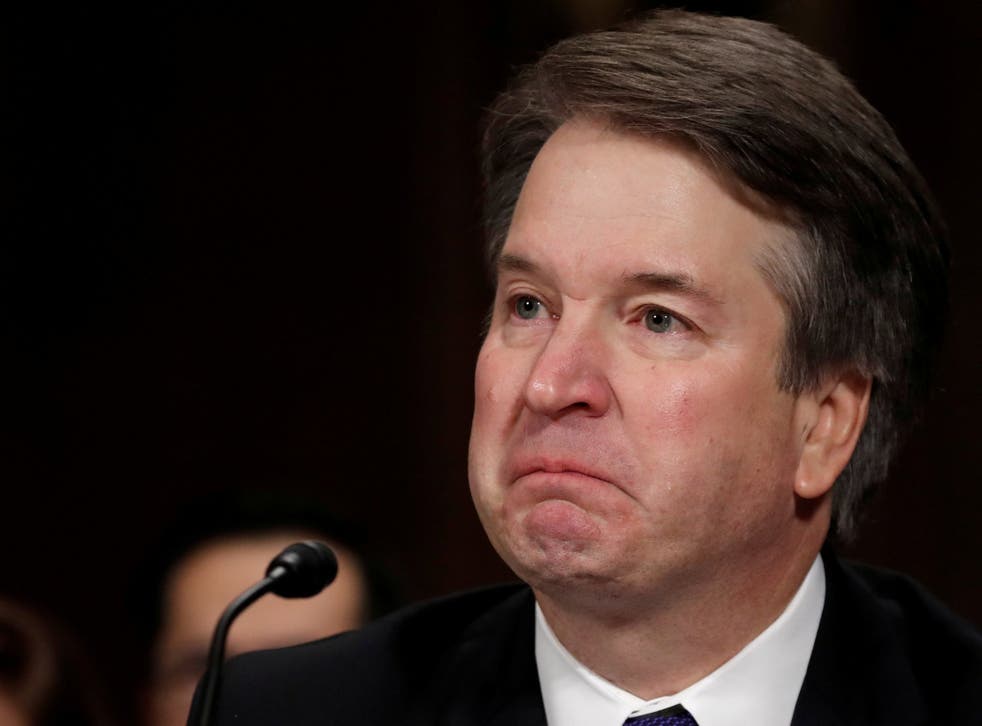 It's a line that staff and syndicated political cartoonists rarely cross.
You don't parody or lampoon the children of political figures if they are minors, the common belief goes - much in the same way that White House correspondents generally don't write about the personal lives of underage members of the first family.
Last week, however, veteran cartoonist Chris Britt decided to cross that line with an image that has sparked a blast of sharp blowback.
Britt's 28 September cartoon, as distributed by the Creators syndicate, depicts 10-year-old Liza Kavanaugh praying about her father, Supreme Court nominee Brett M Kavanaugh. Kneeling bedside, she says: "Dear God, forgive my angry, lying, alcoholic father for sexually assaulting Dr Ford."
The cartoon uses as fodder the opening statement by Judge Kavanaugh during his Senate Judiciary Committee last week, when he recounted that Liza had said to her mother that "we should pray for the woman," Christine Blasey Ford.
Judge Kavanaugh's testimony was directly preceded by that of Dr Ford, the California professor who accused the Supreme Court nominee of sexually assaulting her in the '80s, when both were Maryland prep-school students. Judge Kavanaugh has denied the allegations.
Some social media users have called Britt's latest cartoon "horrific," "unconscionable" and "beyond disgusting."
The cartoon was posted to Britt's Facebook page, where the liberal cartoonist responded to some critics before deactivating his account. Britt told The Washington Post in an interview that he had received thousands of comments attacking his cartoon.
"Kavanaugh is the one who ushered his own daughter into the national conversation by telling us his story" about her prayer, Britt said, defending the cartoon. He added: "The cartoon is not about his daughter - it's about Brett Kavanaugh's possible heavy drinking, his anger and his possibly sexually assaulting Doctor Ford."
"That's what we do in this business," Mr Britt said. "I based my cartoon on (Ford's) testimony - I happen to believe what she said. Her testimony was credible and thoughtful, and that's why I went where I did."
Many critics of the cartoon objected to his choosing to depict Judge Kavanaugh's younger daughter, however, and a firestorm began to heat up over the weekend, after the Twitter user @vbspurs complained about the work to The Illinois Times, writing that the commentary "contravenes every standard of decency in our society."
The newspaper, however, says that it never published the cartoon. The weekly paper tweeted a clarification to say that while Mr Britt is a regular freelance contributor, the newspaper's name "should not have appeared in the cartoon." Mr Britt said he routinely includes the affiliation in the cartoon, per his agreement with the paper - even if it's only published by his syndicate. The paper said that it has asked him to remove that affiliation from the 28 September cartoon.
World news in pictures

Show all 50
Mr Britt says that he and his syndicate mutually decided to remove the cartoon from his Creators.com page, where most of the artist's recent cartoons mock Judge Kavanaugh and President Donald Trump.
Mr Britt says that he has received multiple death threats as a result of the Sept. 28 cartoon and that he has filed a report with law enforcement. "I don't mind people being angry with my cartoons," he said, but people "posting my home address online and (threatening) me" is another matter.
Mr Britt, who entered editorial cartooning in 1990, worked on the staffs of several newspapers in Texas, California and Washington state before being laid off by Illinois' State Journal-Register in 2012. Since then, he has also worked as a children's author.
He told The Illinois Times in 2005: "People say (editorial) cartoons are biased, unfair and mean-spirited - and they are."
The Washington Post
Join our new commenting forum
Join thought-provoking conversations, follow other Independent readers and see their replies