With no-deal Brexit on the horizon, US farmers are sensing a lucrative opportunity
The British government has promised not to skimp on food standards after leaving the EU – but in the land of chlorinated chicken and hormone-fed beef, a post-Brexit trade deal still offers tantalising possibilities. Clark Mindock reports from Iowa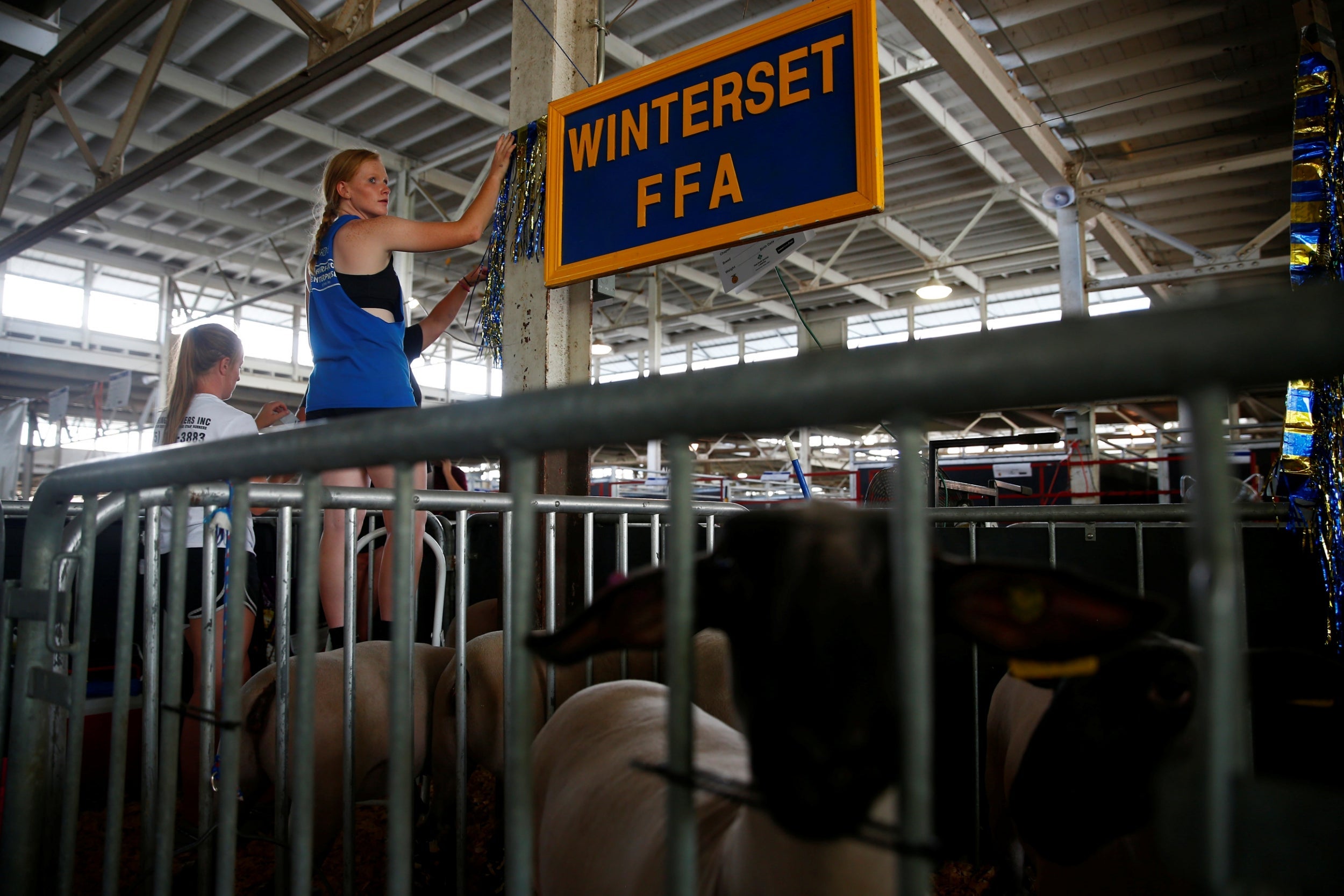 With the UK facing an uncertain future as Boris Johnson marches the country towards a no-deal Brexit, American farmers can't help but see something of a golden opportunity to bring their goods into a new market.
While many US farmers have historically been turned away from trading with the UK over fears for the implications of practices such as washing chickens in chlorine, or the use of genetically modified crops, Britain's impending exit from the EU has left some dreaming of a change to that situation.
On a blistering summer day in Iowa, the idea is hard to avoid for farmers such as Leon Sheets, a pork producer from the northeast of the state who also maintains 600 acres of row crops.
"Hey, let's have the conversation. Let's work out a deal," Sheets says, emulating the kind of language one might expect from Donald Trump.
When prodded further, Sheets acknowledges that he hopes to see a post-Brexit trade deal that would allow for the introduction of products that have previously been off the table: "That's what the goal is – no restrictions, so products can move freely back and forth."
It is an issue that has received backing from prominent American farming executives, even if some lip service has been given to having "a conversation" about the US food standards that have worried some in the UK.
Currently farming exports to Britain – including wine, nuts and fruit – are worth only about $1.8bn (£1.47bn), a fraction of the total overall sales of $133bn. That means there is potentially massive room for growth, under the right circumstances.
With the US saying that the UK will be "first in line" for a trade deal following Brexit, Zippy Duvall, the head of the American Farm Bureau, recently said that they are eagerly watching for ways to begin a trade partnership – but that Britain had to accept US standards.
"You know, here in America we treat our water with chlorine," Duvall, a poultry farmer himself, told the BBC.
He claimed it was not a public health issue, saying: "So there is no scientific basis that says that washing poultry with chlorine wash just to be safe of whatever pathogens might be on that chicken as it was prepared for the market should be taken away. If there was something wrong with it our federal inspection systems would not be allowing us to use that."
Chlorine-washed chicken was banned by the European Union in 1997, which virtually stopped all exports from the United States of US chicken meat, which is often treated with the antimicrobial wash.
The wash itself, though, is not the issue.
The EU's Food Safety Authority said in 2005 that "exposure to chlorite residues arising from treated poultry carcasses would be of no safety concern". Chlorine-washed bagged salads are sold in the UK and other countries in the EU, for instance.
But what is of concern is that relying on chlorine washes – which proponents say makes harmful bacteria virtually undetectable – at the end of the process allows farmers to keep unsanitary conditions for the chickens earlier on. And the wash could allow for crowded abattoirs where disease could theoretically spread with greater ease.
While it is tricky to compare the rates of food-borne illnesses between two countries, two separate studies would suggest that the US experiences higher rates of salmonella infection. One British government study from 2014 found that there were roughly 55 salmonella infections per 100,000 people, when analysing 2009 data. A separate study of the US found a rate of 350 infections per 100,000 people, using data from 2002-08.
When it comes to deaths, the US also reports higher numbers. While the US Centres for Disease Control and Prevention reports around 380 deaths a year due to food-borne salmonella, England and Wales had zero such deaths between 2006 and 2015, according to the most recently available data from Public Health England.
Dispatches programme on chlorinated chicken in the US
Gail Soutar, the chief European Union exit and international trade adviser for the National Farmers Union (NFU), says there was a considerable level of anxiety that a hasty and chaotic Brexit could leave UK farmers competing against a flood of international goods coming in, and undermining their prices.
Soutar says she is particularly concerned at the prospect of a no-deal outcome, and the impact that subsequently high tariffs on UK agricultural products could have. Farmers, she worries, could be threatened by a flood of new goods being brought in from the US, which could undermine efforts to honour European Union standards – with the EU, for now, a much larger trading partner than the US.
"There is a concern that we are going to see an increase of imports coming into the UK under a no-deal situation," she says. "It remains absolutely key that we get a deal with the EU."
UK politicians have at least paid lip service to the notion that standards will not be abandoned in pursuit of a deal, with former environment secretary Michael Gove telling an NFU conference in February that they would not abandon those requirements "in pursuit of trade deals".
But thousands of miles away in Iowa, the outcome of negotiations between the UK and EU are understandably less of a concern for farmers. Whereas UK farmers may be feeling some anxiety, American farmers are clearly sensing opportunity.
Bill Tenneger, a pig producer in northwest Iowa, says Donald Trump's trade war with China had been hurting farmers like him, but he thinks Mr Trump could potentially capitalise on a weak negotiating position following Brexit.
"Haven't [traded with them] in the past but the UK just came and asked, I just seen this in the press, the UK is asking for a trade agreement, just in the last week or two," Tenneger says.
But he adds he hopes it would help British people out too: "I think trade agreements are good. Hey, it's a small world. We've all got to get along in the world. I've travelled all over the world representing the pork industry.
"In the end, I don't care what culture you go to or you get embedded in, they all just want to feed their families and support their families and have the government leave them alone."
Join our commenting forum
Join thought-provoking conversations, follow other Independent readers and see their replies