Britain is 'softening' to my plight, claims Wikileaks founder Julian Assange on anniversary of Ecuador embassy stay
After a year in Ecuador's embassy, WikiLeaks founder hoping for deal on extradition to Sweden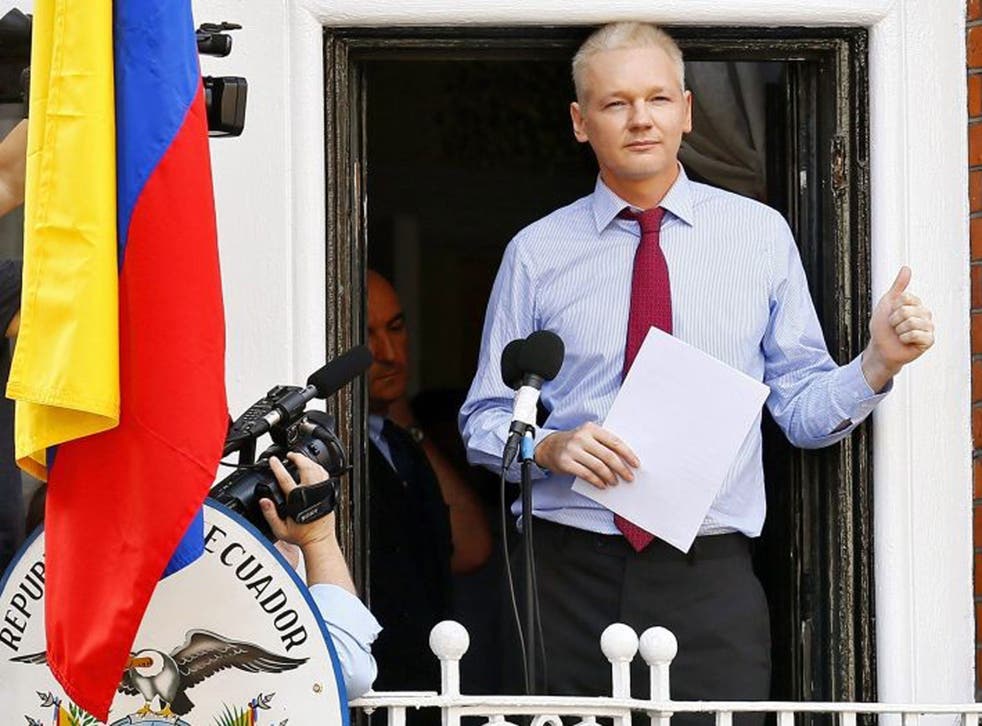 Julian Assange, the Australian-born founder of WikiLeaks who faces extradition to Sweden over alleged sex crimes, said on Sunday he believed the UK's position on his plight is "softening".
Mr Assange has been living under the protection of the Ecuadorian embassy in London for the past year, and has been granted political asylum by the country – a move that has sparked a diplomatic spat between London and Quito, as Britain has refused to grant him safe passage to the South American country.
As he prepares to mark the first anniversary of his arrival at the embassy, since when he has not set foot outside, he claimed a deal could still be reached between Ecuador and the UK "within a year" that would see him leave.
"I think the position in the UK is softening," he told the AFP news agency. "Of course, it will never publicly humiliate the United States by offering me safe passage in a manner that doesn't seem to be forced."
Mr Assange was visited in the embassy yesterday by Ecuador's Foreign minister, Ricardo Patino, who will today hold talks with the British Foreign Secretary William Hague.
A spokesman for the Foreign & Commonwealth Office said: "We remain committed to seeking a diplomatic solution to this situation and must also ensure that our laws are followed. The UK has a legal obligation to extradite Mr Assange to Sweden to face questioning over allegations of sexual offences, and the British police must fulfil this."
Mr Assange's WikiLeaks website was responsible for the biggest leak in US history after it published secret files of America's wars in Iraq and Afghanistan and a huge cache of diplomatic cables.
He is worried that authorities in Sweden – who want to question him over sexual allegations by two women, which he denies – will extradite him to the US where he could face questioning over the publication of classified documents.
In the interview, he described Edward Snowden, the former CIA employee responsible for leaking details of the US's massive internet surveillance programme, as a "hero". Mr Assange said: "The British Government should be offering Mr Snowden asylum, not excluding him from their borders. Edward Snowden is a hero – his revelations disclose something that is important to almost everyone in the world.
"I am sure if you asked the people of the UK what they wanted, they would be in favour of protecting Mr Snowden. The UK doesn't want to say no to the US under any circumstances – not in my case, and not in the case of Mr Snowden."
Police maintain a 24-hour guard over the embassy building in Knightsbridge in case Mr Assange leaves – an operation which has so far cost the British taxpayer £3m.
Join our new commenting forum
Join thought-provoking conversations, follow other Independent readers and see their replies