British man accused of trying to shoot Donald Trump pleads guilty on lesser charges
Michael Sandford, a 20-year-old from Surrey who struggles with autism and depression, is now expected to serve no more than 27 months in prison
Tim Walker
US Correspondent
Wednesday 14 September 2016 00:01 Comments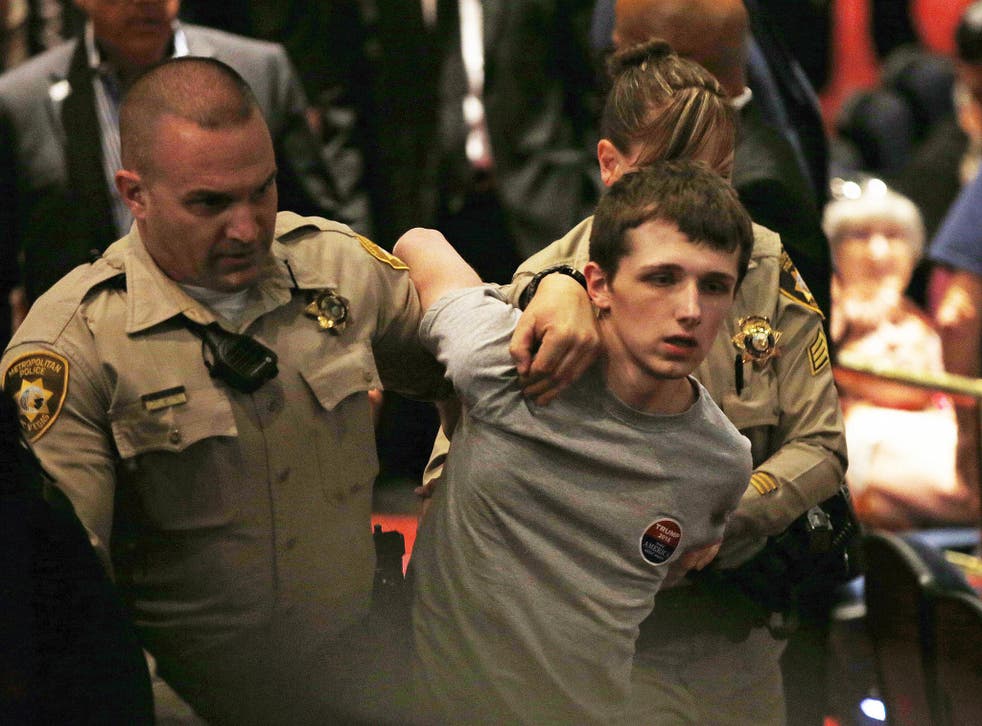 A 20-year-old British man accused of trying to assassinate Donald Trump at a June rally in Las Vegas has pleaded guilty to the lesser charges of being an alien in possession of a firearm and disrupting an official function.
Michael Sandford, from Dorking in Surrey, was expected to stand trial in October and faced up to 20 years in a US prison, but after signing a plea deal with prosecutors he is likely to be jailed for no more than 27 months. A sentencing hearing will be held at a later date.
Following his arrest during a Trump rally at the Treasure Island casino on 18 June, Mr Sandford told police he had driven from California to kill the Republican presidential candidate. He had tried to grab a policeman's gun to attack Mr Trump, but he did not get hold of the weapon and no shots were fired in the incident.
On Tuesday Sandford appeared at the US District Court in Las Vegas, where he told the judge: "I tried to take a gun from a policeman to shoot someone and I'm pleading guilty."
His mother, Lynne Sandford, has said her son suffers from autism and depression and that he would not have understood the consequences of his actions. Ms Sandford told ITV News this week that she had pressed her son to sign the plea agreement. "I was very relieved that he signed it," she said. "It was a bit of a battle because he is quite headstrong."
The family now hopes Sandford will be repatriated to the UK for his sentence, so that he can receive treatment close to home. His lawyer Saimo Chahal said a psychiatrist had determined that Sandford was delusional at the time of the incident.
"Michael was not in control at the time of the events and needs help," Ms Chahal told the Associated Press. "He is desperate to return to the UK to be near his family as he has no ties with the USA."
Register for free to continue reading
Registration is a free and easy way to support our truly independent journalism
By registering, you will also enjoy limited access to Premium articles, exclusive newsletters, commenting, and virtual events with our leading journalists
Already have an account? sign in
Join our new commenting forum
Join thought-provoking conversations, follow other Independent readers and see their replies