Brock Turner: Judge who gave lenient sentence to Stanford student who sexually assaulted unconscious woman removed by voters in recall election
Outrage over case exploded after swimmer handed just six months in jail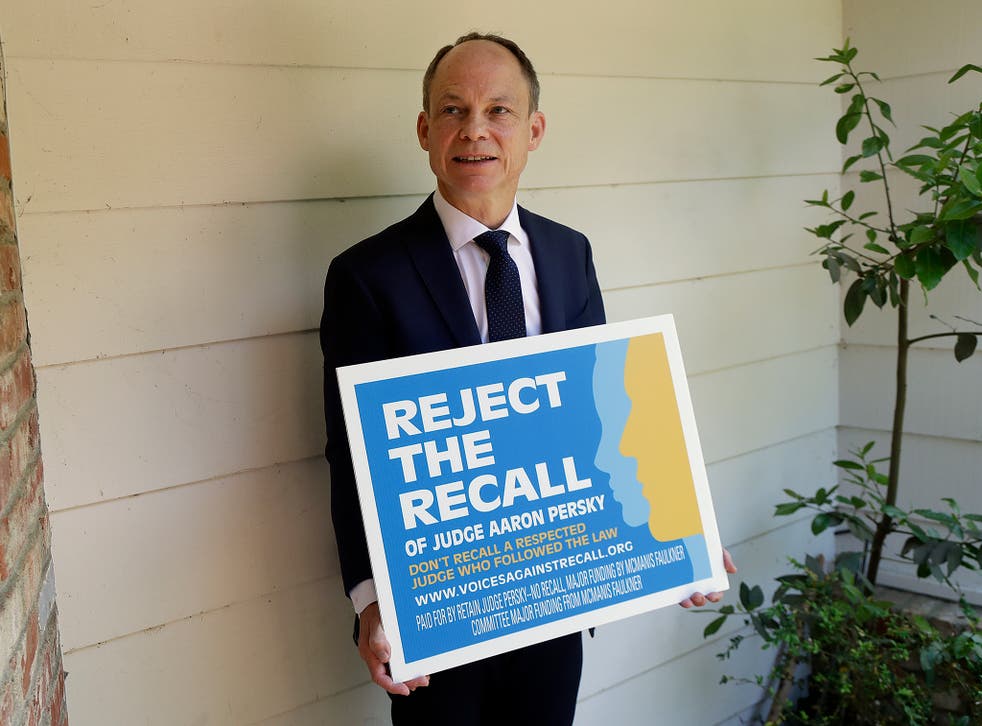 The California judge who evoked national outrage after sentencing Stanford University swimmer Brock Turner to six months in jail for sexually assaulting an unconscious student was ousted from office Tuesday night following a tempestuous recall campaign, the Associated Press reported.
Voters in Santa Clara County removed Superior Court Judge Aaron Perksy from the bench in a victory for the campaign that argued Persky's leniency in the sexual assault case was an affront to the victim and all survivors. As of 12:30 Pacific Time, 59 per cent of voters supported recalling Persky, with 51 per cent of precincts reporting, according to the Santa Clara County Registrar of Voters.
Perksy, 56, had served on the court since 2003.
His supporters had argued that removing a duly elected judge over disagreement with a controversial but lawful sexual assault sentence would both erode the democratic process and cause judges everywhere to impose lengthier sentences for fear of public backlash.
"Tonight many, many voters voted against the culture of impunity for high-status perpetrators of sexual assault or domestic violence," Michele Dauber, a Stanford University professor and chair of the Recall Judge Aaron Persky Campaign, told The Washington Post. "This election expresses clearly that sexual assault, sexual violence is serious and it has to be taken seriously by elected officials. It's a historical moment when women across all sectors of society are standing up saying enough is enough."
Persky could not immediately reached for comment.
The effort to recall Persky unfolded in the months after Turner was convicted of three felonies in connection with the sexual assault of a woman, identified only as Emily Doe, while she laid unconscious behind a dumpster after a party at a fraternity in 2015. At the time of the attack, Turner was a freshman on Stanford's swim team.
Doe's victim-impact statement reverberated across the country with its piercing details recounting the horror of waking up in a hospital to learn she had potentially been penetrated by a stranger – and in her direct confrontation of Turner.
Stanford University holds commencement amid sexual assault controversy

Show all 21
"You have dragged me through this hell with you, dipped me back into that night again and again," she said. "You knocked down both our towers. I collapsed at the same time you did. Your damage was concrete, stripped of titles, degrees, enrolment. My damage was internal, unseen. I carry it with me."
Outrage over the case exploded after Perksy said he took the victim's statement into account then sentenced Turner to six months in jail and three years' probation in June 2016. He said he was following the advice of the probation department, which did not recommend prison time. Prosecutors had argued for a six year prison sentence.
Turner was released after serving only three months. He was also required to register as a sex offender.
Perksy said at the sentencing hearing that he considered the fact that Turner was drinking as a mitigating factor in his sentence. But some, including the Recall Judge Aaron Persky Campaign, charged that Turner's status as an elite, white young athlete at a prestigious university also factored into Perksy's decision to be lenient.
In a statement submitted to the Santa Clara County Registrar and that appeared on the ballot, Persky defended himself by saying, "As a prosecutor, I fought vigorously for victims. As a judge, my role is to consider both sides. California law requires every judge to consider rehabilitation and probation for first-time offenders. It's not always popular, but it's the law, and I took an oath to follow it without regard to public opinion or my opinions as a former prosecutor."
Turner's six-month jail sentence inspired the California legislature to reform its penal code to require judges to sentence sexual assault perpetrators to prison time rather than probation or jail, as in Turner's case. The opposition to the recall effort – including the Santa Clara County district attorney, its presiding judge and multiple former judges – argued that this was the proper democratic response to the controversial jail sentence, rather than removing the judge himself.
In a commentary in the Mercury Sun, the presiding judge, Patricia Lucas, and two former judges argued the recall threatened judges' judicial independence.
"It certainly appears the goal is to teach judges, all judges, some lessons: if you want to keep your job as a judge, keep an eye on media reports of public sentiment when you are exercising your sworn duty to sentence a defendant in light of the law and the facts," they wrote.
Tuesday's vote marked the first time a California judge was recalled from the bench in 87 years, according to the San Francisco Chronicle.
The Washington Post
Join our new commenting forum
Join thought-provoking conversations, follow other Independent readers and see their replies