Brock Turner release: Protest planned as Stanford sex attacker prepares to leave jail after three months
Judge Aaron Persky sentenced Turner to six months, but he is getting out early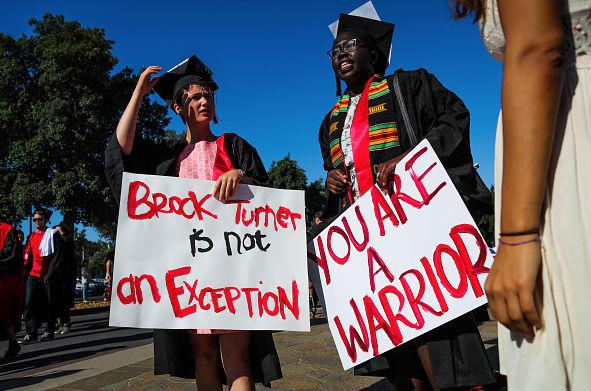 Protesters are planning to gather outside the jail from where Brock Turner, the white Stanford athlete convicted of sexual assault against an unconscious woman, will be released on Friday after serving only three months in prison.
Turner, who was sentenced to six months in June, will have served half of his sentence when he is freed.
In the January 2015 attack, two Swedish students spotted him "thrusting" upon an intoxicated and unconscious woman, ran after him and tackled him to the ground.
Protesters, led by Stanford law professor Michele Dauber, are orchestrating a recall movement to try to oust Aaron Persky from the courts, the judge responsible for the sentence.
A rally is planned at 10am at Santa Clara Hall of Justice on Friday, next to the jail where Turner is being held.
Among the attendees will be state senator Jim Beall, congress members Eric Swalwell and Jerry McNerney, as well as Kamilah Willingham, a survivor of assault at Harvard Law School.
A spokesperson from the Santa Clara courts could not be immediately reached.
The recall movement so far has gathered more than $90,000 (£69,000) and more than two million names on two petitions demanding Judge Persky be removed from his role as a judge.
Ms Dauber has asked protesters to bring hand-painted signs on cardboard, to donate to the campaign and spread the message on social media.
She told Democracy Now! that the sentence for Turner was "overly lenient" when the state mandates a two-year minimum sentence.
"With collegiate athletes, the judge seems to have a blind spot, and doesn't see these felonies as serious crimes against women," she said.
Feminist protests demand end to violence against women in Brazil after gang rape of teenage girl
Show all 10
She also called out the judge's other "lenient" sentences for convicted felons, like Tony Chiang, who was given 72 days of "weekend jail" for aggravated assault against his former fiance.
Judge Persky has since requested to be removed from judging in criminal cases and will only rule in civil courts. Ms Dauber said judges can rotate annually, however, and claimed he has also displayed "bias" in civil court.
The news of the protest this week comes as legislators in California have closed a loophole in sexual assault cases, to stop more lenient sentences being issued if the victim or survivor did not resist the assault.
"I think the recall effort is misguided and short-sighted," said Sajid Khan, deputy public defender at the Santa Clara County Office.
He added the community should be extending "mercy and compassion" rather than seek for the sentences to be overly punitive.
Turner will remain on probation for three years and will remain a registered sex offender for the rest of his life, he said.
Mr Khan referred to Turner being a "capable member of society", in school and with no criminal record.
"When we look at it holistically, it was a harsher sentence and not as lenient as some perceived it to be," said Mr Khan.
Turner's father previously said his son should not be jailed for "20 minutes of action".
Turner has blamed binge drinking and a "party culture" for the assault, and has been asked by the judge to attend alcohol and drug treatment. Turner also said he wanted to go into high schools to teach students the "danger" of alcohol and how it could "ruin a life".
The case was propelled into the spotlight after a 7,000 word victim impact statement, read out to Turner in court by the survivor, exposed the issue of white male privilege and how the focus of the case was on Turner's life rather than the impact on hers.
Join our commenting forum
Join thought-provoking conversations, follow other Independent readers and see their replies