Misinformation, media circuses, and a 'false sense of expertise': The problems with cameras in the courtroom
As an Idaho judge ponders whether to allow cameras to record a high-profile trial, Amanda Knox, who was wrongfully convicted of murder, tells Clémence Michallon how outsized publicity can intefere with the legal process
Thursday 16 November 2023 11:00 GMT
Comments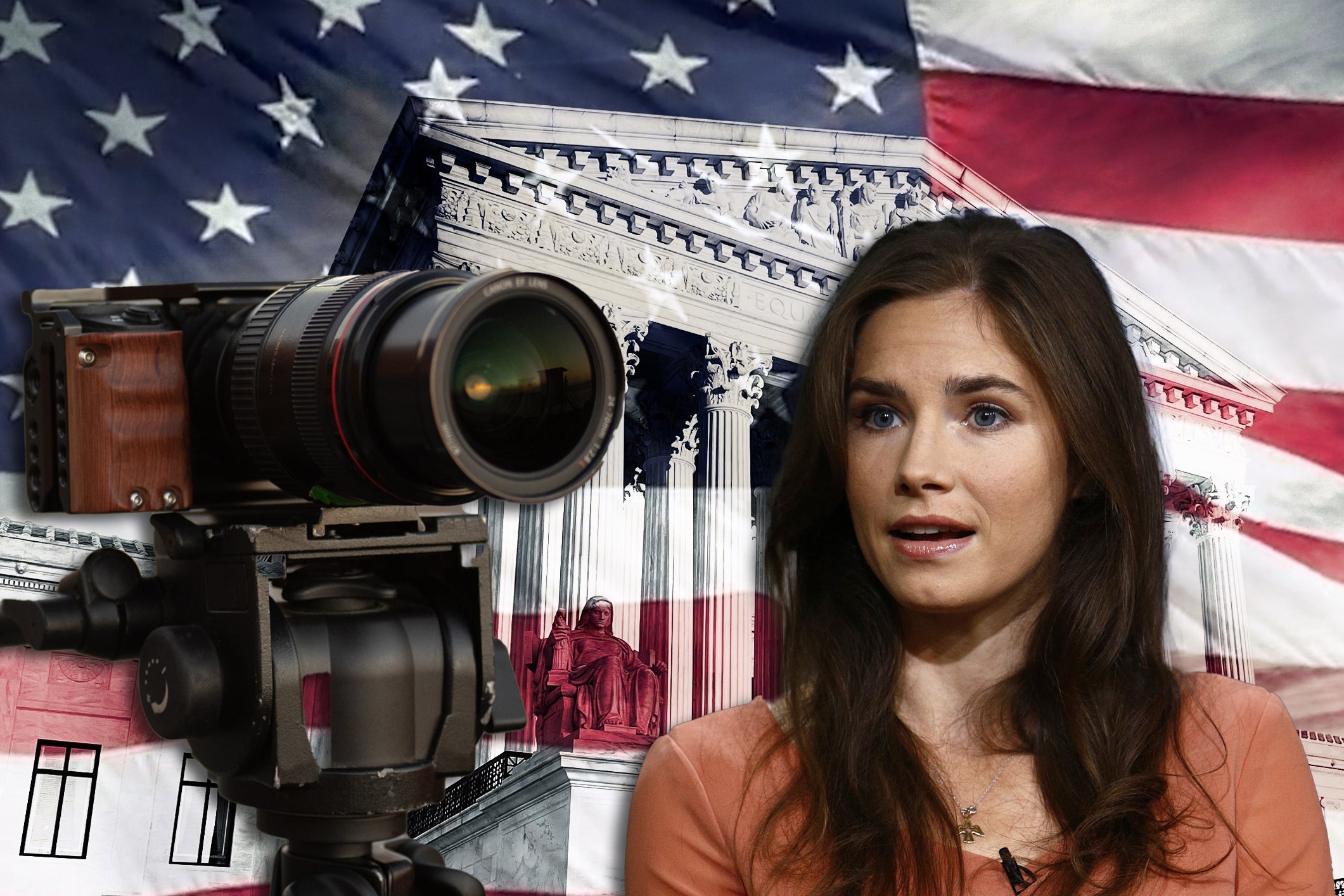 The judge overseeing Bryan Kohberger's criminal case felt conflicted over one of the most pressing issues in a high-profile trial: should cameras be allowed so that it can be televised?
Back in September, Kohberger's attorneys asked for cameras to be banned from the Latah County courtroom where Kohhberger is facing four murder charges for the deaths of University of Idaho students killed in their home. John Judge, the magistrate in charge of the case, said he was concerned not by the act of recording itself, but how the footage might be treated by news outlets and social media. Commentators "talk about it", he said, and "a lot of times it is not very accurate."
"This information, misinformation, is pumped out along with the images and the films. So how do we deal with that?" he asked during a hearing. He considered a setup similar to that of the public service network C-SPAN, musing that he has "never seen anything very sensational on C-SPAN."
Keeping trials public is meant to protect defendants against arbitrary or flawed proceedings—but the type of media circus that often accompanies highly publicized trials can play against them.
"In my own trial, the excessive media coverage from day one inevitably biased the investigators and jury," Amanda Knox, who was wrongfully convicted of murder in Italy in 2007 while studying abroad and exonerated in 2015, tells The Independent in an email. "And if a person happens to be acquitted after a televised trial, they are now forever branded by the accusation, which has been broadcast far and wide."
Last week, in a new hearing, Judge said he would not ban cameras from his courtroom altogether, but expressed trepidation as to how publicity might affect Kohberger's trial.
"I know I can only control so much, and that's why I continue to urge people to be patient and have some dignity and some restraint," he said, according to Fox9. The rules can still change when Kohberger's trial, which has already been delayed from its original October start date, begins.
Judge's public uneasiness on the topic highlights the tension between two fundamental ideas: that the judicial process should be public, and that it should be fair. Both ideas are expressed in the Sixth Amendment, written with a kind of beautiful sparsity that makes sense in theory but—in classic Amendment fashion—tends to create more problems than it solves in practice.
The internet did not exist when the Sixth Amendment was ratified in 1791. Cable television did not exist. Cameras did not exist. Yet, when trying to decide on how those three things should interact with the judicial process, we still turn to those same 81 words, specifically the first sentence, which states that "the accused shall enjoy the right to a speedy and public trial."
Proponents of televised trials insist that they increase accountability, but that public pressure includes "many downsides", Knox—who hosts the podcast Blood Money on the history and ethics of true crime, and spends much of her professional life reflecting on matters of justice— adds. Egos and reputations may be on the line.
"Prosecutors are incentivized not to look foolish, admit error, or drop charges even when it becomes clear that is the right course of action," she says.
As a reporter, I have witnessed the impact of cameras on proceedings firsthand. I saw the civil case between Johnny Depp and Amber Heard spill out of the courtroom and onto television channels and, perhaps even more spectacularly, on TikTok and YouTube. I followed reports of bizarre incidents that unfolded in front of the public's eyes during Alex Murdaugh's trial earlier this year—and those reminded me of similar strange instances during Ted Bundy's, OJ Simpson's, and Jeffrey Dahmer's trials. I understand the need for publicity in theory, but the way it has played out within our modern media apparatus has left me with a growing sense of unease.
Part of it is the way in which televised trials invite people to comment and form opinions on bits of the proceedings—usually the most sensational—even though we may not have the necessary context or expertise to do so.
"Most people who watch televised trials don't see every moment, every bit of testimony, every argument made by the prosecution and defense," Knox says. "They get snippets, or see out-of-context clips on social media. This definitely leads to a false sense of expertise."
There was no live televised coverage of Knox's trial in 2009, but even then, the ravenous attention the proceedings received shaped perceptions, often inaccurately, in ways that endure. Knox says she still encounters "plenty of people" who have formed opinions about her own court cases but remain "ignorant of key facts, or entirely wrong about others."
In Idaho, where Kohberger is being tried for the murders of college students Ethan Chapin, Kaylee Goncalves, Xana Kernodle, and Madison Mogen, the rules of criminal procedure stipulate that trials must take place in "open court". Judges have discretion when it comes to restricting audio and visual coverage, and they may do so if they deem that such coverage "is interfering in any way with the proper administration of justice."
Some legal minds have sided in favor of cameras in the courtroom. Jordan M Singer, then an Associate Professor of Law at New England Law in Boston, argued in the Columbia Law Review in 2015 that a pilot program to release videos of civil proceedings in federal district courts should continue past its planned expiration date. The program, he wrote, proved an "extraordinary resource for federal adjudication, providing a modern window into the courthouse for busy lawyers, anxious litigants, and a curious public."
Video, he wrote, "has the power to improve the quality of future proceedings" by educating the public about the work of legal actors and the rules and customs of the legal process.
Some defendants have requested such a video presence, too. Former President Trump, who knows the power of television shifting public opinion more than most, pleaded with a judge last week to allow his upcoming election interference trial to be televised.
As an exoneree, Knox is sensitive to the importance of maintaining a public record for criminal proceedings. But there is a difference between creating such a record and making it instantly and widely available to the entire world to dissect, edit and comment on across social media.
If court proceedings were recorded, and if the footage weren't released unless some specific rules were observed, "there might not be many negative consequences at all", she says.
"In other words," she adds, "all the good that comes from cameras in the courtroom—accountability—could be achieved without having to record and distribute this footage as entertainment."
Join our commenting forum
Join thought-provoking conversations, follow other Independent readers and see their replies