Budweiser joins large brands in ditching Super Bowl ads in response to coronavirus pandemic
Coke, Pepsi, and Hyundai will also not be airing ads during the sporting event
Danielle Zoellner
New York
Monday 25 January 2021 16:49 Comments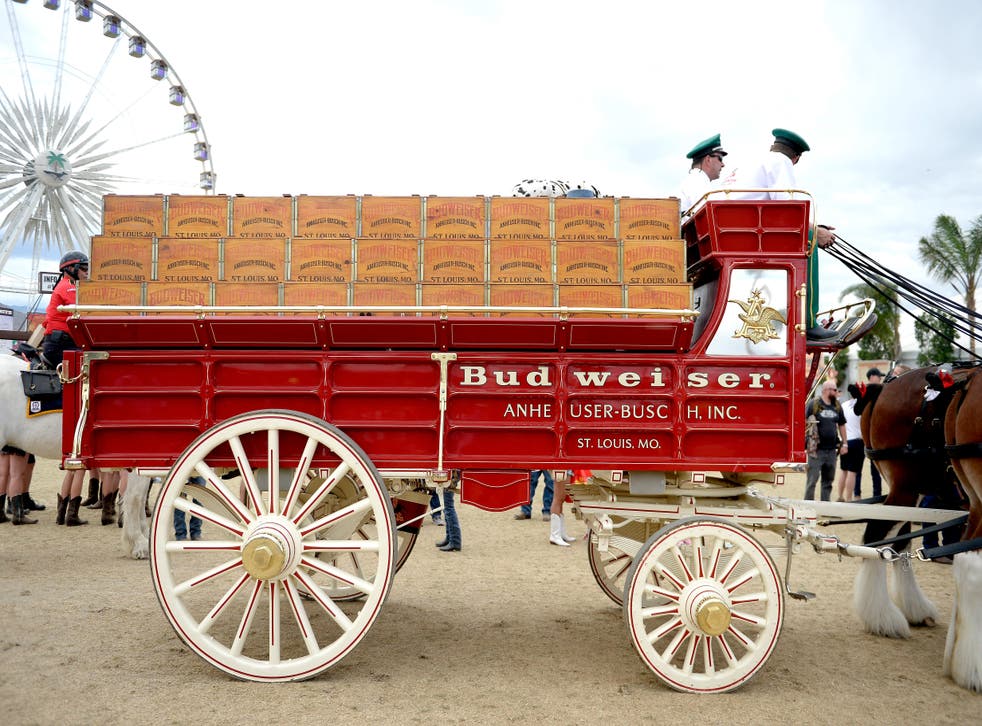 Budweiser has joined the big brands of Coke, Pepsi, and Hyundai in skipping their annual  Super Bowl advertisement time slot in response to the coronavirus pandemic.
This decision by Budweiser would break a 37-year tradition of the beer brand creating memorable commercials for the sporting event. Previously, it made headlines for its ads showing men screaming "Whassup!" and the iconic Budweiser Clydesdales.
This year, however, the brand announced it would forgo the commercial time slot alongside Coke, Pepsi, and Hyundai to instead reallocate "the media investment" to raise awareness about the Covid-19 vaccine in ads that would air throughout the year. This would be in partnership with the Ad Council.
"Like everyone else, we are eager to get people back together, reopen restaurants and bars, and be able to gather to cheers with friends and family," Budweiser vice president of marketing Monica Rustgi said in a statement on Monday. "To do this, and to bring consumers back into neighborhood bars and restaurants that were hit exceptionally hard by the pandemic, we're stepping in to support critical awareness of the Covid-19 vaccine."
Budweiser will donate a portion of the money it would've spent on a Super Bowl commercial time slot to the Ad Council and COVID Collaborative, a coalition of experts in health, education and the economy. The joint effort, first announced in November, would come in the form of a $50m vaccine education campaign.
The exact amount Budweiser would spend on the Covid-19 advertisements was not revealed by the company, but it was called a "a multi-million dollar commitment."
Super Bowl ads cost about $5.5m for a 30-second time slot, according to CNBC, which is slightly down from last year's event.
Although Budweiser was skipping its annual Super Bowl commercial, the company would still be airing a 90-second ad titled The Bigger Picture on digital platforms before and during the Super Bowl. The ad is reportedly narrated by actress Rashida Jones.
Anheuser-Busch, which owns Budweiser, will still be running four minutes of advertisements throughout the game from some of its other brands: Bud Light, Bud LIght Seltzer Lemonade, Michelob Ultra, and Michelob Ultra Organic Seltzer.
The announcement from Budweiser comes after Pepsico revealed its largest brand, Pepsi, would not have a Super Bowl commercial this year. Instead the company said it was focusing the money on its sponsorship of the halftime show. Other brands under Pepsico like Mountain Dew and Frito Lays would have advertisements.
Coca-Cola, Audi, Avocados from Mexico, and Hyundai would all be sitting out the Super Bowl entirely. A Coca-Cola spokesperson told CNBC that the company would buy a Super Bowl ad to "ensure we are investing in the right resources during these unprecedented times." Hyundai, in comparison, said the decision was based on "marketing priorities" for the company, according to Ad Age.
Already the Super Bowl will look very different from years prior with only 22,000 people in attendance, which was only one-third of the total capacity allowed at Raymond James Stadium in Tampa, Florida. Now America will also see a change to the advertising line-up with some of the big players who typically make an appearance sitting out.
New brands like online car seller Vroom, food app DoorDash, and TikTok rival Triller will make their first commercial appearance during the Super Bowl. Returning brands include M&M's, Pringles, and Toyota.
The Kansas City Chiefs and Tampa Bay Buccaneers will face off at Raymond James Stadium on 6 February.
Register for free to continue reading
Registration is a free and easy way to support our truly independent journalism
By registering, you will also enjoy limited access to Premium articles, exclusive newsletters, commenting, and virtual events with our leading journalists
Already have an account? sign in
Join our new commenting forum
Join thought-provoking conversations, follow other Independent readers and see their replies