Buffett is latest billionaire to struggle with newspaper revival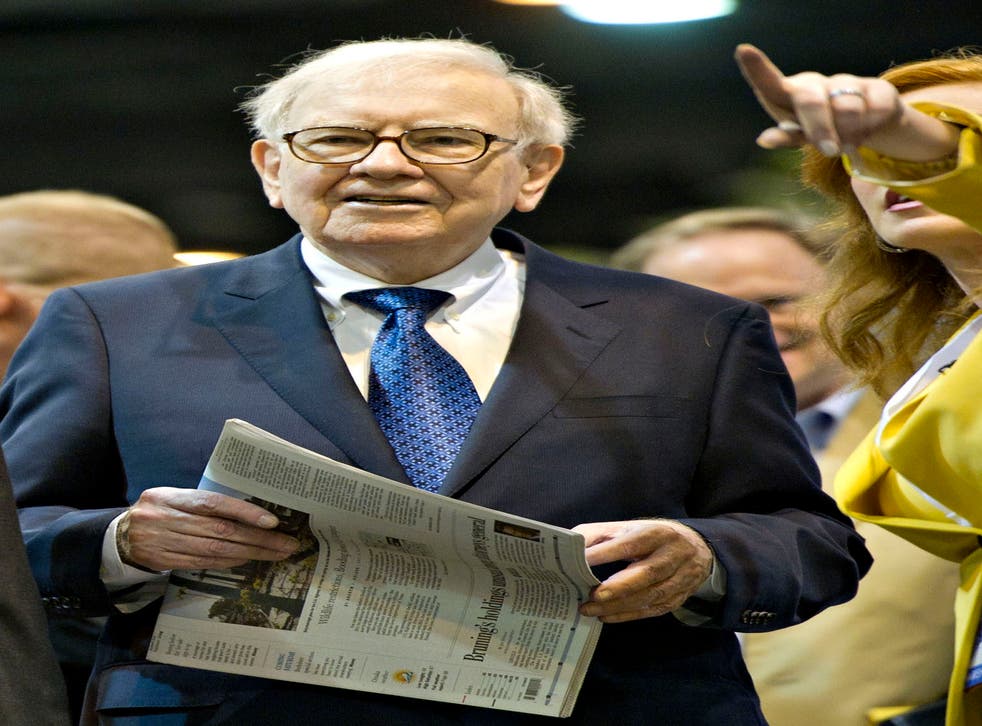 Warren Buffett, the investor famous for betting on aging industries like railroads and insurance, is now trying to pull off something other billionaires have tried and failed to do: save the newspaper business.
His company, Berkshire Hathaway, has spent more than $342 million on 80 newspapers — including its hometown paper, the Omaha World-Herald — and used them to build a new business unit. And Buffett isn't done. Though the division announced plans to close an underperforming newspaper in Virginia last month, he's said that more acquisitions may be in store.
Terry Kroeger, the newly installed chief of Buffett's newspaper empire, runs the operation from a 15th-floor office overlooking the expanse of wide streets that make up Omaha, Neb. The goal, Kroeger says, is to reintroduce newspapers to what they do best: delivering urgent, local information that readers can't get elsewhere — and coaxing people into paying for it. He's also creating offshoot websites with corporate sponsors and branching out into Internet video.
"We've got to evolve with what people are looking for, and I think our industry has done kind of a crappy job with that," Kroeger, 50, said in an interview.
Kroeger, who started working at the World-Herald 27 years ago, once kept a pair of sneakers under his desk to mow the lawn whenever the grass around the office building got unsightly. Just like in those early days, it's essential to charge readers for the reporting that journalists provide, he said. The World- Herald erected a so-called pay wall last year, and Kroeger aims to roll out the same approach across his other newspapers.
"You can't spend millions of dollars assembling something and then give it away," he said, endorsing a strategy adopted by the New York Times, News Corp.'s Wall Street Journal and most of Gannett Co.'s papers.
The World-Herald, Buffett's flagship paper, will see its revenue decline this year as circulation shrinks, Kroeger said. It generates about $100 million annually and remains profitable, said Kroeger, who declined to elaborate on its finances.
Buffett's acquisition of 63 newspapers from Media General earlier this year accounts for most of the newspaper unit. Based on Media General statements, those newspapers generated $299.6 million last year, a 50 percent decline from 2006.
Kroeger said that Buffett's total newspaper division is in the black and should remain so, despite the shrinking revenue.
"We're profitable this year," he said. "I have a high degree of confidence we will remain profitable next year as well. We're very high on the industry."
The paywall has helped support revenue, though the program is still in the early stages, he said. The World-Herald's circulation, meanwhile, has continued to shrink. It fell 3.2 percent in weekday readership to 130,932 from a year earlier, according to the most recent data from the Alliance for Audited Media. The Sunday edition dropped 2.9 percent to 165,397.
Even if the paywall draws help boost subscriptions, the move is more of a palliative than a cure, Kroeger said.
"We have to get into new businesses," he said.
One such venture, already under way, aggregates health-care articles from the World-Herald and other Berkshire-owned Nebraska newspapers into a website sponsored by Blue Cross and Blue Shield of Nebraska. The site, which is freely available to readers, has advertising in addition to the sponsorship.
The risk is that sponsorships jeopardize a newspaper's objectivity, especially when it comes to medical information, said Todd Gitlin, a professor at the Columbia University Graduate School of Journalism.
"Medical news is already rigged or bent toward breathless accounts of miracle cures," Gitlin said. "It's risky to indulge further in corporate sponsorship."
Kroeger said the arrangement with Blue Cross doesn't affect the content.
The broader question is whether newspapers can evolve quickly enough to revive a decaying business. They're confronting shrinking demand for print advertising, declining circulation, and encroachment from Internet companies such as Google and Facebook. The industry's ad dollars dropped 6.6 percent in the first six months of 2012 from a year earlier, according to the Newspaper Association of America.
While community papers have an edge over publications in crowded media markets, no one has found a way out of the slump, said Ken Doctor, a media analyst with Outsell in Burlingame, Calif.
"There's no silver bullet," he said. Newspapers in many places had enjoyed a near-monopoly pricing on print advertising, Doctor said. "That's not coming back — for anybody."
Kroeger said last month the company will shutter the Virginia-based Manassas News & Messenger, one of Buffett's most recent acquisitions, and cut 105 jobs in the process. The newspaper faced too much direct competition from other papers in the area, which includes Washington, and was continuing to lose money, Kroeger said in the World-Herald.
"We didn't see any way to really turn it back into a profitable enterprise, reliably, so what made the most sense was to just cease publication," he said.
Other billionaires have tried and failed to turn around the newspaper business. Tribune Co., the owner of the Los Angeles Times and Chicago Tribune, filed for bankruptcy in 2008, one year after a buyout led by real-estate magnate Sam Zell.
Buffett's gamble is less ambitious. His recent spending spree on newspapers amounted to less than two-tenths of 1 percent of Berkshire's total market value.
He also may have more success than others, said Don Graham, chairman and chief executive officer of The Washington Post Co. Part of Berkshire's strategy is focusing on smaller market papers that don't have to compete with other media, Graham said.
"When you get larger, you get challenged by more forms of media competition for advertising delivery," he said last week at an investor conference. "Anybody who really focuses on the newspaper business should be studying one company this year: Berkshire Hathaway."
At Buffett's Omaha paper, Kroeger is investing in high- definition video equipment, with an eye toward doing an online sports show featuring its reporters. That's something major market newspapers such as the New York Times and the Wall Street Journal have tried. Unlike those national publications, though, Buffett's newspapers embrace a simple tenet: All news is local.
"The community aspect of what we do is so important," Kroeger said. "Obituaries, for example, are huge. You want to find out how big a deal that is? Misspell somebody's name in an obituary — once. You'll never do it again. These things matter to people."
Kroeger's first job at the paper was as an assistant purchasing agent. He negotiated for newsprint costs from vendors and made sure the company's trucks had enough gas to make their deliveries every day.
"I was pretty low on the food chain," he said. "It's where I learned about the nuts and bolts of the business."
Buffett is a longtime investor in newspapers, though never at this scale in the past. Buffett's interest in the industry had been mostly limited to a stake in the Washington Post and the 1977 purchase of the Buffalo News, which is run separately from Kroeger's operations. Its publisher, Stan Lipsey, reports directly to Buffett. Berkshire also owns a stake in Gannett, the publisher of USA Today.
Buffett is the second-richest American, after Microsoft's Bill Gates, with an estimated worth of $46.7 billion, according to the Bloomberg Billionaires Index. That's made him one of the highest-profile backers of print journalism.
"I've loved newspapers all my life — and always will," Buffett wrote in a letter to employees of his newspapers earlier this year, before going on to say that he will probably buy more papers over the next few years. Buffett's office didn't respond to a request for comment.
Kroeger declined to discuss the company's future takeover targets. Other newspaper businesses focused on smaller markets include McClatchy Co., a publisher of 30 daily newspapers such as the Sacramento Bee, and E.W. Scripps Co., which operates 15 newspapers from Cincinnati. Tribune Co.'s newspapers also will be put up for sale as the company emerges from bankruptcy later this month, people familiar with the matter said this week.
Buffett, born in Omaha, has been a loyal subscriber to the World-Herald for most of his adult life and understands the challenges the paper faces, Kroeger said.
"He knows it's not going to be easy turning things around," Kroeger said. "He gets what we do here and he's been incredibly helpful, generous with his time, offering advice when he can."
Still, Buffett doesn't influence news coverage, said Mike Reilly, the World-Herald's executive editor. And there's been no shift in how the paper covers him, he said. For years, the paper has run a weekly column on the billionaire called "Warren Watch," something that continues under Buffett's ownership.
"There hasn't been any change in how I run the newsroom," Reilly said. "We used to cover the heck out of him and we still cover the heck out of him."
Register for free to continue reading
Registration is a free and easy way to support our truly independent journalism
By registering, you will also enjoy limited access to Premium articles, exclusive newsletters, commenting, and virtual events with our leading journalists
Already have an account? sign in
Register for free to continue reading
Registration is a free and easy way to support our truly independent journalism
By registering, you will also enjoy limited access to Premium articles, exclusive newsletters, commenting, and virtual events with our leading journalists
Already have an account? sign in
Join our new commenting forum
Join thought-provoking conversations, follow other Independent readers and see their replies