'Bullet-riddled' Quran found outside Islamic clothing shop in Southern California
'You're taking a very respected book and filling it with bullet holes. It was obviously a hate message'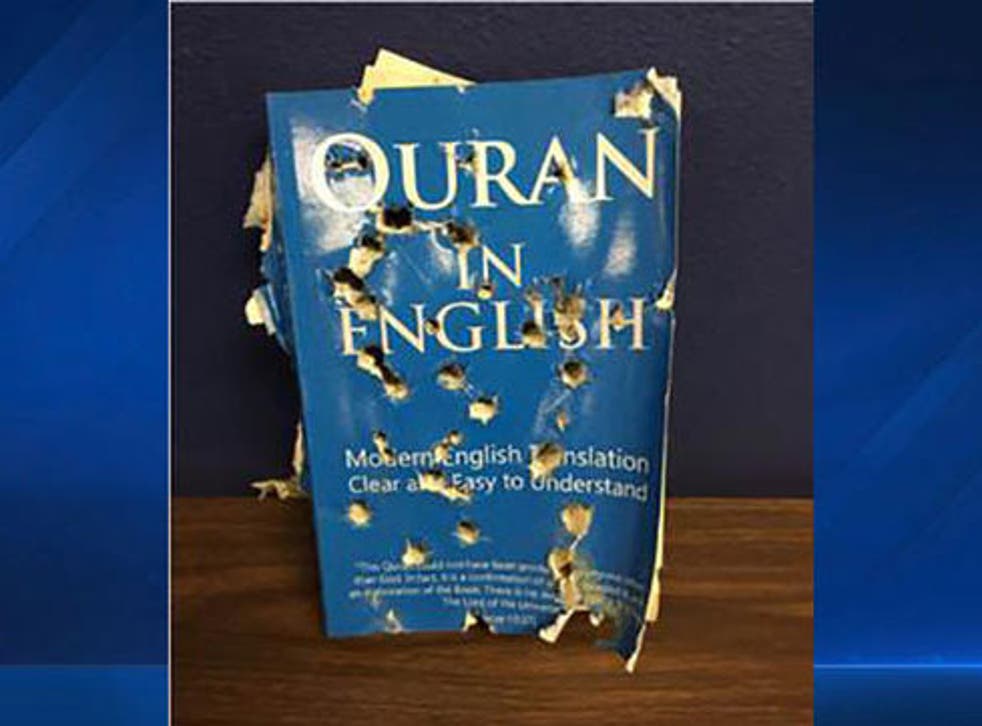 A "bullet-riddled" copy of the Quran found outside an Islamic clothing shop has sparked an FBI investigation into, what has been described as, a "possible hate crime".
The Council on American-Islamic Relations (CAIR), based in Los Angeles, said the owner of Al-Farah Islamic Clothing in Anaheim, California, discovered an English translation of the Quran pierced with multiple holes, alleged to be bullet holes, in the shop's letter box on Tuesday morning.
The shop's owner, Terry Cormier, 36, contacted both CAIR-LA and the Anaheim Police Department, which is investigating the incident as a possible hate crime, NBC reports.
Sgt.Daron Wyatt said: "It has several holes in it that appear to be bullet holes, although that has yet to be confirmed."
Police said they did not find a note or any threat attached to the Quran.
Ms Cormier told The Orange County Register: "I felt like it was a pretty clear message."
"You're taking a very respected book and filling it with bullet holes and delivering it. It was obviously a hate message."
Responding to the incident, Hussam Ayloush, CAIR-LA's executive director, said: "Anyone has the right to be a bigot, but when that bigotry is expressed through the targeting of individuals or businesses through acts of intimidation similar to a cross burning it crosses the line into criminal behaviour.
"If you shoot up a Quran on your own property, that is bigoted freedom of expression. If you deliver that bullet-riddled Quran to a Muslim home or business, that is an act of intimidation and hate crime."
Mr Ayloush noted the US Supreme Court ruled in 2003 acts of intimidation such as KKK-style cross burnings may be prohibited if the perpetrator is carrying out the burning to intimidate or terrorize.
He added the incident in Anaheim appeared to be part of an unprecedented spike in anti-Muslim discrimination and hate crimes following the recent string of terror attacks in Paris.
The incident came before a mass shooting in the southern California area left at least 14 people and 17 wounded at the Inland Regional Centre in San Bernardino.
CAIR arranged a press conference on Wednesday night after authorities identified two suspects believed to have been involved in the attacks as Syed Rizwan Farook, a 28-year-old US citizen, and Tashfeen Malik, 27. Both were killed during a shootout with police less than two miles from where the shooting occurred.
Mr Ayloush said: "We unequivocally condemn the horrific act that occurred today."
Muzammil Siddiqi, a religious director with the Islamic Society of Orange County, urged people to "not implicate Islam or Muslims" for the shooting, saying: "Our faith has nothing to do with [the shooting], our faith is against this kind of behaviour."
Register for free to continue reading
Registration is a free and easy way to support our truly independent journalism
By registering, you will also enjoy limited access to Premium articles, exclusive newsletters, commenting, and virtual events with our leading journalists
Already have an account? sign in
Register for free to continue reading
Registration is a free and easy way to support our truly independent journalism
By registering, you will also enjoy limited access to Premium articles, exclusive newsletters, commenting, and virtual events with our leading journalists
Already have an account? sign in