US soldier who said 'communism will win' and wore Che Guevara T-shirt to graduation kicked out of army
The images sparked death threats and abusive vitriolic messages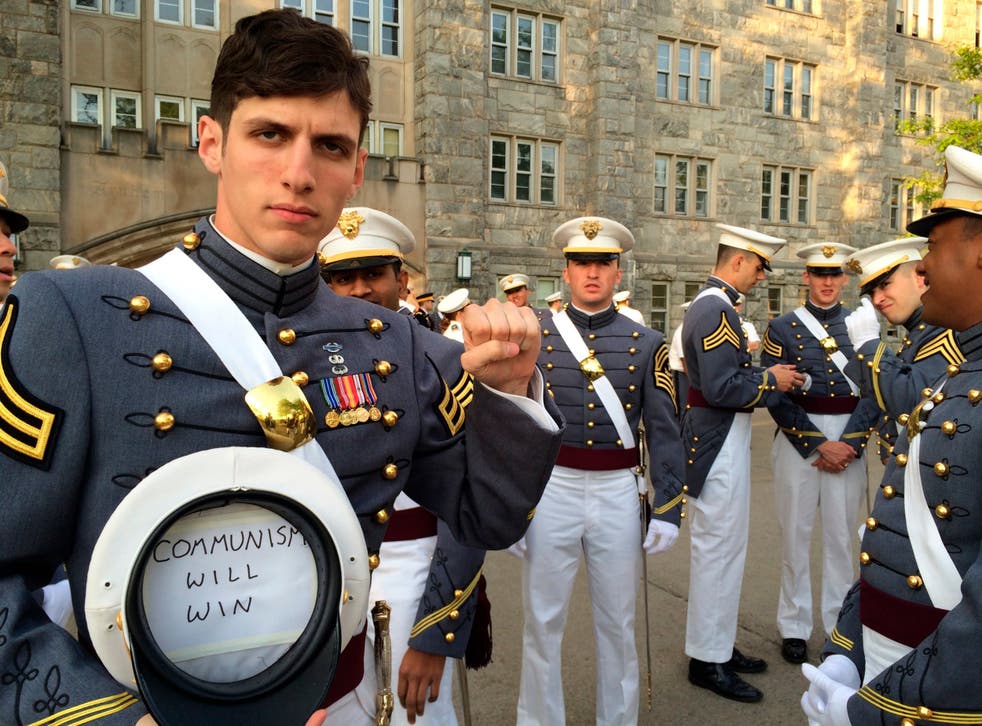 A US cadet who donned a Che Guevera T-shirt to his graduation in and shared a message online which said "communism will win" has been discharged from the army.
In the video, Spenser Rapone opens his dress uniform to reveal a T-shirt with a red image of Argentine Marxist Ernesto 'Che' Guevara – one of the world's most famous revolutionaries in one of the photos which were taken at his graduation in May 2016.
The 26-year-old, a cadet at US Military Academy West Point, raises his fist and flips over his cap to expose a hand-written message saying "communism will win" in another image.
The photos, which were shared in 2017, sparked death threats and abusive vitriolic messages.
Top brass, who have the highest positions of authority in the armed forces, at New York's Fort Drum, officially accepted Mr Rapone's resignation on Monday after an investigation found he advocated online for a socialist revolution and disparaged high-ranking officers.
This comes after an earlier reprimand for "conduct unbecoming of an officer." He has now been kicked out of the army with an 'other than honourable' discharge – a type of discharge which signifies a move away from the conduct and performance expected of all military members.
Mr Rapone said his trajectory to communism developed out of his experience as an Army Ranger in Afghanistan before being accepted into the US Military Academy. These beliefs are said to have been bolstered during his historical studies at West Point.
World news in pictures

Show all 50
He said he tweeted the graduation photos last autumn to show solidarity with NFL quarterback Colin Kaepernick who sparked a wide-reaching national debate about racial injustice after staging a protest against racial inequality in the US by choosing to kneel while the national anthem plays.
On Monday, Mr Rapone fired off a tweet which showed him extending a middle finger at a sign at the entrance to Fort Drum accompanied by the words "One final salute."
"I consider myself a revolutionary socialist," Mr Rapone told The Associated Press. "I would encourage all soldiers who have a conscience to lay down their arms and join me and so many others who are willing to stop serving the agents of imperialism and join us in a revolutionary movement."
He was deployed to Afghanistan in 2011 and was assigned as an assistant machine gunner in Khost Province.
US and UK could face Afghanistan war crimes investigation
Mr Rapone said: "We were bullies in one of the poorest countries on Earth. We have one of the most technologically advanced militaries of all time and all we were doing is brutalizing and invading and terrorizing a population that had nothing to do with what the United States claimed was a threat."
He is scheduled to speak at a socialism conference in Chicago next month.
Mr Rapone is not just a proponent of classical socialist thinkers like Karl Marx – he has also looked to the writings of Stan Goff, a retired Special Forces master sergeant who became a socialist anti-war activist, for inspiration.
He said: "Of course, my military career is dead in the water. On the other hand, many people reached out and showed me support. There are a lot of veterans both active duty and not that feel like I do."
Additional reporting from Associated Press
Register for free to continue reading
Registration is a free and easy way to support our truly independent journalism
By registering, you will also enjoy limited access to Premium articles, exclusive newsletters, commenting, and virtual events with our leading journalists
Already have an account? sign in
Register for free to continue reading
Registration is a free and easy way to support our truly independent journalism
By registering, you will also enjoy limited access to Premium articles, exclusive newsletters, commenting, and virtual events with our leading journalists
Already have an account? sign in
Join our new commenting forum
Join thought-provoking conversations, follow other Independent readers and see their replies