California boat fire: 33 people feared dead as boat bursts into flames off Santa Cruz Island
Five crew members rescued from 75ft diving ship but the fate of 33 passengers trapped below deck remains unknown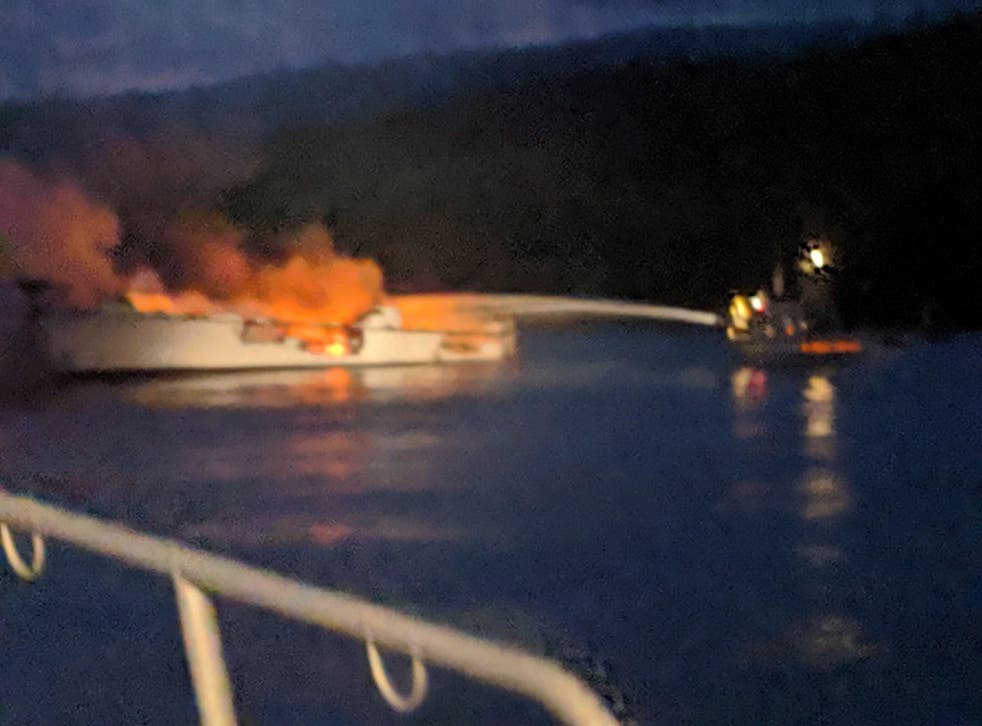 Up to 33 people are feared dead after a boat caught fire off the coast of California. The coastguard said five crew members had been rescued and that efforts to reach passengers trapped below deck were continuing.
The 75ft diving boat caught fire off the north coast of Santa Cruz Island. Rescuers reached the scene at 3.28am local time.
The US Coast Guard Los Angeles said it had dispatched "multiple rescue assets along with assets from local agencies" in an effort to save the people on board.
It is believed that five crew members were on deck when the fire started and were able to get off the boat. However, all 33 passengers were below deck and become trapped. It was earlier reported that 34 people were missing but this was revised when it was found that a crew member who was on the manifest was not actually on the boat.
Fire officials said rescuers were still trying to breach the hold to get to them.
World news in pictures

Show all 50
However, Bill Nash, the Ventura County public information officer, told CNN: "It's a large boat, and we know we have numerous fatalities. I don't have an exact number."
Coast Guard senior chief Aaron Bemis told CNN that rescue efforts were being hampered because the fire kept re-flashing.
He said: "It keeps being extinguished and re-flashing, possibly due to the amount of fuel on board. Unsure why, but it's consistently being put out and re-flashing."
Mr Bemis was unable to confirm whether there had been any survivors among the 33 people trapped below deck, adding: "The fire was so intense that even after it was put out, we're not able to actually embark the vessel and, you know, look for survivors at this point. It's still ongoing."
There are hopes that some of the passengers may have been able to get off the boat and been able to swim to shore. The boat is believed to have been anchored not far off Santa Cruz Island overnight.
The vessel sank in about 54ft of water about 60ft from shore although a portion of its bow was still above water.
The five crew members were picked up by a passing boat called the Great Escape.
In a tweet the coastguard said: "The vessel was reported as being on fire. The a group of crew members has been rescued (one with minor injuries) and efforts continue to evacuate the remaining passengers."
The boat, Conception, is based in Santa Barbara and is regularly used for diving trips.
It is thought to have been out on a three-day trip and was due to return today.
Join our new commenting forum
Join thought-provoking conversations, follow other Independent readers and see their replies