California fires: At least 10 confirmed dead as thousands flee huge blazes engulfing state
Governor declares state of emergency as fires ravage over a thousand properties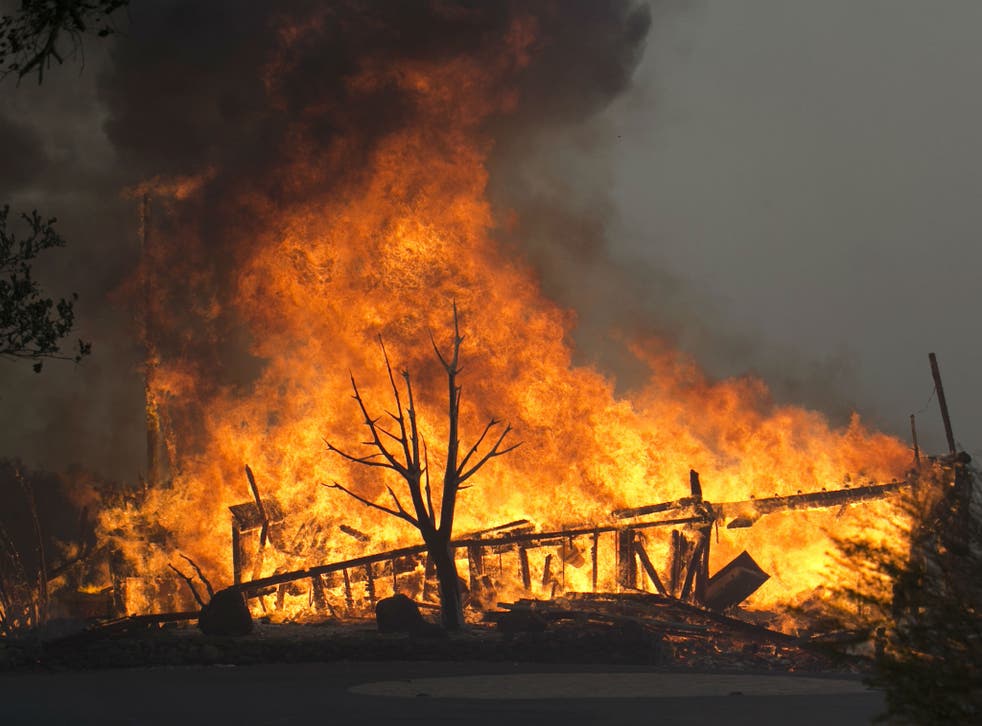 Huge wind-fanned wildfires in California wine country killed at least 10 people, destroyed thousands of buildings and drove mass evacuations, forcing many people to flee the advancing flames in the dead of night.
Governor Jerry Brown declared a state of emergency for three affected counties, writing that the blazes had "damaged critical infrastructure, threatened thousands of homes and caused the evacuation of residents". Officials said at least 10 people died and two were seriously injured, and flames obliterated at least 1,500 structures.
"This is really serious. It's moving fast. the heat, the lack of humidity and the wind are all driving a very dangerous situation and making it worse", Mr Brown told reporters. "It's not under control by any means".
On a day when dozens of fires burned around California, powerful winds helped whip up multiple conflagrations in an area known for the vineyards clinging to its rolling hills. As of early Monday morning, the larger Tubbs Fire had spread across more than 20,000 acres and the Atlas Fire had consumed more than 8,000 acres.
City and county officials shuttered schools, evacuated a pair of hospitals in the town of Santa Rosa and issued widening mandatory evacuation orders for areas in the path of the flames. Multiple shelters were at capacity and roads around the area were closed.
Many people were forced out of their homes in the middle of the night. Even as elected officials implored non-evacuating people to stay off major roads, residents described a desperate scramble for safety.
Mansions burn in California wildfires

Show all 7
"People are running red lights, there is chaos ensuing," Ron Dodds told KTVU. "It's a scary time. It looks like Armageddon."
Harrowing images and videos from the ground showed roaring flames and the utter devastation they left behind, with homes and other structures reduced to charred skeletons.
This is the Nectar Restaurant right now pic.twitter.com/XLB03JGlYT
A haze was visible in the San Francisco Bay Area, miles away from the epicenter of the flames, and an air quality regulator urged people to remain inside.
Join our new commenting forum
Join thought-provoking conversations, follow other Independent readers and see their replies