California man Elvis Summers builds tiny home on wheels for homeless grandmother
Summers is now hoping to build more tiny homes for other homeless people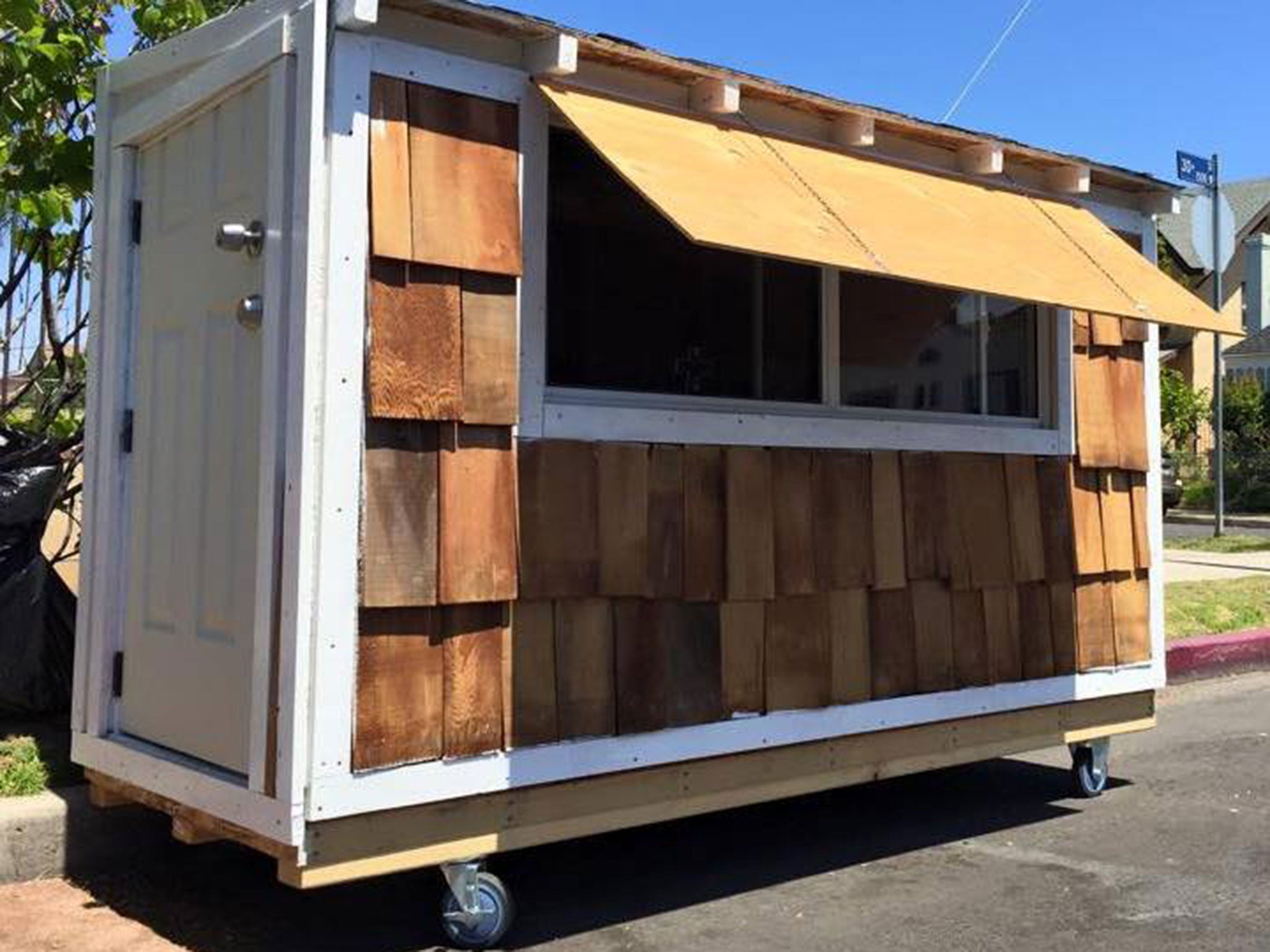 A California resident has come to the aid of a homeless woman in his neighbourhood by building her a miniature home on wheels.
Elvis Summers, 38, said he was compelled to help Irene 'Smokie' McGee, who had been living on the streets for over a decade, after discovering she was literally sleeping on the pavement without so much as a cardboard box underneath her.
The 60-year-old lost her husband in 2004 and was unable to afford the house they shared together in Los Angeles.
Summers said he struck up a friendship with Ms McGee after she started asking for his recyclable waste so she could exchange it for cash.
"I knew she was homeless, but only found out about three weeks ago that she didn't even have a tarp or a cardboard box to sleep in," he told The Independent.
"I can barely keep my own lights on, but I saw that a 60-year-old woman was sleeping literally in the dirt, next to a house - a house where everybody carries on with their happy, warm lives, enjoying their hot showers, and toilets to use, the food in their fridge, clean water to drink, electricity, TV, etc.
"I went right to the hardware store and decided to buy the materials to build her a tiny house so she could at least have a warm,safe place to sleep instead of the dirt. It was more important than a couple bills which I'm sure I can pay late and catch up on."
Summers spent five days building a home out of donated materials and $500 (£330) worth of wood.
The home has also been approved by authorities in LA on the provision that it is moved every 72 hours.
He has now the launched the Tiny House Huge Purpose fundraising campaign in order to build miniature houses for other homeless people in the US. His viral campaign also attracted the attention of a local church, who have offered him a 10,000 ft square lot next to it where the homes could be parked.
"The people of the church are willing to help with showers, food and clothing to help all the people in the tiny homes we put there to climb back up," he said.
"Because my video went viral and I've got such a huge global response I've expanded my plan to help a few more people into helping as many as I possibly can.
"When I filmed myself building the house, I just wanted to document it, but when I went out to film a few more homeless people and started talking with them, a few asked if I could build them a house because they also had nothing. Once again it was pretty clear - these people aren't the stereotype homeless that are just drug addicts and don't care. They care deeply and don't want to be there. They want help."
Heartwarming news stories from around the world
Show all 30
Ms McGee said she felt "marvellous" after receiving the keys to the property. "You can't even explain how I feel," she told ABC News. "I'm on my way to a different life. I want to get my own place and all of that. He's my guardian angel."
You can read more about Summers' campaign here.
Join our commenting forum
Join thought-provoking conversations, follow other Independent readers and see their replies