California methane gas leak 'more damaging than Deepwater Horizon disaster'
Largest recorded natural gas leak in state's history is expelling 110,000lbs of methane into the atmosphere every hour
Tim Walker
Los Angeles
Saturday 02 January 2016 22:49 Comments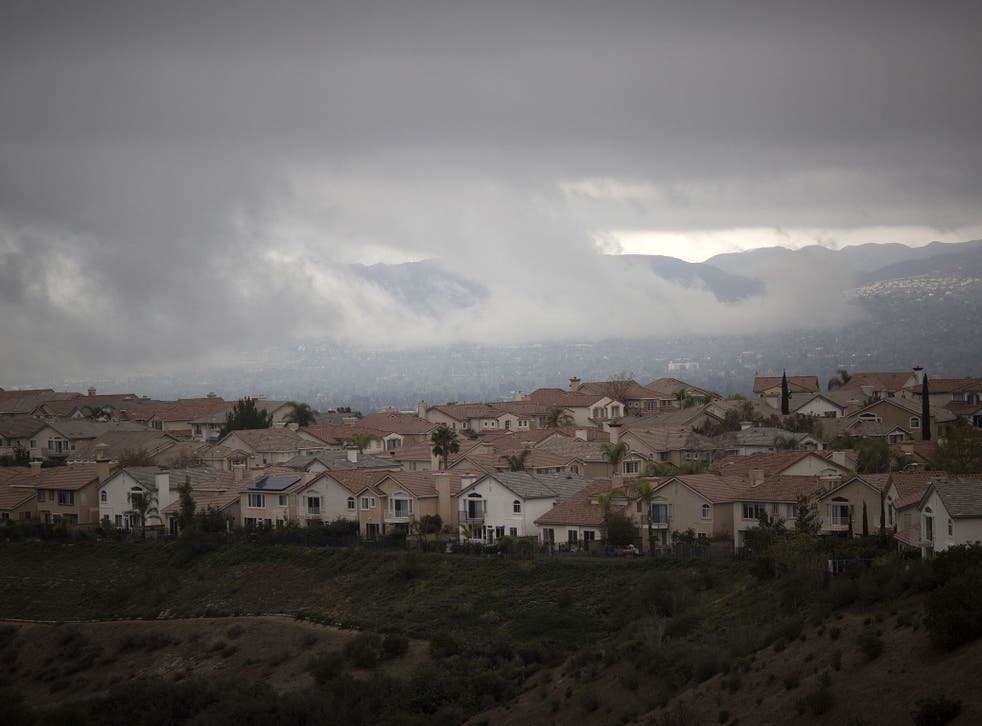 It was the middle of the night when Alexandra Ortiz first smelt the rotten-egg stench of leaking gas from the Aliso Canyon methane facility in the hills above her neighbourhood. "The whole house smelled of gas," Ms Ortiz, 34, said last week. "At the time, we didn't know about the facility or the leak, so we kept getting up to check the stove."
Until it sprung a leak on 23 October, few residents of Porter Ranch, a community less than 30 miles from downtown Los Angeles, were aware of the vast natural gas facility on their doorsteps. The largest underground storage system on the US West Coast, it contains gas piped from as far away as Texas and the Midwest, serving 14 power plants and more than 20 million energy customers.
Now it is the source of the largest recorded natural gas leak in California's history, expelling an estimated 110,000lbs of methane into the atmosphere every hour: about a quarter of the state's daily methane gas emissions. Its climate impact will be "humongous", said Tim O'Connor, California director for the Environmental Defence Fund's (EDF) oil and gas programme. "In terms of aggregate greenhouse gas emissions, it is far greater than the BP Deepwater Horizon disaster."
Extent of Natural Gas leak in LA visible on infared camera
More than two months since the leak was first discovered, the Southern California Gas Company, which operates the facility, has yet to plug it. When the wind dies, the gas settles like an invisible fog over the surrounding area. Though methane itself is odourless, it is injected with trace amounts of sulphurous chemicals to make its scent detectable.
Experts insist that in their current quantities, those chemicals – known as mercaptans – pose few long-term medical risks, but residents have experienced headaches, nausea, dizziness and shortness of breath. Ms Ortiz and her husband have a one-year-old daughter, and have discussed moving home to escape the fumes and their potential health effects.
Natural gas is considered a cleaner energy source than other fossil fuels such as oil and coal, because burning it produces less greenhouse gas. But allow it to escape without burning, and methane can be up to 80 times more potent than CO2. The Aliso Canyon leak, environmentalists say, is generating emissions equivalent to six coal-fired power stations or seven million cars.
In a letter to California's Governor Jerry Brown in December, SoCalGas president Dennis Arriola said his company "recognised the impact this incident is having on the environment" and promised to work with state officials "to mitigate [the] environmental impacts".
Having failed to stop the leak by more rudimentary means, the company is now drilling a relief well to the natural gas reservoir 8,500ft underground, from which it should be possible to seal it with heavy fluids, mud and concrete. SoCalGas says that it may take until late March to complete, five months after the initial leak. (The Deepwater Horizon was fixed in less than three.)
Pictures that show we are killing our planet

Show all 21
As of last week, almost 2,200 households close to Aliso Canyon had taken up a SoCalGas offer to fund their temporary relocation. Two local schools have been moved to a different neighbourhood for the remainder of the school year.
Retired aerospace engineer Bill Debley has lived less than two miles from Aliso Canyon for two decades, and only became aware of the facility following the leak. "A lot of our neighbours have taken advantage of the temporary relocation," said Mr Debley, 74. "Some of them have experienced headaches, nausea, bloody noses. There's a lot of paranoia."
Mr Debley was photographing the canyon using a camera modified to take infrared images last week. The methane leak has received increased attention since an aerial infrared video of the perpetually spouting gas plume was released by EDF on 20 December. The clip has since been viewed almost a million times on YouTube.
Until the video and unlike an oil spill, this was an invisible environmental disaster. But now people have been able to see the devastating leak, not just smell it. "At first, the story was just about a small community smelling foul odours," said Mr O'Connor. "But now that people can see this volcano of man-made methane pollution, they can't help but pay attention."
The clip is expected to raise awareness not only of the Aliso Canyon crisis, but also of the wider problem of methane gas pollution. A recent EDF report found more than 3,000 methane wells in Los Angeles alone. Almost 40 per cent of the pipes under SoCalGas jurisdiction are more than 50 years old – and in excess of 15 per cent of them are made from leak-prone materials.
SoCalGas said it always operates in compliance with public safety regulations. And before the leak, the company had submitted plans to the state's Public Utilities Commission for a $30m annual programme to upgrade its storage infrastructure.
Matt Pakucko, president of the community group Save Porter Ranch, said: "The more we find out about how ancient and deteriorating this facility is – from the company's own documents – the more it becomes clear that this was almost inevitable."
It is a problem repeated across the US. In California, which has some of the world's most ambitious emissions reduction plans, Mr O'Connor said he wants a review of natural gas regulations, to prevent and better manage any future methane leaks.
Shortly before flying to Paris to attend the United Nations climate change conference in November, LA's mayor, Eric Garcetti, visited Porter Ranch to see – and smell – the leak. "This is an environmental disaster," he said, adding: "It makes you question the sustainability of a carbon-based power system."
* This article has been amended to remove a reference to methane being heavier than air: it is actually lighter than air. 5/1/16
Register for free to continue reading
Registration is a free and easy way to support our truly independent journalism
By registering, you will also enjoy limited access to Premium articles, exclusive newsletters, commenting, and virtual events with our leading journalists
Already have an account? sign in
Join our new commenting forum
Join thought-provoking conversations, follow other Independent readers and see their replies