'I don't want to feel expendable': California nurse reveals the racial disparities she's witnessed on the Covid frontline
Asantewaa Boykin says the pandemic provides an opportunity to address inequalities in the healthcare system, writes Danielle Zoellner
Friday 18 December 2020 21:01 GMT
Comments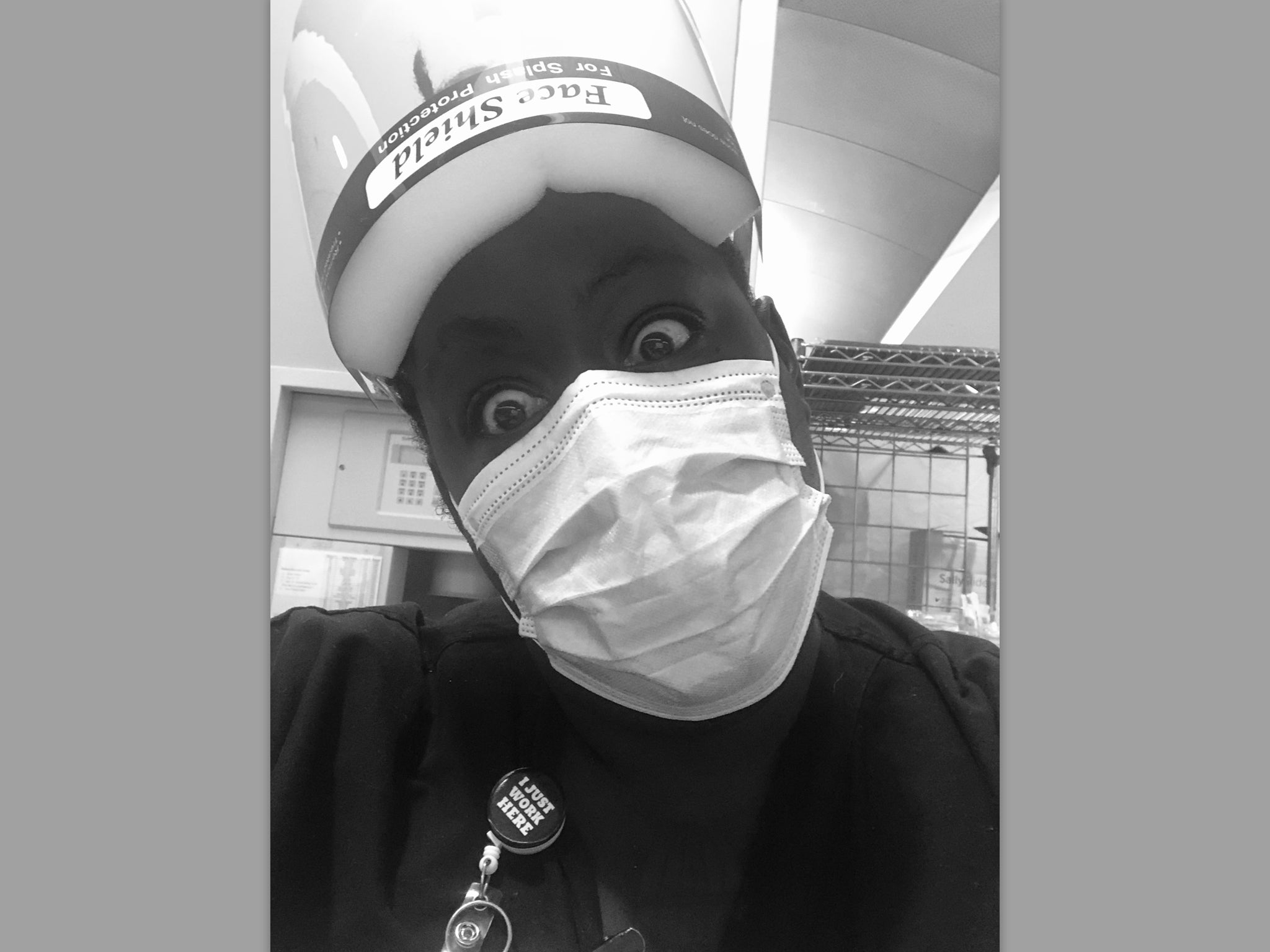 For Asantewaa Boykin, her interest in nursing started with her mother and grandmother, both of whom worked in public service. But, like many other healthcare professionals, she never anticipated she would be on the frontline of a global pandemic.
"I've said several times, I don't know if I signed up for this," she toldThe Independent. "I definitely signed up to be a nurse and take care of people, sometimes get a little blood on my shoes ... but I didn't sign up for a pandemic. Nobody did."
Ms Boykin, 38, who's been in the industry for about 15 years, works as an ER nurse at UC Davis Medical Center in Sacramento, California, where she interacts with Covid-positive patients regularly while on shift.
She, like many on the frontline, has had to alter her life in order to care for patients while avoiding spreading the novel virus to her friends and family.
At the start of the pandemic, Ms Boykin quarantined herself in her bedroom away from her husband and four-year-old son. This proved to be difficult, though, especially when her son would sneak into the room in the middle of the night to see her.
Now, months into the pandemic, her son has to wait until she's showered after a shift before they can share a hug and a kiss.
"I think that that was a hard transition for him because he's such a loving little dude," Ms Boykin said. "I come home at like 7am and the first thing he wants to do is run up to me and give me a hug. I always have to stop him and get in the shower and make sure I'm clean before I can hug and kiss him."
She's also kept her distance from her niece, nephew, and father-in-law – who suffers from a heart condition – throughout the pandemic to avoid putting them at risk of contracting Covid.
"I come in contact with coronavirus patients more often than the average person," she said. "So I really am looking forward to my son being able to play with his cousin and not fear if I am asymptomatic, is my kid asymptomatic? Are they going to go home and take it to their grandfather?"
California was one of the first states to experience the impact of Covid-19 in March. In order to address the surge of cases and hospitalisations, the state shut down the majority of its businesses and implored residents to stay at home.
Now, it's seeing another surge in the virus, as California reported a record number of deaths in a single day on Thursday with 379 people dying from Covid-19.
This surge was seen in Ms Boykin's hospital at a time when coronavirus fatigue has set in among the general public. Ms Boykin said her hospital was experiencing a staffing shortage as they balanced the influx of coronavirus patients with regular trauma and other sick patients.
"People have this fatigue around the lockdown," she said. "They're still going out and they're still getting in car accidents. Also, be clear, this is respiratory season. We have to treat everyone like they have Covid until we find out they don't."
What has stuck out to Ms Boykin throughout the pandemic, though, is how disproportionately it has impacted poor people and communities of colour. Multi-generational families, she said, have also been prevalent among her hospital's coronavirus population.
"Makes me wonder if we are doing an adequate enough job around getting the information out in enough languages, because I'm seeing a lot of folks who have English as a second language coming in," she said. "I don't know if we're missing the mark around educating folks on when to get tested or what it means to be exposed. Or if we're not getting the message across around like how to protect yourself.
"But also these disparities exist in the healthcare system, period," she added.
About 40 per cent of California's population is Latino, but they disproportionately make up nearly 50 per cent of Covid-19 deaths. Afterican-Americans account for 6.5 per cent of the state's population, but they account for about 7.4 per cent of Covid-19 deaths.
Ms Boykin, who is Black, said it was imperative for healthcare systems to not only employ people who looked like the community they represent to address some of these disparities post-pandemic, but also to acknowledge the previous mistreatment minority communities have experienced.
"Make some cultural shifts, like hiring people that look like the community they serve, for God's sake," she said, "so that when folks show up, there's another level of compassion … instead of this constant othering of patients that we do because they don't look like us."
"Anytime there's chaos, there's also opportunities," Ms Boykin added. "So I think there's lots of opportunities for the healthcare system overall to do better. And again, I would just lean back on that transparency and copping to the unfairness that exists inside of the healthcare system."
This recognition of unfairness and disparities that exist was especially important, Ms Boykin said, when addressing the current coronavirus vaccination campaign.
Her hospital has received Pfizer's Covid-19 vaccine and started to administer it to healthcare professionals. While Ms Boykin is willing to receive the vaccine, she also wanted the healthcare system to work on understanding and addressing why Black communities would be hesitant about the treatment.
"They can do better than just putting people of colour on the news getting a shot," she said. "That is not going to move anyone, in my opinion. It does not move me specifically to get in line."
Historically, America's healthcare system has abused Black people by performing medical treatments on non-consenting individuals. This mistreatment and exploitation started as early as when the first enslaved African arrived in the US and continued well into recent years, causing Black people to rightfully distrust the healthcare system.
This past medical abuse stays with Black Americans to this day. But recent studies have also found racist stereotypes still exist among medical professionals, with some believing ludicrous ideas like Black people don't follow doctor recommendations and they have a higher pain tolerance compared to white individuals.
"I think what would be a better motivator is copping to some of the racism that exists inside of the healthcare system and making an outward facing statement that they plan on addressing it," Ms Boykin said. "Also copping to some of the harm that has been done through these research projects … doing research on folks without their consent, predominantly people of colour and poor people."
One day during the pandemic stuck out to Ms Boykin, in particular, about how her work as a frontline nurse really mattered. It involved a coronavirus-positive patient who had a high temperature, difficulty breathing, and was tachycardic – meaning he had a rapid heartbeat.
"After a couple of hours, we're really able to turn him around, and that is so satisfying," she said.
The moment reminded her of the special set of skills she has to help assist in this pandemic and save lives. 
But Ms Boykin also wanted the public to understand the sacrifices frontline workers were making during the pandemic and do their own part by following guidelines like wearing a mask.
"I'm really honored to be someone that can help heal," she said. "But on the other hand, I don't want to feel expendable either. Sometimes I feel that way."
Join our commenting forum
Join thought-provoking conversations, follow other Independent readers and see their replies