California set to ban 'puppy mills' with bill prohibiting inhumane commercial pet breeding
Divisive legislation opposed by pet shops but animal advocates hope it will bring an end to rearing of dogs, cats and rabbits for sale in poor conditions
Christine Hauser
Tuesday 19 September 2017 08:35 Comments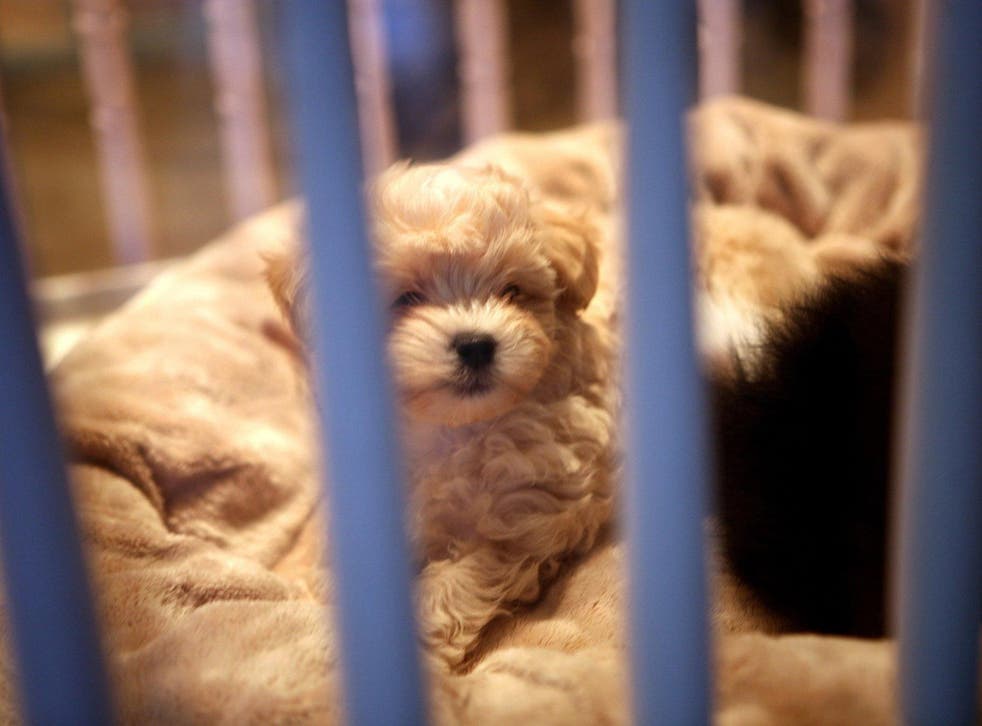 California could become the first state to outlaw so-called puppy mills with legislation that bans pet stores from selling dogs, cats and rabbits that do not come from rescue organisations or shelters.
California legislators passed the bill, AB 485, on Thursday and sent it to Governor Jerry Brown, who has until 15 October to act.
The bill laid bare the divisions among animal rights advocates, breeders and pet store owners. Opponents said the bill would put pet stores out of business and deny consumer protections to the public, while supporters said it will cut off a pipeline of animals bred under inhumane conditions.
The Pet Industry Joint Advisory Council called on Brown to veto the bill. "Pet lovers deserve to know the medical history of their prospective pet, and to have recourse under certain circumstances if the pet is ill or dies due to illness," it said in a statement.
Dustin Siggins, a spokesman for the Pet Industry Joint Advisory Council, said supporters "unfairly demonise all commercial breeders."
Opponents said the measure would put pet stores out of business because it did not require shelters and rescue organisations to provide animals to stores.
"Hundreds of pet professionals' jobs are at risk — even though pet stores are the most regulated group of pet providers," the council said.
The American Society for the Prevention of Cruelty to Animals supported the bill and said the animals "generally live in overcrowded and unsanitary conditions" and "without adequate veterinary care, food, water or socialisation."
"While awareness of the puppy mill problem is growing, humane regulation at the state and federal level has been slower to evolve," Matt Bershadker, the president of the society, said in the statement.
The law would take effect on 1 January 2019. Violators face $500 in civil penalties.
More than 230 cities, towns, and counties across the country have passed ordinances to prevent the sale of cruelly bred animals at pet stores, including 36 local jurisdictions in California. But if signed, the bill would make California the first in the nation to regulate the sale of animals at the state level, the society said.
Popular dog breeds then and now

Show all 10
A summary and fact sheet about the bill said it was meant to address "extremely minimal" federal standards, such as the requirement that a cage be only 6 inches larger than the animal it housed and cleaned just once a week.
The New York Times
Register for free to continue reading
Registration is a free and easy way to support our truly independent journalism
By registering, you will also enjoy limited access to Premium articles, exclusive newsletters, commenting, and virtual events with our leading journalists
Already have an account? sign in
Join our new commenting forum
Join thought-provoking conversations, follow other Independent readers and see their replies