California votes to reject law forcing porn stars to use condoms
Performers campaigned against the proposal, saying the law would make them less safe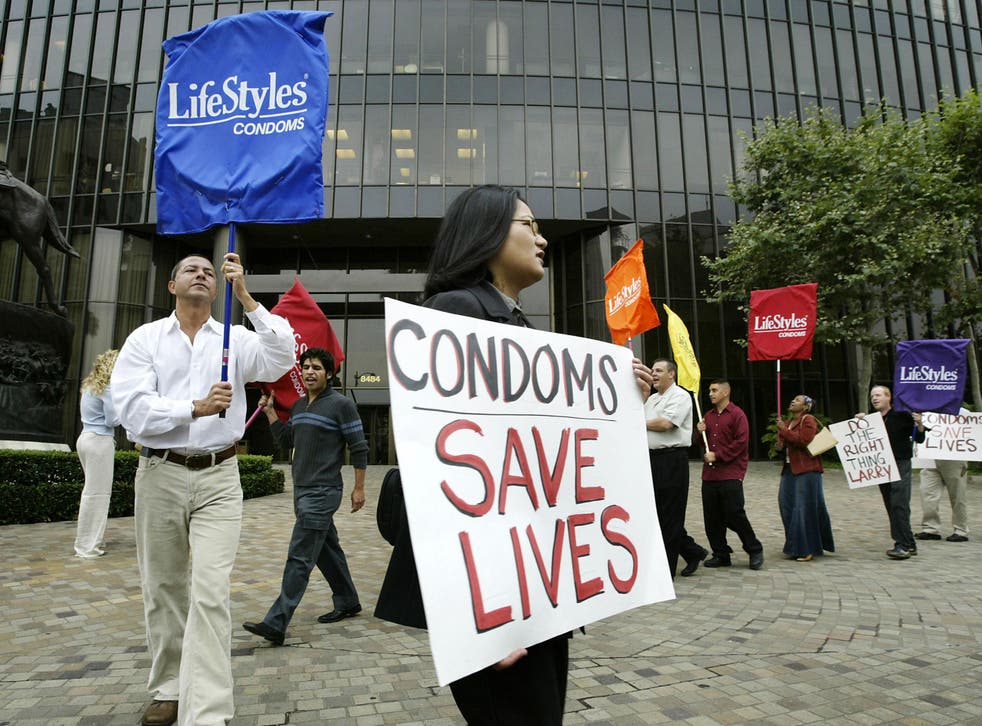 Californians have voted against forcing porn performers to wear condoms while filming sex scenes.
Proposition 60, which porn actors said could drive the industry underground and expose them to harassment and fines, was defeated by 53.9 per cent to 46.1 per cent.
The controversial bill, which was sponsored by the president of the Aids Healthcare Foundation, was designed to protect actors from sexually transmitted diseases. In addition to making condom use compulsory, the bill aimed to strengthen existing measures like STI testing for porn stars.
But most people working in the sex industry strongly opposed the rule, which would have allowed any of the 38 million people living in the west coast state to take legal action against a producer, if they saw an adult film in which condoms were not used.
Supporters of the bill said performers themselves could not be sued, but actors pointed out they would have been liable if they had a financial interest in an offending film.
Tasha Reign, an adult performer who campaigned against Proposition 60, is one of a number of actors who also produces her own films and would, therefore, have been at risk. In an industry becoming harder to monetise because of a glut of free adult content, porn stars are increasingly investing in the films they appear in. She said she could have been sued for up to $75,000 per offence had Proposition 60 passed.
Performers also argued they would have been left vulnerable to stalkers and harassment by having their details made public to those launching suits against them.
Ms Reign told The Independent ahead of the vote: "My safety is now on the line because the proposition allows for California citizens to sue adult performers or anyone involved in the adult video, and with incentive to sue - they're going to get paid.
"And when they do, they gain access to our home addresses, which I am terrified of. I already receive death threats and things like that. This will open up a door for a whole other issue, and I'm very scared about that."
The measure was branded "legalised harassment" by Mia Li, an adult performer, who said it would have allowed anyone with a laptop to sue her and profit by collecting 25 per cent of the penalties against her in addition to their legal fees. The rest of the fine would go to the state.
Ms Reign said the introduction of Proposition 60 would have driven porn underground where it could not be regulated, and would become more dangerous. Producing pornography is technically illegal in every state except California and New Hampshire, so the industry would have had nowhere else to go.
Evil Angel, a California-based porn studio, said in a statement released shortly after the result that they were delighted the bill had been defeated thanks to "porn activists".
Getting in on the act: How the porn industry intends to reinvent itself

Show all 7
A spokesman said: "Thanks to California voters and the activists that engaged them, porn producers and wage earners are no longer threatened with unsafe standards or the loss of their livelihood.
"The poorly drafted Prop. 60, theoretically designed to protect porn talent, would in fact have made California's adult performers far less safe, and the proposition's draconian measures would have forced the multi-billion dollar industry out of state. The worst thing about Prop. 60 was that it would have replaced existing, effective STD testing standards with less effective tests conducted less often."
Californian voters also rejected abolishing the death penalty on Tuesday, instead passing a proposition designed to speed it up, and they elected to legalise marijuana for recreational use.
Register for free to continue reading
Registration is a free and easy way to support our truly independent journalism
By registering, you will also enjoy limited access to Premium articles, exclusive newsletters, commenting, and virtual events with our leading journalists
Already have an account? sign in
Register for free to continue reading
Registration is a free and easy way to support our truly independent journalism
By registering, you will also enjoy limited access to Premium articles, exclusive newsletters, commenting, and virtual events with our leading journalists
Already have an account? sign in
Join our new commenting forum
Join thought-provoking conversations, follow other Independent readers and see their replies