California wildfire engulfs motorway leaving passengers fleeing burning cars
Footage of cars erupting into flames and drivers fleeing their vehicles shows wildfire disaster on Intersection 15 along the Cajon Pass
Alice Harrold
Saturday 18 July 2015 10:42 Comments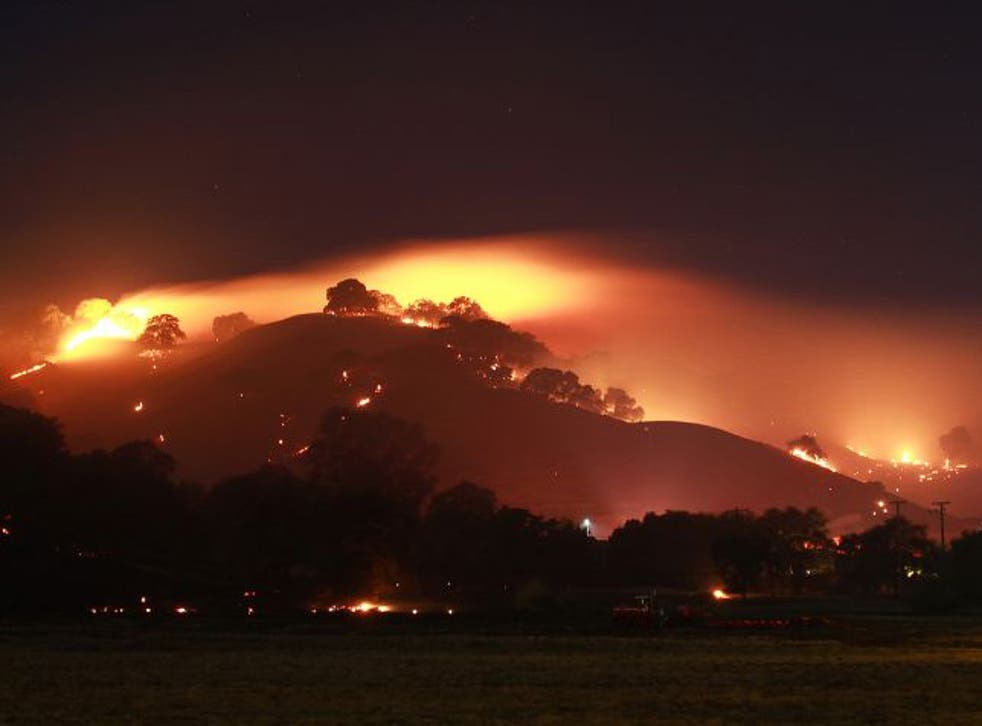 A wildfire has torn through a Californian motorway causing travellers to flee their cars, burning several vehicles and destroying four buildings.
Firefighters continue to battle the fast-moving bushfire which is sweeping across the Southern California mountain pass.
The fire broke out during rush hour on Interstate 15, along the Cajon Pass on the motorway connecting Los Angeles with Las Vegas.
At least 20 vehicles have been destroyed in the flames and over 50 more were abandoned as travellers ran from the fire. There have been no confirmed reports of injuries.
Neighbouring mountain towns have been evacuated as the fire service attempts to save local homes.
Uriah Hernandez, a spokesman for the US forest service, said the bushfire burned at least 50 acres of land on both sides of the motorway and was moving fast.
"It's crazy, you're watching black clouds and white clouds of smoke, there's a ridgeline off to my right... it looks like any second flames will come over the ridgeline," said Chris Patterson, a driver present at the scene.
The fire was caused by severe dry conditions as California continues to suffer months of drought. There have been more than 3,381 wildfires in the state this year – 1,000 more than the average over the previous five years.
Register for free to continue reading
Registration is a free and easy way to support our truly independent journalism
By registering, you will also enjoy limited access to Premium articles, exclusive newsletters, commenting, and virtual events with our leading journalists
Already have an account? sign in
Join our new commenting forum
Join thought-provoking conversations, follow other Independent readers and see their replies