California wildfire: Thousands flee third largest blaze in state's history
'It is a beast, but we will kill it'
Chris Baynes
Sunday 17 December 2017 15:18 Comments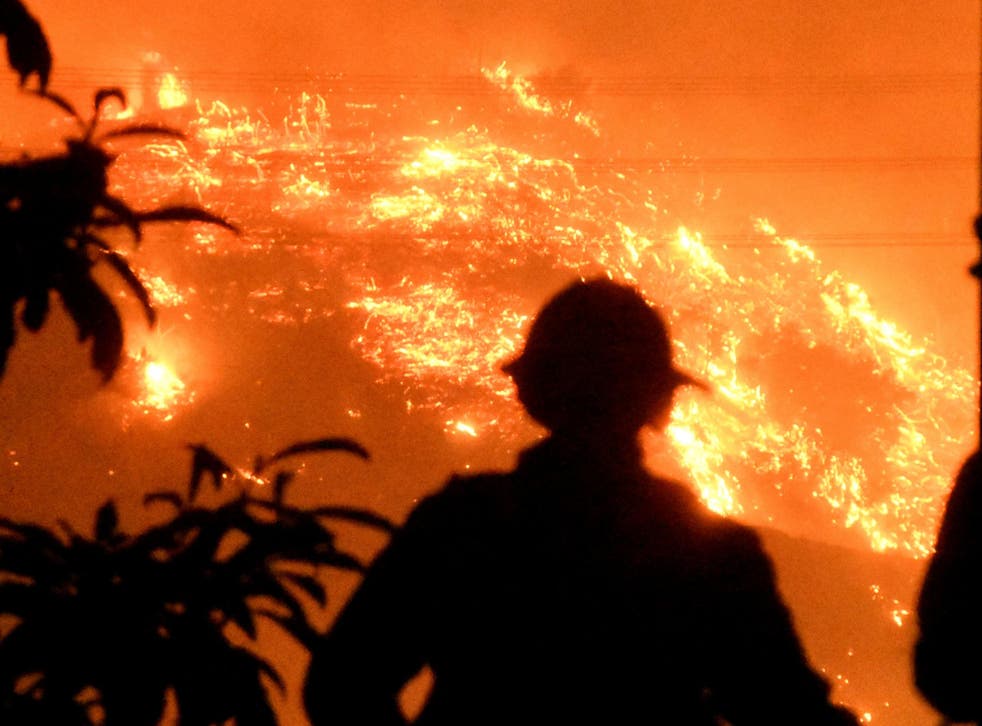 A raging California wildfire powered by fierce winds has grown into the third largest in the state's history, turning neighbourhoods into ghost towns through forced evacuations and showering ash on some areas like heavy snow.
High winds and dry conditions were expected to remain through the weekend to power the so-called Thomas Fire in Southern California, which has destroyed more than 1,000 structures, threatened 18,000 others, and killed one person since erupting on 4 December
The blaze has burned more than 267,500 acres of land, outsizing New York City's 195,000 acres.
"It is a beast," Santa Barbara County Fire Department Division Chief Martin Johnson told a news conference. "But we will kill it."
Nearly 8,500 personnel using nearly 1,000 engines and 32 helicopters were battling the fire, which was 40 per cent contained on Saturday evening. It has become the seventh most destructive in state history, officials said.
A new evacuation order was issued for parts of Santa Barbara County on Saturday as high winds whipped the fire through bone-dry terrain.
Residents fled from the wealthy town of Montecito, just outside the coastal city of Santa Barbara, as smoke billowed from nearby canyons and choked the air, hindering aircraft dropping flame retardant.
The enclave is home to the mansions of Oprah Winfrey, Ellen DeGeneres and other celebrities.
"Still praying for our little town," Winfrey tweeted. "Winds picked up this morning creating a perfect storm of bad for firefighters." It was not clear if the former talk show host was in Montecito at the time.
The evacuation orders for Montecito and neighbouring Summerland came as winds that had eased a day earlier roared back at 30mph with gusts of up to 60mph.
A portion of Santa Barbara was also under mandatory evacuation. At the city's zoo, workers began putting some animals into crates and kennels to prepare them to move if required.
In downtown Santa Barbara, Maya Schoop-Rutten, said she saw smoke suddenly appear through the window of her chocolate shop after strong winds blew through.
"It was absolutely incredible," she said. "There was a huge mushroom of smoke that happened in just a matter of a few minutes."
Restaurants and small stores on normally bustling State Street were shuttered.
"It's a ghost town. Everything is shut down," Ms Schoop-Rutten said. "It's very, very eerie."
The wildfire has forced many schools to close for days, shut roads, and driven hundreds of thousands from their homes. It was also responsible for poor air quality throughout Southern California.
An evacuation order for the city of Ventura, which was hit hard in the first days of the fire, was lifted on Saturday morning.
"Our backyard, it's like a rain of ash. I don't even want to step back there," said Janet Harrington, 56, an artist, writer, and lifelong resident of the city.
Her son Ryan added: "I can count 10 people who lost their homes. My best friend from high school, his mom's house burned down."
The total cost of fighting the fire had come to more than $110 million (£82.5 million) by Saturday evening, as flames blazing over steep hills lit up the night skies.
The 13 days of shifting winds and evacuations have also taken their toll on a weary population.
Paul Pineda, who lives in Fillmore, about 55 miles north-west of Los Angeles and on the eastern flank of the fire, said he will flee if the blaze gets too close.
This year has been unprecedented for California in terms of structures lost and the size of the wildfires, officials said. Five of 20 most destructive fires in recorded history ravaged the state in 2017, according to Cal Fire.
The vast landscape charred by the blaze, centered fewer than 100 miles (160 km) northwest of downtown Los Angeles, reached 267,500 acres (108,253 hectares) late on Saturday. The largest wildfire in state history was the 2003 Cedar blaze in San Diego County that consumed 273,246 acres and caused 15 deaths.
The hot Santa Ana winds have propelled the fire's expansion, at times sending embers far ahead of its main flank. They were forecast to gust at up to 50mph (80kph) on Sunday with critical fire conditions remaining through Monday, National Weather Service forecasters said.
Firefighter Cory Iverson, 32, died on Thursday while battling the flames near the Ventura County community of Fillmore. Cal Fire said Mr Iverson, the blaze's first fatality, left behind a pregnant wife and two-year-old daughter.
He died of smoke inhalation and burns, the Ventura County Medical Examiner's office said.
Register for free to continue reading
Registration is a free and easy way to support our truly independent journalism
By registering, you will also enjoy limited access to Premium articles, exclusive newsletters, commenting, and virtual events with our leading journalists
Already have an account? sign in
Join our new commenting forum
Join thought-provoking conversations, follow other Independent readers and see their replies