California wildfires: Search teams step up efforts to find remains before rain arrives
Number of those believed missing in Camp Fire is now 1,276 as death toll reaches 76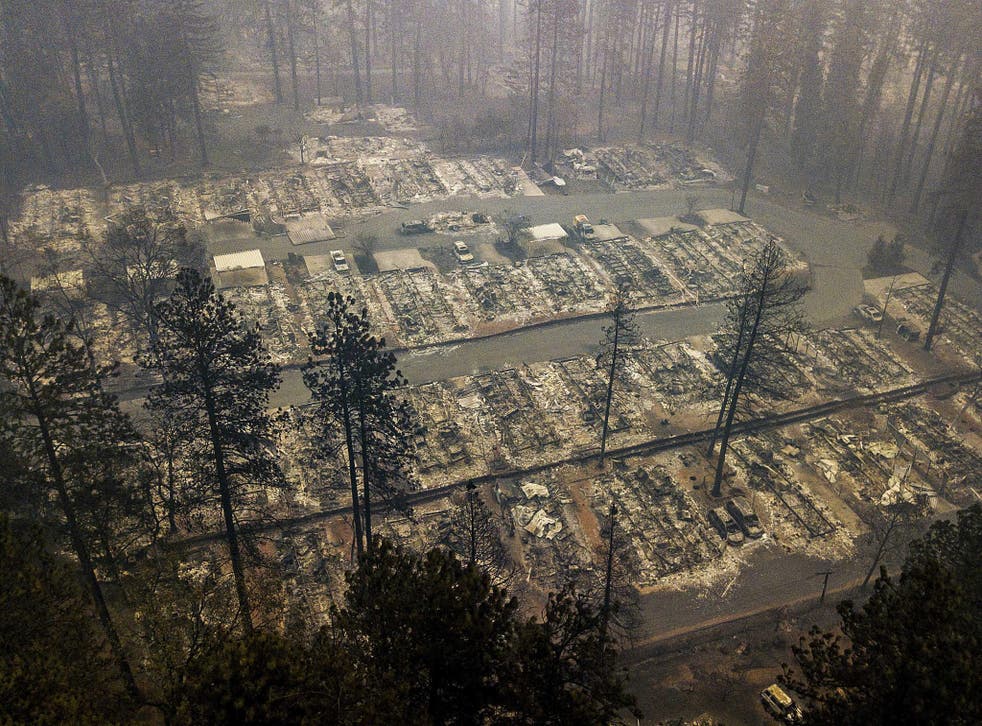 Search teams have stepped up efforts to find the almost 1,300 people still believed missing amid the deadliest fire in California's history, with rain expected to hit the area in the next few days.
While the rain will help with the Camp Fire, it could also turn parts of the blaze zone - where at least 76 bodies have been discovered so far - into a mass of mud that could hinder efforts to find remains.
Meteorologists have "very high confidence" that Butte County will get 10-13cm of rain from Tuesday night through to the weekend.
Patrick Burke, a lead forecaster with the National Weather Service's weather prediction centre in Maryland, said the rain would be a "one-two-punch".
"It'll bring much needed relief to the firefighters and to the air quality, but there's a potential for dangerous mudslides wherever vegetation is burned away on slopes and hills," he said.
Sixty-three bodies have been identified using DNA confirmation, with the latest including Lolene Rios, 56, whose son Jed tearfully told KXTV in Sacramento that his mother had an "endless amount of love" for him.
"It's a disheartening situation," Butte County Sheriff Kory Honea said of the search for the 1,276 missing. "As much as I wish we could get through this before the rains come, I don't know if that's possible."
Donald Trump on the California wildfires: 'I have strong opinions, I want a great climate'
The Camp Fire was 60 per cent contained on Sunday, having burnt more than 60,500ha. But even when the fire is fully contained, the destructive nature of the blaze will leave thousands of residents displaced.
At the latest count, the Camp Fire had destroyed more than 12,700 homes and other structures, authorities said on Sunday.
In southern California, the Woolsey Fire - which has also killed at least three people - is 88 per cent contained with about 39,000ha set ablaze. The area will also see some rain during the week.
Wildfires spread across California – in pictures

Show all 32
Donald Trump visited California on Saturday, amid criticism over the way he had blamed poor forest management for the blazes and his threat to cut off federal funding.
Mr Trump said while visiting the town of Paradise, which had been decimated by the Camp Fire, that wildfires were not a problem in Finland because crews "spend a lot of time on raking and cleaning and doing things" to clear forest floors.
On Sunday, Finland's president Sauli Niinisto said in an interview he could recall discussing forestry with Mr Trump but was not sure if the subject of raking came up.
He remembered telling Mr Trump, "We take care of our forests", according to the interview in the Ilta-Sanomat newspaper, but said he could not recall raking coming up.
Also on Sunday, California Governor Jerry Brown claimed president Trump was supporting residents.
"He's got our back," Mr Brown told CBS' Face the Nation.
Support free-thinking journalism and attend Independent events
"There have been some back and forth between California leaders and the president," he said. "But in the face of tragedy, people tend to rise above some of their lesser propensities. So I think we're on a good path."
He also suggested California's severe wildfires would make believers of even the most ardent climate change sceptics in less than five years, and that those living near forests might need to build underground shelters to protect them from fires.
Associated Press contributed to this report
Join our new commenting forum
Join thought-provoking conversations, follow other Independent readers and see their replies