Cameron to meet with 'big mouth' presidential hopeful Chris Christie during three-day visit
Governor of Jersey, whom some have called America's answer to Boris Johnson, will get his chance to woo Londoners
David Usborne
,
Nigel Morris
Friday 30 January 2015 19:19 Comments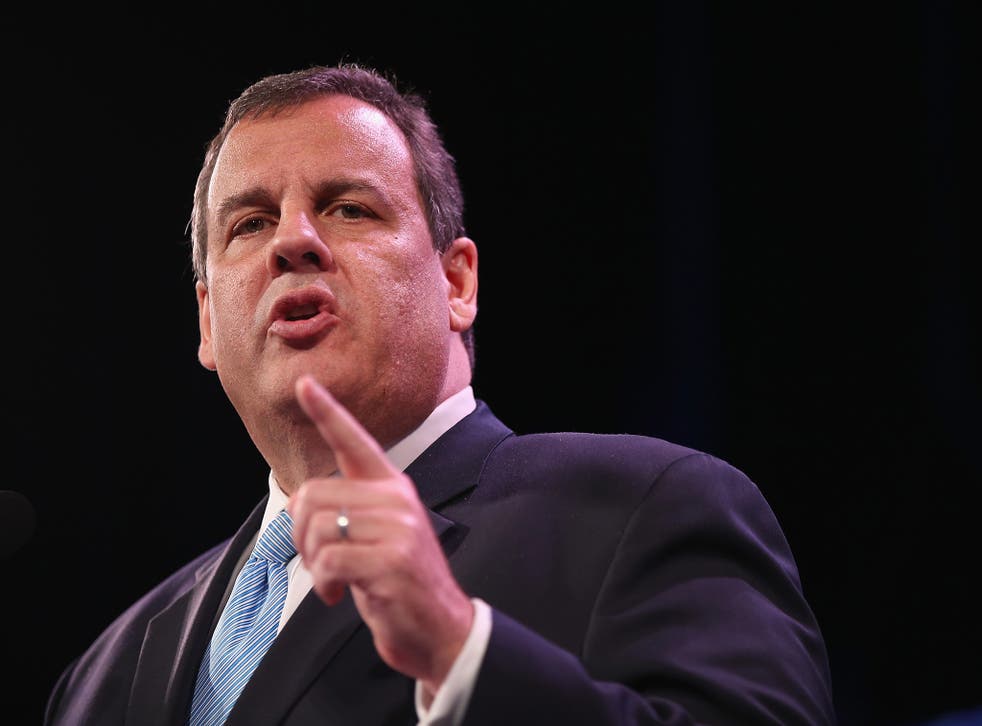 Chris Christie, the Governor of Jersey and Republican presidential hopeful, whom some have called America's answer to Boris Johnson, will get his own chance to woo Londoners with his sometimes brusque banter and blunt bonhomie when he arrives for a visit to Britain on Sunday.
Advertised by his aides as a trade promotion exercise, the three-day visit, that will take in a foray to Cambridge and an Arsenal-Aston Villa football game – 'soccer' in his parlance - clearly also provides the two-term governor with an opportunity to pad out his thus far entirely skimpy foreign policy credentials.
While they may share conservative philosophies and reputations for directness in their choice of words, there will be no meeting between Mr Christie and London's Mayor. The more important political prize for the governor is on his agenda, however – informal talks with the Prime Minister, David Cameron. They are expected to take place at Number 10 either on Monday or Tuesday.
In Cambridge, Mr Christie is to visit companies in the pharmaceuticals sector, a mainstay of trade between his state and the United Kingdom. According to his office, Britain is the fifth largest exporter of goods to New Jersey. Sources said talks with Mr Cameron will focus on the need to conclude negotiations for a new US-EU trade deal, known as the Transatlantic Trade and Investment Partnership, a rare common priority of both Republicans in Congress and President Barack Obama.
State of the Union address: President Obama's speech

Show all 8
Just on Monday Mr Christie made clear his intention to seek the Republican nomination in 2016 by creating a political action committee, essentially a campaign-in-waiting. He, like Jeb Bush, the one-time Florida Governor, meanwhile, both saw their putative bids boosted significantly yesterday when the 2012 nominee, Mitt Romney, announced that he would not after all be joining the race.
Pilgrimages to key allies, and London in particular, have become de rigeur for any American politician with serious White House aspirations. It is a challenge for states' governors in particular to pretend to have much experience in world affairs or even much knowledge of foreign countries. Thus in the last four months Mr Christie has made stops in Mexico and Canada. Earlier last year he traveled to Israel.
By agreeing to meet with Mr Christie, Downing Street may have created an awkward precedent if it means to avoid playing favourites between the different White House aspirants. On 9 February another in the very large field of possible nominees, Scott Walker, the Governor of Wisconsin, who is shaping up to be a possible front-runner, is also due in London, again on an alleged trade promotion trip for his state.
The meeting with Mr Cameron was described last night as drinks, not a formal government event. There are unlikely to be photographs of the two men with drinks in their hands. Two months ago Mr Cameron also hosted Jeb Bush for drinks at Number 10, ensuring that time was found in his diary before he flew to Australia for a G20 summit.
During his British visit Mr Bush held talks with Chancellor George Osborne, whom he has met several times previously, and dined with the London Mayor Boris Johnson and Cabinet ministers including the Chief Whip, Michael Gove. Barclays has been an important client of Mr Bush's investment firm in Florida.
As it happens, Mr Johnson will be heading towards the United States next week in an apparent move to demonstrate his standing on the world stage. He is to spend time both in New York and Washington DC.
Overseas trips for American politicians unschooled in foreign affairs can sometimes be risky. Mr Romney paid a disastrous visit to Downing Street in 2012 where an ill-judged comment played into Mr Obama's hands. Hours before a reception in his honour, Mr Romney questioned whether the London Olympics would be a success, warning of "disconcerting" signs about the preparations for the games.
He was publicly rebuked by Mr Cameron and accused by his Democrat opponents of embarrassing the United States abroad. Mr Johnson soon afterwards made a public quip at Mr Romney's expense.
The Conservative Party, which used to regard the Republicans as transatlantic cousins, is now divided over its American political allegiances. Many liberal-minded Tories supported Barack Obama in the last two presidential contests, partly because they were dismayed by the right-wing positions adopted by John McCain, the 2008 and Mr Romney.
However, Mr Christie's brand of moderate Republicanism, and his relatively humble origins, could appeal to some Conservative modernisers.
Mr Cameron has developed a warm rapport with Barack Obama who lavished praise on the Prime Minister after talks this month in Washington. He is also aware that Mr Obama will be in the White House for nearly two more years and – if he remains Prime Minister after the general election – will need to maintain that close relationship.
Register for free to continue reading
Registration is a free and easy way to support our truly independent journalism
By registering, you will also enjoy limited access to Premium articles, exclusive newsletters, commenting, and virtual events with our leading journalists
Already have an account? sign in
Join our new commenting forum
Join thought-provoking conversations, follow other Independent readers and see their replies