Canada Prime Minister Justin Trudeau pulls air strikes against Isis and welcomes refugees 24 hours after election
During his successful election campaign, Mr Trudeau said he would focus on humanitarian efforts in Syria and Iraq and pledged to invest CA$250m to process new refugees from the region
Tim Walker
US Correspondent
Tuesday 20 October 2015 19:19 Comments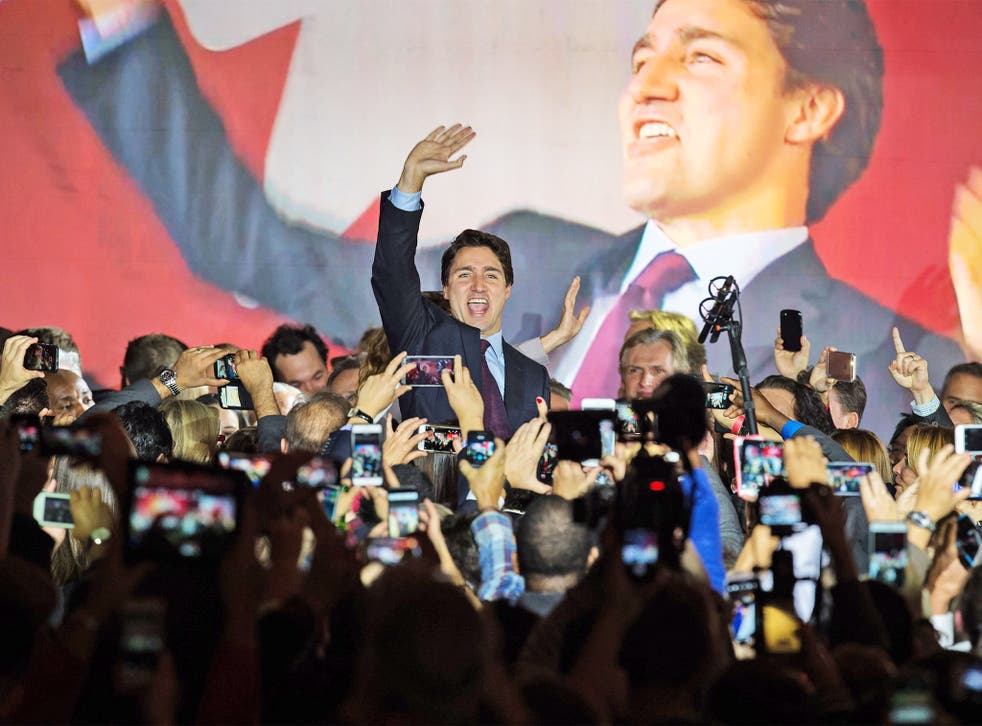 Canada's newly-elected Liberal government is expected to pull the country out of its combat mission against Isis and to welcome a further 25,000 Syrian refugees after ending almost a decade of Conservative rule.
Justin Trudeau, the son of the late Canadian premier Pierre Trudeau, led his father's Liberal party back to power on Monday with an unexpectedly decisive election victory. Prime Minister Stephen Harper's Conservatives, blamed for a stagnant economy and controversial policies on immigration and terrorism, were swept aside as the Liberals captured a clear majority: 184 of the 338 seats in Ottawa's House of Commons.
Mr Trudeau, a photogenic 43-year-old whose father was Prime Minister for more than 15 years between 1968 and 1984, is a sometime actor and former schoolteacher. He sprang on to the public stage when he delivered the eulogy at his father's funeral in 2000, and has been an MP since 2008.
Addressing supporters in Montreal as the results rolled in on Monday night, Mr Trudeau said his party had defeated "negative, divisive politics with a positive vision that brings Canadians together," adding: "It's time for a change in this country, my friends, a real change."
The Liberals have vowed to end to Canadian involvement in the US-led combat mission against Isis in Syria and Iraq, with Mr Trudeau saying he would focus instead on humanitarian efforts. He has also pledged to invest CA$250m (£125m) to process new refugees from the region, and to withdraw Canada from the F-35 stealth fighter jet programme, an initiative by 12 countries including the US and UK.
Canada's progressive style of social democracy, long contrasted with the politics of the US, had taken a turn to the right under Mr Harper, a neoconservative who cut taxes and took a more aggressive approach to foreign policy than his predecessors. His stimulus package helped Canada to emerge relatively unscathed from the global financial crisis, but more recently the country's economy, closely tied to plummeting oil prices, has contracted.
The government's ungenerous handling of the refugee crisis and the passage this year of a controversial anti-terrorism law – which the Liberals intend to amend – proved unpopular with many Canadians. The Conservatives were also accused of stoking anti-Muslim sentiment in a row over whether women would be permitted to wear the niqab when they took the oath of citizenship.
Mr Harper resigned as leader after seeing his party reduced from 159 to just 99 seats in Monday's election. "We put it all on the line, we gave everything we have to give, and we have no regrets whatsoever," he said during a concession speech in his Calgary constituency. "The people of Canada have elected a Liberal government, which we accept without hesitation."
The Liberals, who held power for 80 of the 110 years between 1896 and 2006, when Mr Harper was first elected, had shrunk at the last election to become the Ottawa Parliament's third largest party, behind the left-wing New Democratic Party (NDP).
Elected Liberal leader in April 2013, Mr Trudeau was a popular choice with the public, but his Conservative and NDP opponents wrote him off as a political lightweight who had coasted to prominence on his father's name. As Mr Harper announced Canada's participation in air strikes against Isis last year, Mr Trudeau accused the then-Prime Minister of "trying to whip out our CF-18s and show them how big they are", a comment widely considered a gaffe.
Conservative attack ads highlighting his inexperience and his past as a drama teacher proved effective, allowing the NDP to leap ahead in the polls in the early days of the 11-week election campaign, the longest in Canada's modern history. Yet Mr Trudeau exceeded expectations on the campaign trail and the debate stage, leading a steady Liberal surge from third place to front-runner. The NDP unexpectedly slumped to a distant third place with just 44 seats.
Mr Trudeau becomes Canada's second-youngest Prime Minister and the first son of a former leader to follow his father into office. He has promised to raise taxes on the wealthy and increase public spending while running a deficit for the first three years of his government. He has also said that he will set national targets on carbon emissions.
Justin Trudeau: Canada's next Prime Minister

Show all 5
Register for free to continue reading
Registration is a free and easy way to support our truly independent journalism
By registering, you will also enjoy limited access to Premium articles, exclusive newsletters, commenting, and virtual events with our leading journalists
Already have an account? sign in
Join our new commenting forum
Join thought-provoking conversations, follow other Independent readers and see their replies