Canada installs first ever crack-pipe vending machines
Controversial vending machines dispense them for $0.25 in attempt to curb spread of HIV and hepatitis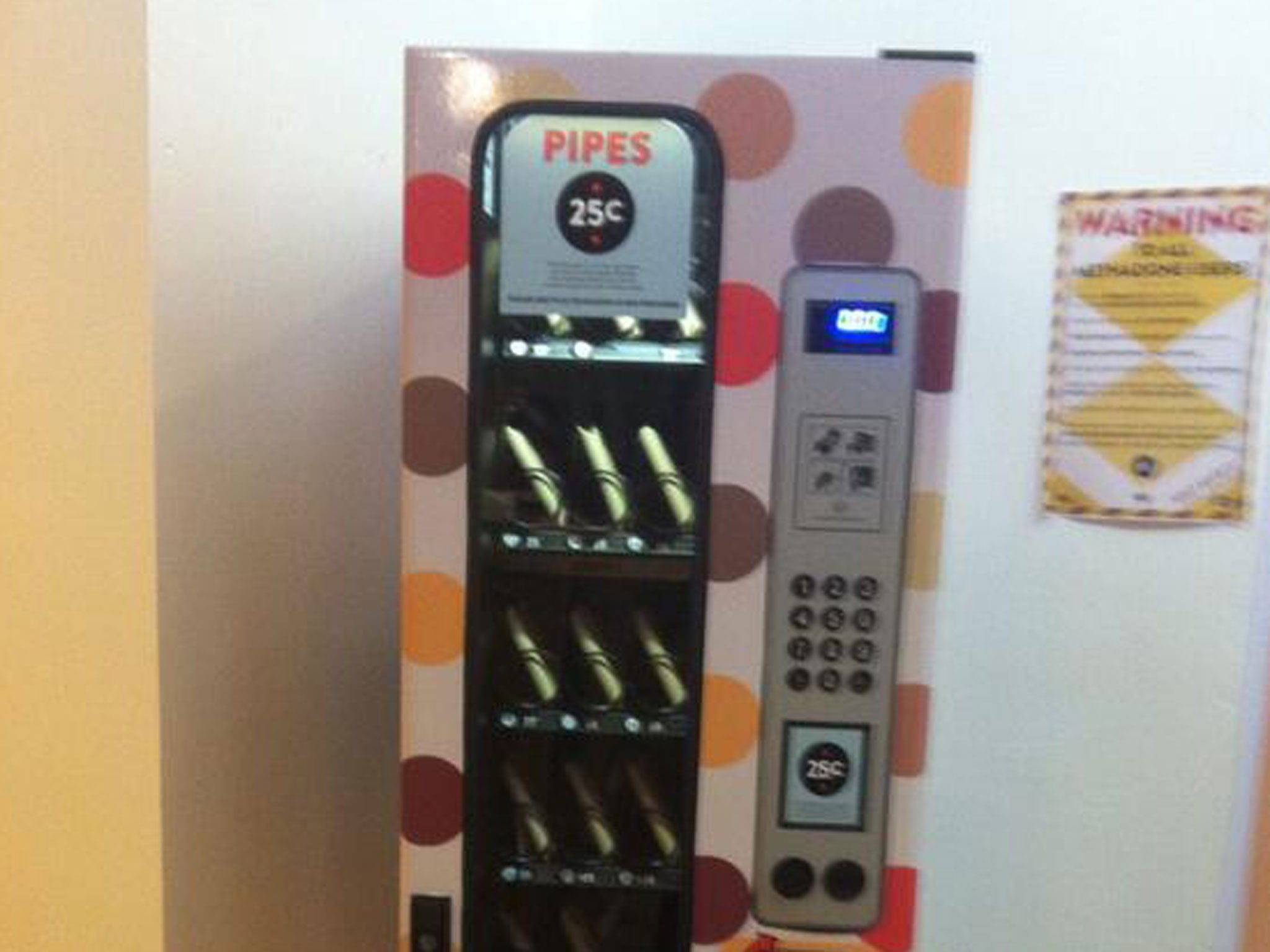 A Canadian NGO has installed crack pipe vending machines in the city of Vancouver in a bid to curb the spread of HIV and hepatitis among users.
The polka-dot vending machines are operated by the Portland Hotel Society, a drug treatment centre, and dispense newly packaged crack pipes like snacks for $0.25 (13p).
The group says the pipes are less likely to chip and cut users' mouths as a resulting of overheating and overuse, preventing the spread of disease among crack addicts.
"They don't run the risk of then sharing pipes, or pipes that are chipped or broken," Kailin See told CTV Vancouver.
"Everything from flu, colds, cold sores, HIV: If you cut your lip on a pipe that someone else has been using, there are risks there."
See said the vending machines bring users to a place where they are safe, supervised and encouraged to seek help. Each machine holds 200 pipes and is restocked every five days.
She added: "You have to have treatment, you have to have detox, you have to have safe spaces to use your drugs of choice and you have to have safe and clean supplies."
However, conservative federal safety minister Steven Blaney said his government does not support the scheme, arguing that it promotes the use of drug paraphernalia among young people.
In statement, he said: "We disagree with promoters of this initiative. Drug use damages the health of individuals and the safety of our communities.
"While the NDP and Liberals would prefer that doctors hand out heroin and needles to those suffering from addiction, this Government supports treatment that ends drug use, including limiting access to drug paraphernalia by young people."
The NGO defended the scheme arguing that it encourages safe practices, not drug use, and providing pipes is no different to handing out clean needles to drug users.
Mark Townsend, an addiction worker and supporter of the project, said the government missed the point on the benefits of harm reduction and challenged Blaney to visit a treatment centre.
He added: "Come on down, I'll show you the treatment centre where (Prime Minister Stephen) Harper just gutted funding from."
Join our commenting forum
Join thought-provoking conversations, follow other Independent readers and see their replies