Canada legalises recreational marijuana nationwide
Nation becomes first of G7 nation to legalise weed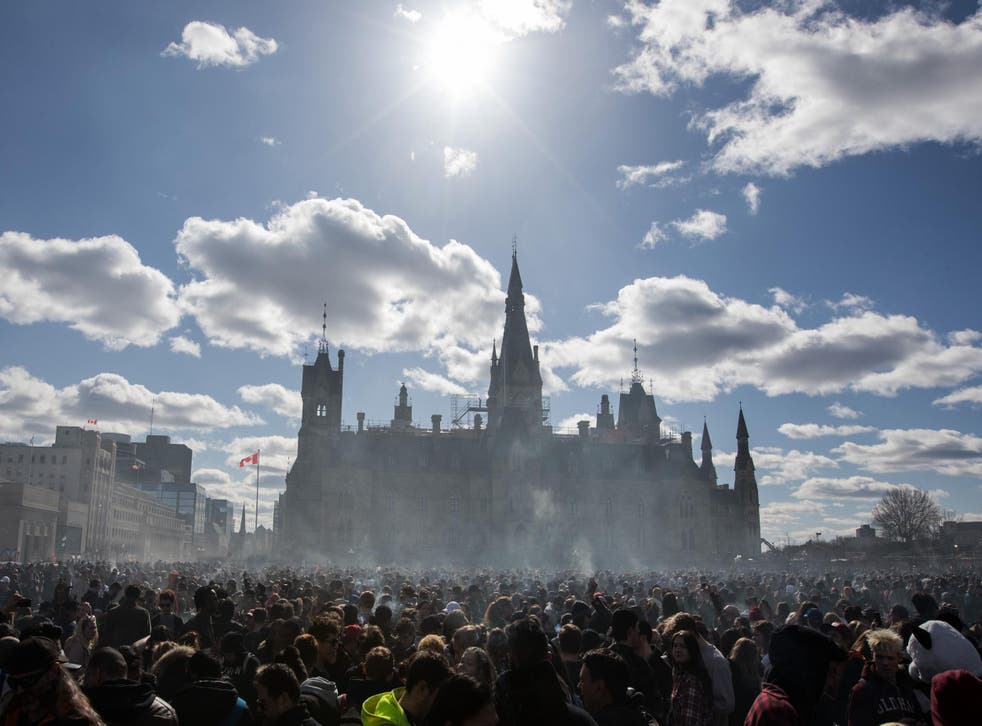 Canada has legalised the use of recreational marijuana nationwide, making it the first G7 country to do so.
The Senate voted 52-29 on Tuesday to pass the Cannabis Act, which allows people over the age of 18 to grow, buy, and use the drug for recreational purposes. It also regulates the growth and sale of marijuana, putting strict limits on packaging and limiting home growth to four plants at a time.
The bill passed the House of Commons earlier on Tuesday, and now goes to Prime Minister Justin Trudeau – an outspoken supporter of the legalisation effort – to decide when it will take effect.
The vote makes Canada the second country to legalise recreational marijuana nationwide, after Uruguay. It is the first of the world's seven most advanced economies – also known as the G7 – to do so.
Nine US states allow for recreational use, and several other G7 nations allow it for medical purposes. Medical marijuana has been legal in Canada since 2001.
In pictures: 4/20 Marijuana world rallies

Show all 26
Senator Tony Dean, the bill's sponsor in the Senate, called the vote a "brave move on the part of the government" and said he was "feeling just great".
"We've just witnessed a historic vote for Canada," he told CBC. "The end of 90 years of prohibition. Transformative social policy, I think."
Provinces will have a buffer period of at least eight to 12 weeks to prepare for sales before the law takes affect. The government had hoped to get the law passed in time for sales to start on 1 July, but pushed back the vote after the Senate requested more time to review it.
4/20 London - Should marijuana be legal?
The law bans possession of more than 30g of dried marijuana, and outlaws personal sales of the drug. Driving under the influence of marijuana will also be punishable by a $1,000 fine for a first offence, and jail time for a second.
The finer points of legalisation will be handled at a provincial level. Laws are expected to vary on issues like home growth and smoking in public.
The country's health ministry has said it hopes the law will make Canadians safer by restricting minors' access to the drug and disrupting the black market. The ministry came out in favour of the bill in a strong statement last April, saying the government's "current approach to cannabis does not work".
The bill's authors also claimed it would allow for better quality control and more public health awareness campaigns. Mr Trudeau has said legalisation would "deprive organised crime of money [and] make access more difficult for our children".
Several conservative politicians, however, disagreed.
"Sad day for Canada's kids," Senator Linda Frum tweeted after the vote.
Join our new commenting forum
Join thought-provoking conversations, follow other Independent readers and see their replies