Canada python deaths: Pictures show boys playing inside a snake enclosure last year
Photos have emerged of Noah and Connor Barthe cleaning out a snake cage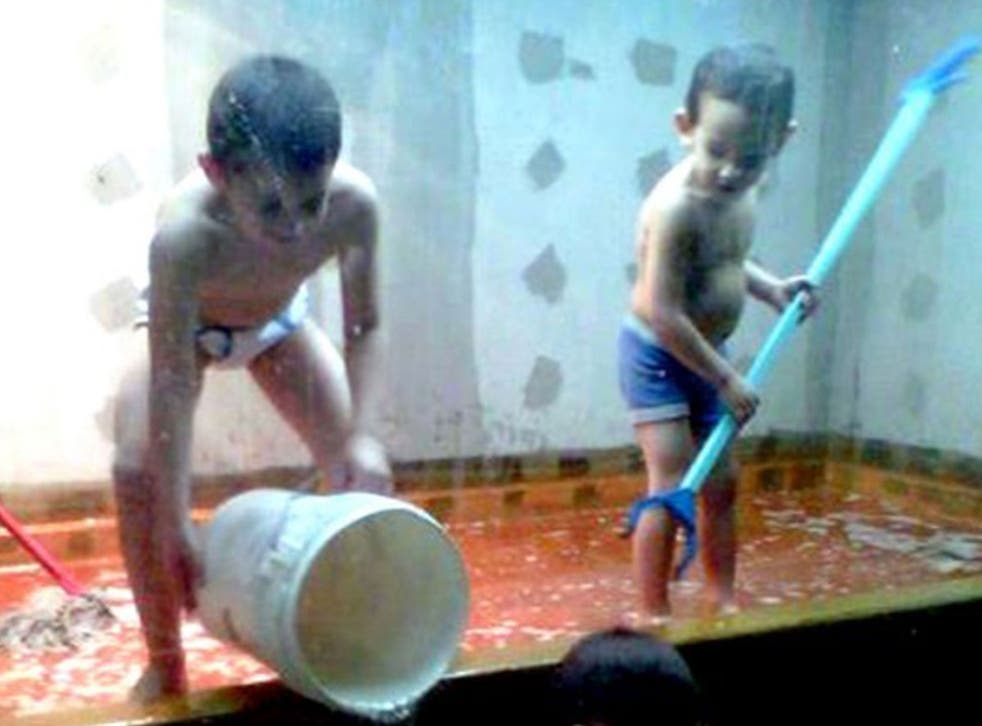 New photos have emerged of the two brothers killed by an escaped python playing inside a snake enclosure.
The pictures, posted by the mother of Noah Barthe, four, and Connor Barthe, six, in 2012, show them scrubbing and cleaning the inside of the enclosure.
The two boys were found dead on Monday morning in an apartment situated above a pet shop in New Brunswick, eastern Canada.
Noah and Connor had been attending a sleepover with their friend, the son of shop owner Jean-Claude Savoie, who owned a range of animals, including the python.
The snake is believed to have entered the room where they were sleeping and strangled the boys to death. The boys' friend, asleep in another room, was unharmed.
Mandy Trecartin's Facebook page has hundreds of photos of her sons, including a few showing Noah and Barthe happily scrubbing the glass enclosure, which she identified as an anaconda habitat. It was not clear whether the enclosure is the one that held the python.
Preliminary results from autopsies performed on the boys confirmed they died from asphyxiation. The snake, an African rock python, is thought to have escaped his enclosure and fallen through the ceiling into the room where the boys were sleeping.
A snake expert said it was possible that the python had instinctively reacted by simply clinging to whatever it landed on.
The pet store owner, Jean-Claude Savoie, has told a television station that he didn't hear a sound and discovered the "horrific scene" when he went into his living room on Monday morning.
Police said the snake was killed by a veterinarian. It was sent for a necropsy to confirm the type of snake and help understand what may have caused it to attack.
Hundreds of people in the shocked community of Campbellton, New Brunswick, gathered for a candlelight vigil Wednesday evening in a show of support for the family.
Steve Benteau, a spokesman for the provincial Natural Resources Department, said no permit was issued for an African rock python and provincial authorities weren't aware it was being kept at the apartment. The department said the snake is generally only permitted in accredited zoos.
The apartment is currently being treated as a crime scene as the investigation into how the two boys were exposed to a 100lb python continues.
Anne Bull, a spokeswoman for the New Brunswick's Natural Resources department, said the African rock python is not permitted in the province and said the department had no knowledge of the existence of the snake prior to this week's tragedy.
Bull said the department has obtained a search warrant for the store and said a number of exotic animals were discovered while police were investigating.
"If we discover any illegal exotic animals, they will be seized and efforts will be made to relocate them to accredited zoos," Bull said in an emailed statement.
Additional reporting by agencies
Register for free to continue reading
Registration is a free and easy way to support our truly independent journalism
By registering, you will also enjoy limited access to Premium articles, exclusive newsletters, commenting, and virtual events with our leading journalists
Already have an account? sign in
Register for free to continue reading
Registration is a free and easy way to support our truly independent journalism
By registering, you will also enjoy limited access to Premium articles, exclusive newsletters, commenting, and virtual events with our leading journalists
Already have an account? sign in
Join our new commenting forum
Join thought-provoking conversations, follow other Independent readers and see their replies