Canada's Senate votes to legalise recreational marijuana
Long-term goal of Justin Trudeau's Liberal party set to be realised after Conservative senators defeated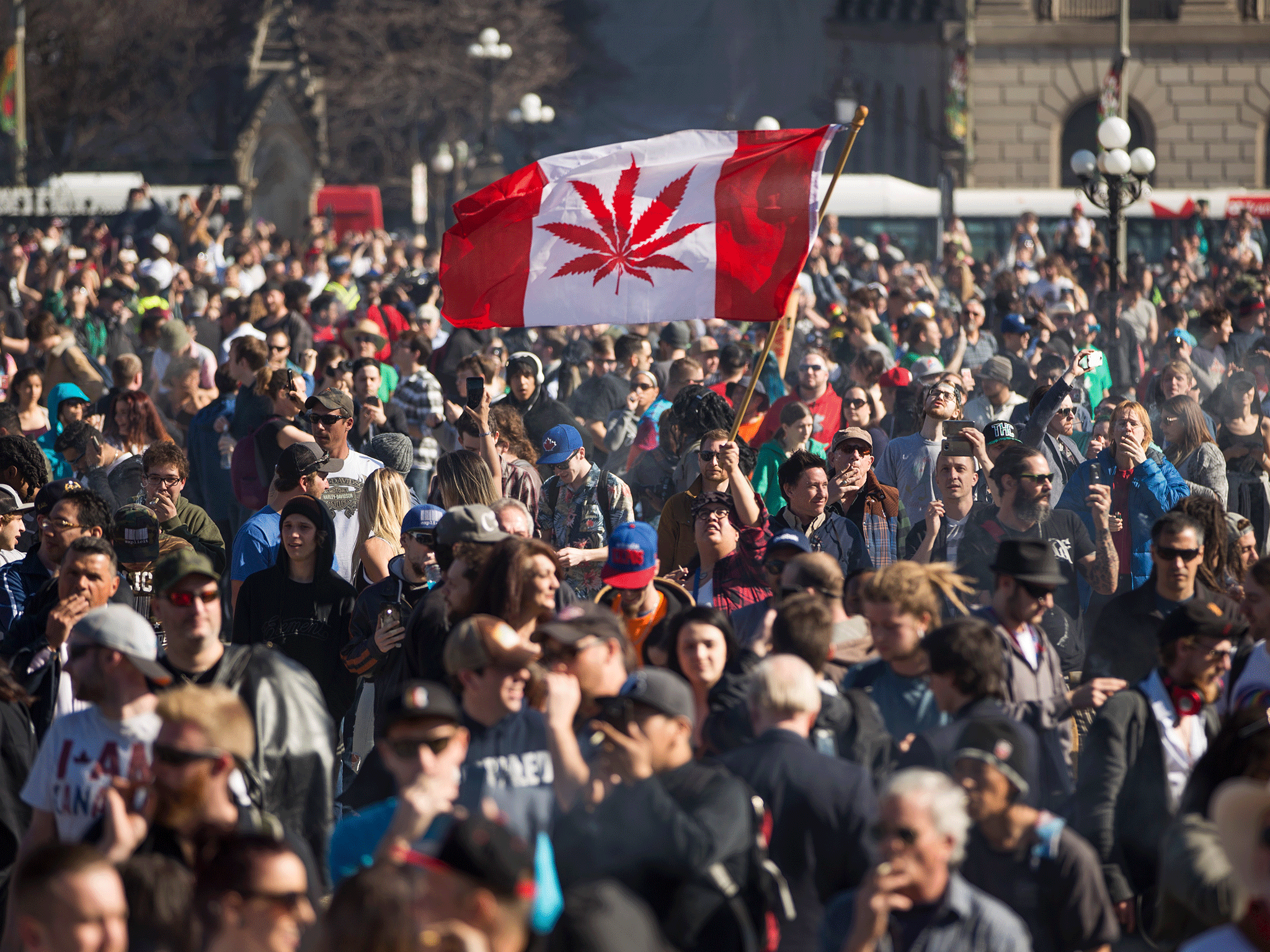 Canada has taken a key step towards legalising recreational marijuana after senators voted in favour of new legislation permitting nationwide use of the drug.
The upper chamber Senate voted 56 to 30 in favour of new rules on Thursday, but also included amendments the House of Commons will need to decide on before the law can be passed.
Prime Minister Justin Trudeau's Liberal party pledged to legalise recreational use of marijuana during their successful 2015 general election campaign.
While there is not yet a defined date when the drug will go on sale, clearing the Senate appeared to be the last serious hurdle for the bill, with a number of Conservative senators opposing legalisation.
Health minister Ginette Petitpas Taylor said earlier this year that cannabis would only go on sale a few months after legalisation, because new retail systems needed time to launch successfully.
Amendments proposed by the Senate include tighter advertising restrictions and giving provinces say over whether Canadians can grow marijuana at home.
Government legislation would allow for Canadians to grow up to four plants at home for personal use.
Canada legalised cannabis for medicinal purposes in 2001. If the new bill is signed into law, it will become the first G7 country to universally legalise recreational use of the dung.
The Liberals say new laws would keep marijuana out of the hands of underage users and reduce related crime, while creating jobs and boosting tax revenues.
However, many still believe much of Canada's recreational marijuana market, thought to be worth C$5.7bn (£3.3bn) a year, will be conducted as an illicit trade.
In pictures: 4/20 Marijuana world rallies
Show all 26
GTV Capital, a hedge fund that invests almost entirely in Canadian cannabis stocks, estimates an average pre-tax price of C$8.33 (£4.80) per gram, already higher than the illegal C$7.48 (£4.30) average due to testing, packaging and security regulations.
This is before a planned excise tax of $1 per gram or 10 percent, whichever is higher, or sales taxes of 5 to 15 percent are added.
"Heavy users use more than everyone else combined," said Damitha Pathmalal, portfolio manager at GTV.
"Many will stick to the illicit market, given the price difference."
The Royal Canadian Mounted Police plans to add analysts to monitor organised crime in the cannabis industry after legalisation and determine what enforcement resources are needed.
"If the black market can still operate profitably, there will need to be significant justice resources devoted to enforcement," said Rosalie Wyonch, policy analyst at the non-profit economics think tank the CD Howe Institute.
For the time being, Canada's provinces plan to permit fewer legal stores than required to meet demand, which could keep prices high until regulations become more relaxed.
Ontario, Canada's most populous province, plans 40 government-run stores at first, rising to 150 by 2020. Quebec, the second largest, will start with 20 stores but has deferred any expansion plans.
By contrast, the US state of Colorado is now home to around 1,000 marijuana retailers after legalising the drug in 2012.
There, prices have dropped from more than $12 (£9) a gram to less than $7 (£5.20) as the number of legal traders has increased.
Today, about 70 per cent of Colorado marijuana users buy legally, a state spokesperson said.
Additional reporting by Reuters
Join our commenting forum
Join thought-provoking conversations, follow other Independent readers and see their replies