Driver's miracle escape after car impaled by logs 'when he crashed into truck while reaching for coffee'
Firefighters cut through 40 logs to save man trapped in SUV after highway accident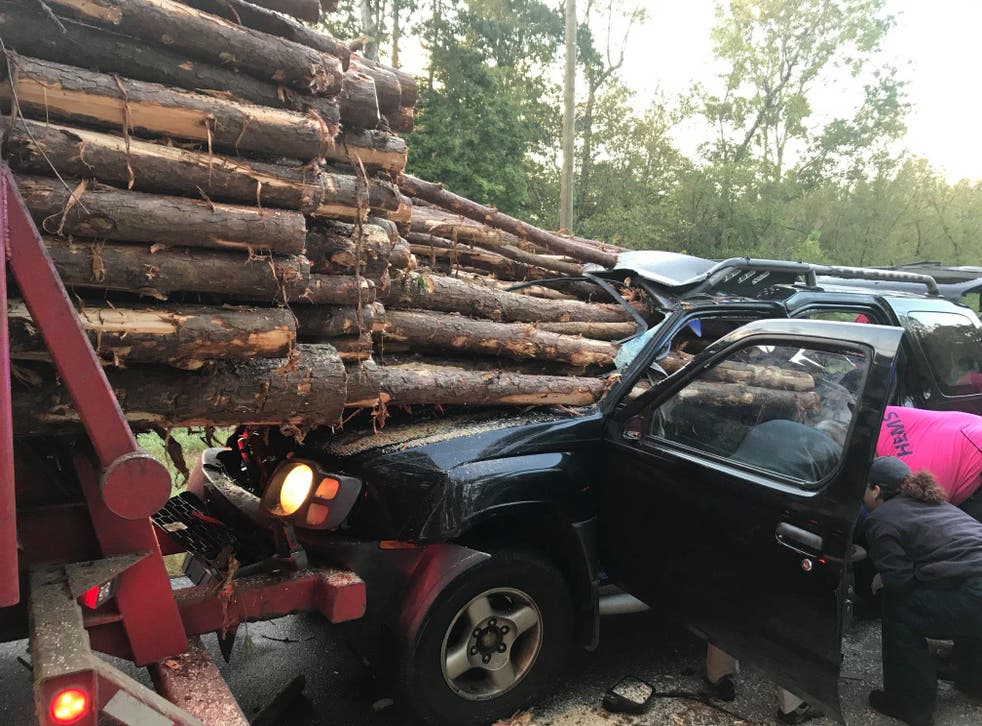 A driver escaped with minor injuries after smashing into a log-hauling truck that sent dozens of them through his windshield on a Georgia highway.
Photos from the scene of the accident uploaded by the Whitfield County Fire Department show bundles of logs breaking through the glass into the front seat of an SUV.
The logs blasted past the driver's seat and into the rear of the car.
On 11 October in Whitfield County, approximately 100 miles northwest of Atlanta, the driver of the black Nissan Xterra was reaching below his seat before the crash, reportedly reaching for a spilled coffee, and barely missing the spike of logs as he hit the rear of the truck in front of him.
Firefighters used chainsaws to cut through 30 to 40 logs to reach him, then spent another 15 minutes trying to remove him from the car
Independent Minds Events: get involved in the news agenda
The accident resembled a scene from the 2002 horror film Final Destination 2, when a logging semi-truck loses its haul and sends massive logs into high-speed traffic.
Join our new commenting forum
Join thought-provoking conversations, follow other Independent readers and see their replies