Carrie Underwood: US country queen speaks out for gay marriage – but how will conservative fans take it?
Christian singer Carrie Underwood risks wrath of the faithful with backing for equal rights for homosexuals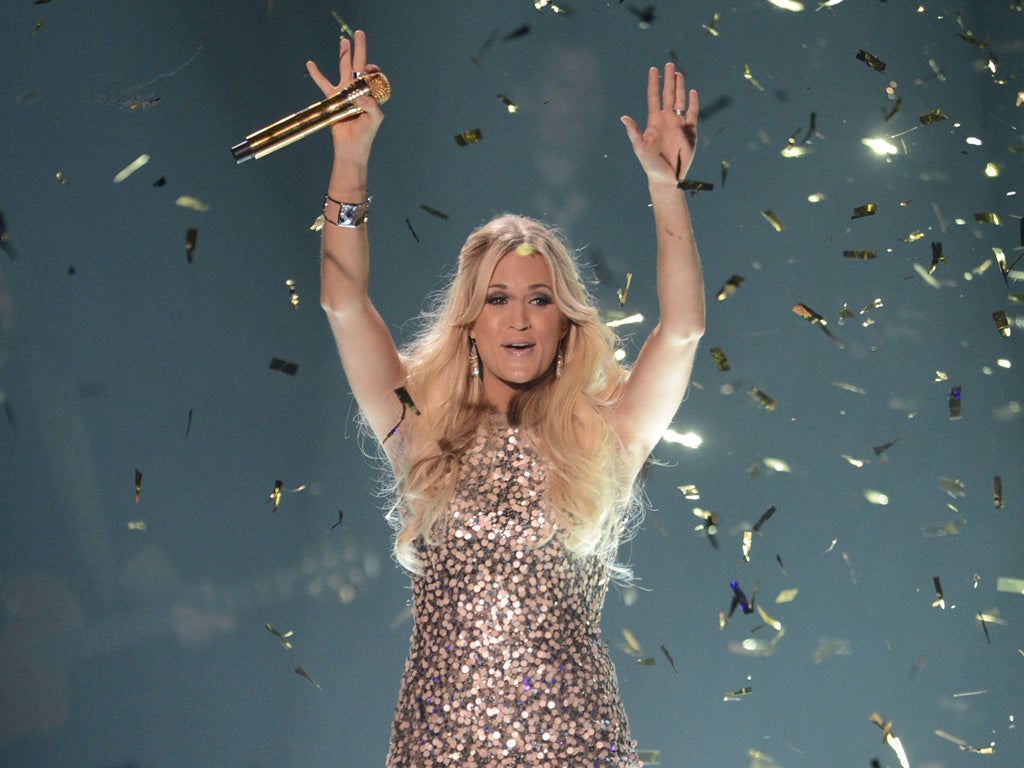 She is the musical darling of American conservatives: a God-fearing farm girl from Oklahoma who became a music phenomenon on the back of wholesome hit records about faith, family and the greatness of the United States.
Welcome to my country: Can America's sweetheart Carrie Underwood win over the UK?
Until now, that is. In a development that will doubtless outrage her many fans on the religious right, the nation's most popular country singer, Carrie Underwood, has come out vehemently in favour of gay marriage.
"As a married person myself, I don't know what it's like to be told I can't marry somebody I love, and want to marry," she said. "I can't imagine how that must feel. I definitely think we should all have the right to love, and love publicly, the people that we want to love."
The endorsement, in an interview with The Independent, puts Underwood in the line of fire of one of America's most divisive social debates. Barack Obama recently endorsed same-sex unions, indicating that he wishes to make the subject a key talking point in the forthcoming presidential election.
Gay marriage will be the subject of several ballot measures in November's election and is also at the centre of two high-profile legal cases. Mr Obama's Republican rival, Mitt Romney, is opposed to extending gay rights.
Underwood, whose new album Blown Away knocked Adele off the top of the US charts, draws much of her fanbase from evangelical Christians, speaks frequently about her faith and has made religion the subject of several of her best-known songs, including the No 1 country hit "Jesus Take the Wheel".
She said, however, that her liberal attitude towards same-sex marriage comes because of her Christian values, rather than in spite of them. Though raised a Baptist, a church that tends to oppose homosexuality, Underwood and her husband Mike Fisher, a professional ice-hockey player, now worship in a non-denominational congregation.
"Our church is gay friendly," she said. "Above all, God wanted us to love others. It's not about setting rules, or [saying] 'everyone has to be like me'. No. We're all different. That's what makes us special. We have to love each other and get on with each other. It's not up to me to judge anybody."
Underwood, 29, swept to fame in 2005 after winning American Idol and has since drawn much of her estimated $20m (£13m) annual income from touring the US. In the interview, she condemned "people who use the Bible for hate", adding: "That's not how I would want myself as a Christian to be represented."
The comments may upset elements within Underwood's US fanbase. But they could also help her imminent attempt to launch a career in Europe. Though prominent in America for nearly seven years, she has only now attempted to crack the UK market. Her first British concert will be held at the Royal Albert Hall this month.
Underwood's stance has been welcomed by gay-rights campaigners back home. "If you look at younger evangelicals, they are hugely out of step with their parents on this issue," said a spokesman for the pressure group Equality California. "They remain committed to their faith, but don't see gay rights being in conflict with Christian values. So while her comments are great news, they aren't necessarily a huge surprise."
A life in brief
Blonde and squeaky-clean, Carrie Underwood achieved fame in 2005, blowing away the competition to win American Idol, a talent contest which remains the nation's most popular TV show, in a live final watched by roughly 30 million viewers.
Raised on a farm in Oklahoma, she learned to sing at her local Baptist Church. Her oeuvre is loosely defined as "country crossover," a term which refers to country music with poppy influences that help it draw mainstream audiences.
It's a lucrative furrow to plough. In the ensuing seven years, Underwood has released four albums, three of which have reached number one, selling more than 12 million records, a figure that makes her by far the most successful act in the history of American Idol. Forbes put her earnings at $20m a year.
She performs up to 200 concerts a year, can fill 10,000 seat venues, and is a constant presence on US airwaves and in gossip magazines. Yet despite the longstanding domestic success, she is only now being "launched" overseas – her first ever UK gig, at London's Royal Albert Hall will be staged later this month.
Country controversy: Outspoken stars
Days before George Bush ordered the 2003 invasion of Iraq, the Dixie Chicks, above, told a concert audience in London: "Just so you know, we're on the good side with y'all. We don't want this war, this violence, and we're ashamed that the President of the United States is from Texas." Music by the group, who hail from Dallas, was promptly banned from half the country music stations in America.
Right-wing rocker Ted Nugent spoke at this year's AGM of the National Rifle Association. "If Barack Obama becomes President in November again, I'll either be dead or in jail by this time next year," he said. "If the coyote's in your living room pissing on your couch, it's not the coyote's fault. It's your fault for not shooting him." The Secret Service interpreted that as a death threat and sent agents over to "have words".
Country legend Willie Nelson has for years been an outspoken advocate for the legalisation of drugs. He also seems to practice what he preaches: in 2010, police in Texas found six ounces of marijuana in his tour bus, for which he got a $500 (£320) fine.
Welcome to my country: Can America's sweetheart Carrie Underwood win over the UK?
Join our commenting forum
Join thought-provoking conversations, follow other Independent readers and see their replies