Casey Neistat goes snowboarding in the New York snow
The New York Police Department were happy to let Neistat snowboard, even after the state's travel ban came into effect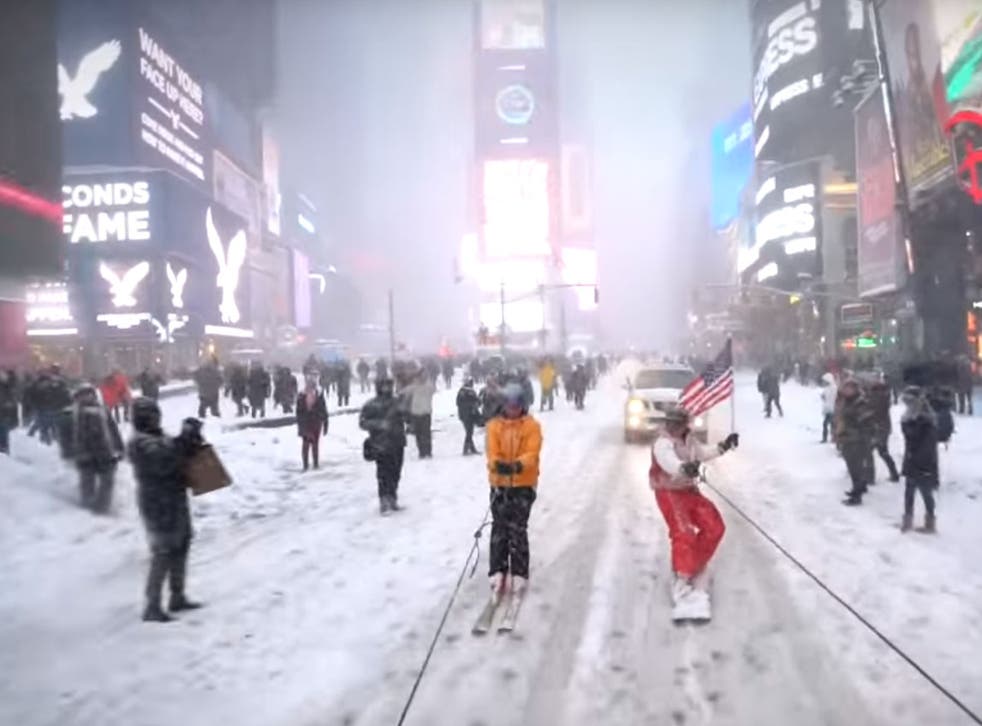 Filmmaker Casey Neistat has taken advantage of the snow currently covering New York by snowboarding through the city streets while being towed by a Jeep.
A short video of the snowboarding expedition was uploaded to Neistat's hugely popular YouTube channel on 24 January, and by the end of the day had already been viewed over 1 million times.
Taking in typical New York sights like Central Park and Times Square, the snow-covered streets are completely abandoned, making conditions perfect for the viral video.
Zipping around the city in a red outfit and sunglasses (and occasionally carrying an American flag), Neistat manages to take jumps and make corners as bystanders cheer him on.
Neistat has snowboarded all over the world, but told the New York Times that the urban conditions of snowy New York were "on par" with the best he's ever experienced.
"When you're out West you've got trees to avoid and you've got rocks to jump off of," he said.
"Here, you have snow plows to avoid and snowbanks and sports cars to jump off of," he told the paper.
A second 'making of' YouTube video shows what it was like to make the original - the team who worked on it had to scramble to film after city officials announced a total ban on all driving would come in at 2:30PM on 23 January.
They managed to get started before the ban but continued even after it went into effect. The video ends with the team being pulled over by police, who appear to be happy to let them continue.
One officer, whose face is not shown, tells Neistat: "Someone complained about you, so we're just going to act like we're talking to you."
"You guys are awesome," Neistat replies.
New York City saw the second highest snowfall since records began in 1869 over the weekend, but the worst has passed - the travel ban was lifted the day after it went into effect, and New Yorkers have now begun the arduous task of clearing the snow that is still blocking the streets.
Register for free to continue reading
Registration is a free and easy way to support our truly independent journalism
By registering, you will also enjoy limited access to Premium articles, exclusive newsletters, commenting, and virtual events with our leading journalists
Already have an account? sign in
Register for free to continue reading
Registration is a free and easy way to support our truly independent journalism
By registering, you will also enjoy limited access to Premium articles, exclusive newsletters, commenting, and virtual events with our leading journalists
Already have an account? sign in
Join our new commenting forum
Join thought-provoking conversations, follow other Independent readers and see their replies