Castaway Jose Salvador Alvarenga's 'incredible story': Official says fishy tale may be too good to be true
Yet authorities in Mexico say reports of a missing boat – from the right company – corroborate the survivor's account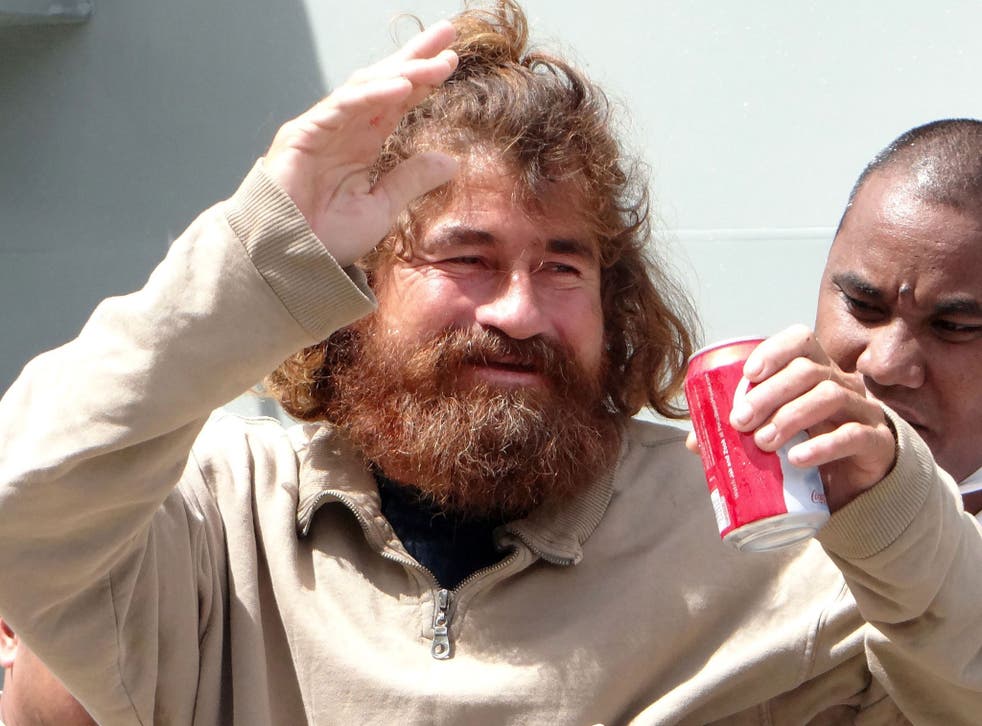 The story of the castaway Jose Salvador Alvarenga almost seems too good to be true – and a Marshall Islands official has lent his weight to naysayers by saying he "may have some doubts" that the survivor really spent more than 13 months adrift at sea.
Gee Bing, the acting secretary of foreign affairs for the Marshall Islands where Mr Alvarenga's boat washed up, said he remained sceptical of the castaway's account after meeting with him on Monday.
Mr Alvarenga has identified himself as being a 37-year-old man originally from El Salvador, whose boat lost power off the coast of Mexico in December 2012. He said he survived the long journey across the Pacific Ocean by catching turtles, fish and birds with his bare hands and drinking turtle blood and rainwater.
"It does sound like an incredible story, and I'm not sure if I believe it," Bing said. "When we saw him, he was not really thin compared to other survivors in the past. I may have some doubts. Once we start communicating with where he's from, we'll be able to find out more information."
After speaking to the castaway, US ambassador to the Marshalls Tom Armbruster said: "It's hard for me to imagine someone surviving 13 months at sea. But it's also hard to imagine how someone might arrive on Ebon out of the blue. Certainly this guy has had an ordeal, and has been at sea for some time."
Perhaps explaining why Mr Alvarenga appeared "puffy" in places rather than simply emaciated, the ambassador said he had complained of swollen ankles, joint pain and that he struggled with walking.
This morning, authorities in Mexico confirmed there was indeed a report of a missing boat that could corroborate Mr Alvarenga's account.
Chiapas rescue services official Jaime Marroquin told the Guardian a boat manned by two fishermen was reported missing from Costa Azul two days after setting out on 17 November 2012. Mr Marroquin said the report was lodged by a member of the Camaroneros de la Costa fishing company – which Mr Alvarenga has previously mentioned by name in an interview.
Erik van Sebille, a Sydney-based oceanographer at the University of New South Wales, said there was a good chance a boat drifting off Mexico's west coast would eventually be carried by currents to the Marshall Islands. He said such a journey would typically take 18 months to two years depending on the winds and currents, although 13 months was possible.
"The way that the currents in the Pacific work is that there is a very strong westerly current just north of the equator and that basically drives you directly from Mexico all the way toward Indonesia and in the path, you go right over the Marshall Islands," he said.
Mr Van Sebille added that experts have measured the Pacific currents by tracking mounds of rubbish floating across the ocean – and said Mr Alvarenga was lucky to have hit the Marshalls when he did. If he hadn't, he would probably have ended up floating into a giant floating garbage patch estimated to be the size of Western Australia.
Mr Armbruster said Mr Alvarenga claimed to have no family in Mexico, but that he does have three brothers who live in the US, although he could not immediately provide officials with contact details.
Mr Bing said that, apart from low blood pressure, the survivor's vital signs appeared to be good. After doctors give him the all-clear, Bing said, officials hope to repatriate him to whichever country is decided as appropriate.
Register for free to continue reading
Registration is a free and easy way to support our truly independent journalism
By registering, you will also enjoy limited access to Premium articles, exclusive newsletters, commenting, and virtual events with our leading journalists
Already have an account? sign in
Register for free to continue reading
Registration is a free and easy way to support our truly independent journalism
By registering, you will also enjoy limited access to Premium articles, exclusive newsletters, commenting, and virtual events with our leading journalists
Already have an account? sign in
Join our new commenting forum
Join thought-provoking conversations, follow other Independent readers and see their replies