Dozens of Catholic priests accused of sexually abusing 166 children
Church files uncovered burying allegations as 'boy troubles'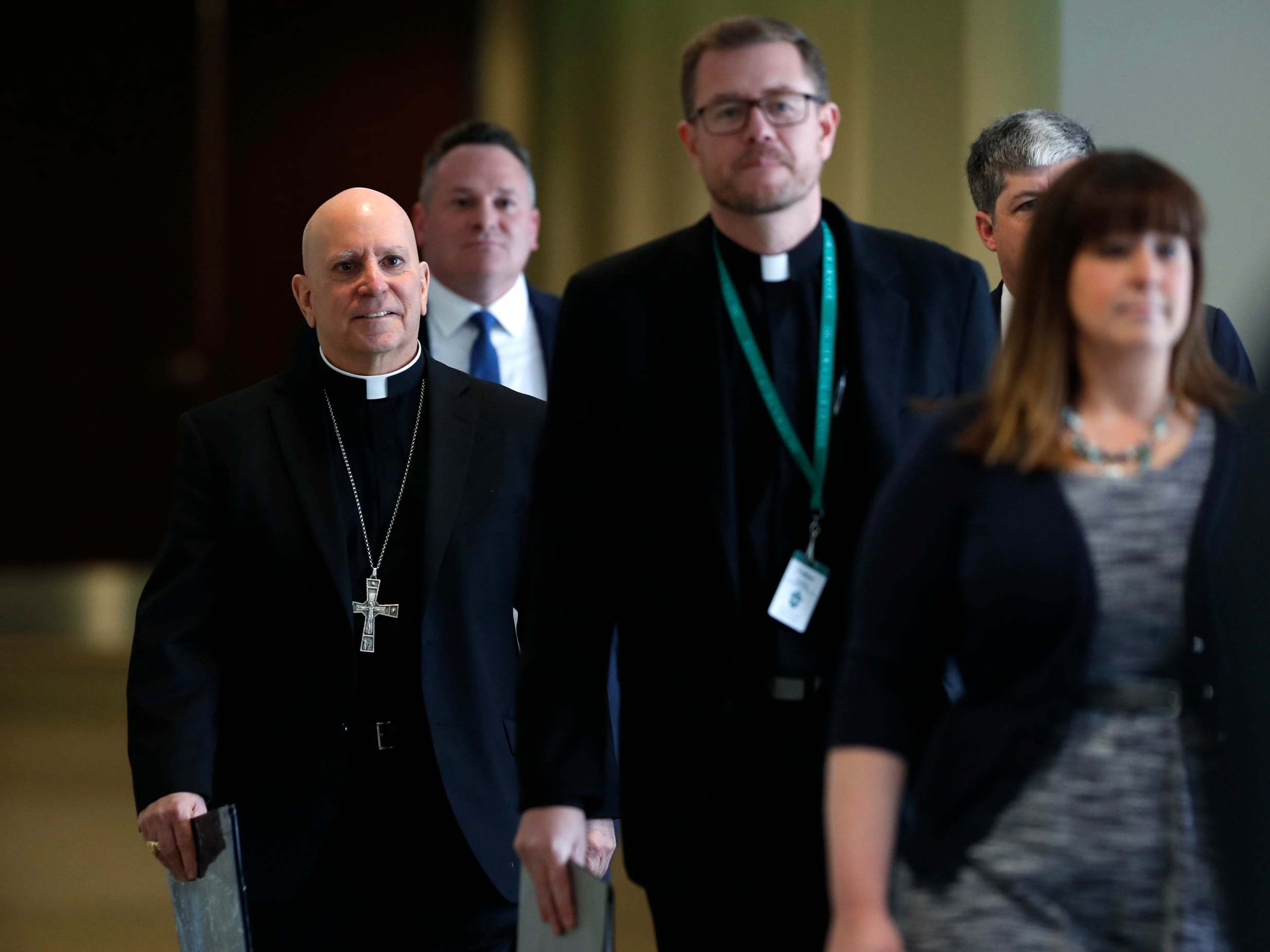 A report on child sex abuse by Roman Catholic priests that chronicles the abuse of 166 children at the hands of 43 priests across the state since 1950, with most of the acts committed by just five priests who abused 102 children, has been released by investigators in Colorado.
But the probe was criticised by victims' groups, who called it toothless and faulted its reliance on the voluntary participation of the Roman Catholic Church, which the report itself accused of a decades-long effort to hide potentially criminal activity from parishioners and authorities.
It said that instances of abuse peaked in the 1960s and 1970s, but investigators said that because of shortcomings in church record keeping and reporting practices, they could not be sure the abuse was not continuing today.
"Arguably the most urgent question asked of our work is this — are there Colorado priests currently in ministry who have been credibly accused of sexually abusing children?" the report said. "The direct answer is only partially satisfying: We know of none, but we also know we cannot be positive there are none."
It said that files provided by the church "are not reliable proof of the absence of active abuse".
Made in his own image: The Catholic Church faces another scandal
Show all 2
The report was the result of an investigation commissioned by Phil Weiser, the Colorado attorney general and led by Bob Troyer, a former US attorney for Colorado.
It came amid a cascade of similar revelations over the past year across the country, as prosecutors investigated past abuse and dioceses themselves released information about accused abusers.
"It's unimaginable," Mr Weiser said at a news conference earlier this week "The most painful part for me, we've had stories told of victims coming forward — and they weren't supported."
Victims' groups said they were frustrated by the investigation, which relied heavily on files provided by the state's Catholic dioceses — Denver, Colorado Springs and Pueblo — under an agreement between the Church and investigators.
Investigators in other states, including Texas and Pennsylvania, had used search warrants or subpoenas.
"That's all well and good, but how do you enforce that you got all the files?" said Zach Hiner, executive director of the Survivors Network of those Abused by Priests (SNAP). "I appreciate that the [attorney general] is leaving the door open for a true grand jury investigation, and I hope that he will push for that authority now."
The agreement also significantly limited the scope of the investigation, the report said.
"It does not chronicle abuse committed by religious-order priests in Colorado or by Diocesan priests before they were ordained," the report said. "It does not report clergy sexual misconduct with adults, including adult church personnel like religious sisters or adult seminary students."
The report said that there were at least 100 occasions since 1950 when church officials received information about child sex abuse that they could have reported to police, but that they chose to do so fewer than 10 times.
That was driven by "a strong culture of reluctance" to report allegations that might harm the reputation of the church or a fellow priest, and it was reinforced, as late as the 1980s, by punishment meted out to those who did report child sex abuse to authorities, the report said.
Top US cardinal Theodore McCarrick expelled from Catholic priesthood over allegations he abused teenager and solicited sex during Confession
One priest was convicted in 2007 of assaulting a child and was removed from the priesthood in 2013, the report said.
But it said the statute of limitations meant there was little that could be done to prosecute other abusers now.
Unlike in other states, investigators in Colorado didn't refer any child sex abuse allegations to the district attorney's office because most of the cases were too old and many of the accused abusers are dead. Four allegations were already known to prosecutors, it said.
In a statement, SNAP urged Colorado lawmakers to change those laws so that abuse victims could seek justice.
Samuel Aquila, the archbishop of Denver, said in a video statement that his archdiocese "would not hide from the past and must face the historical sexual abuse of minors by its diocesan priests".
"As a result of the attorney general and the church's shared efforts to have this issue investigated and a report published, several survivors have come forward for the first time, and more are likely to come forward in the days ahead," the archbishop said. "If any survivor wishes to meet personally with me, my door is always open."
The report contained disturbing descriptions of sexual violence and detailed a decades-long cover-up that included church files that euphemistically categorised sex abuse as a series of "boy troubles" or "boundary violations" that were caused by "nervousness".
It said church personnel in Colorado stopped using those euphemisms only in the late 1990s and early 2000s.
Although most of the abuse happened decades ago, the number of allegations reported each year rose steadily as adults began to open up about childhood trauma, the report said.
At least nine children were allegedly abused in the 1980s and at least 11 in the 1990s. The most recent abuse allegation involved four children and one Denver priest in 1998.
The report said two cases of grooming a child for abuse, or taking actions to build trust that could later be exploited, had been reported since 2000. The most recent was in 2011, it said.
Dioceses took an average of 19 years and six months to take action against a priest after they were informed of a sexual abuse allegation, and more than half of the victims were abused by a priest after the church had already been notified of an allegation against him.
Seven abusers faced no repercussions at all during their lifetimes, the report said.
For survivors like Jeb Barrett, 80, who said that he was sexually abused by a priest as a teenager, the report did not go far enough.
"Survivors and families affected by the abuse are going to be retraumatised," said Barrett, who lives in Aurora, Colorado. "It is further victimization that the church won't tell the whole truth."
The New York Times
Join our commenting forum
Join thought-provoking conversations, follow other Independent readers and see their replies