Vaccinated Americans no longer need to wear masks outside, except in crowds, CDC says
Masks still advised for indoor activities until more people are vaccinated nationwide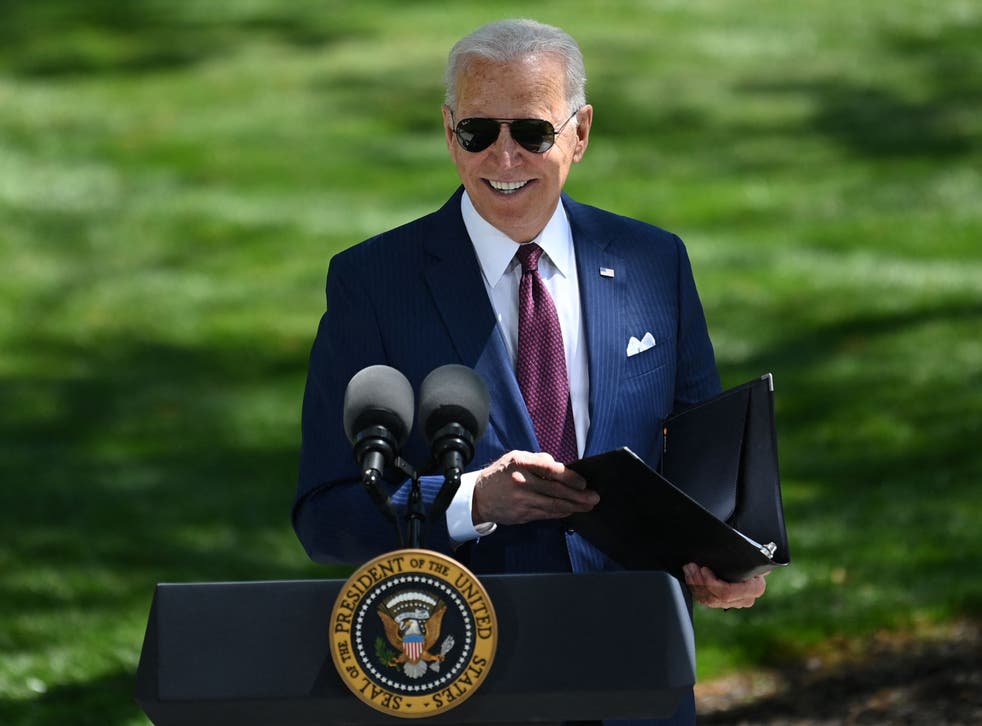 Leer en Español
Americans who have been vaccinated against Covid-19 will no longer need to wear masks outdoors, except in crowds, the Centers for Disease Control and Prevention (CDC) has said.
New public health recommendations say that people who have received a full course of one of the three vaccines available in the US may go without masks when walking, jogging, or biking outdoors with household members. They may also attend small outdoor gatherings and dine outdoors with people from multiple households.
The CDC cautions that crowded outdoor settings still pose a risk and urges both vaccinated and unvaccinated individuals to continue to wear masks at sporting events, concerts, live performances, and parades.
In remarks on the North Lawn of the White House grounds, President Joe Biden hailed the "stunning progress" made in the uptake of vaccinations and the fight against Covid-19.
The president made a point of emerging from the White House wearing a mask, removed it to deliver his comments, and then walked back to the West Wing without his mask on, but wearing his trademark aviator sunglasses.
Fully vaccinated people must continue to wear masks for indoor public activities, such as at movie theatres, hair salons, places of worship, and gyms. This recommendation will remain in place until more people have been vaccinated and the case count falls further.
Previous CDC guidelines said that "masks may not be necessary when you are outside by yourself away from others, or with people who live in your household" – although they also advised abiding by local mask mandates or any relevant federal rules when out in public.
CDC guidelines have informed most local mandates regarding masks and social distancing. Prior to Tuesday's White House Covid response briefing, a call was held with governors and individuals states are now expected to adjust their own rules.
In the 13 months since Covid-19 began to spread in the US, researchers have found that outdoor transmission only accounts for a small number of infections.
The new guidance also seeks to encourage more people to take the vaccine. It states that "taking steps toward relaxing certain measures for vaccinated people may help improve coronavirus vaccine acceptance and uptake".
"Therefore, there are several activities that fully vaccinated people can resume now, at low risk to themselves, while being mindful of the potential risk of transmitting the disease to others."
"The message is clear," Xavier Becerra, health and human services secretary, told CBS This Morning. "You're vaccinated. Guess what? You get to return to a more normal lifestyle. If you're not vaccinated, you're still a danger … so get vaccinated."
Vaccinated Americans have previously been advised that they can gather indoors with other fully vaccinated people without wearing masks.
Further updates are expected as the vaccinated percentage of the population increases in the coming weeks.
In a move to make it easier for people to get fully vaccinated, White House adviser Andy Slavitt says that pharmacies in the federal vaccine programme will not have residency requirements. This will allow groups who move for work or education, such as college students, to get a second dose wherever they want if they change location.
Mr Biden underlined his call for everyone to get vaccinated: "For those who haven't gotten their vaccination yet, especially if you're younger, or thinking you don't need it, this is another great reason to go get vaccinated. Now. Now."
The president promised more details next week on the path to celebrating independence from the virus on 4 July.
As of Monday, 141 million Americans, or 42.5 per cent of the population, have received at least one dose of a vaccine. Just under 96 million people are fully vaccinated (28.9 per cent of the population).
There have been 31.9 million confirmed cases of Covid-19 in the US and 569,272 officially recorded deaths.
Register for free to continue reading
Registration is a free and easy way to support our truly independent journalism
By registering, you will also enjoy limited access to Premium articles, exclusive newsletters, commenting, and virtual events with our leading journalists
Already have an account? sign in
Register for free to continue reading
Registration is a free and easy way to support our truly independent journalism
By registering, you will also enjoy limited access to Premium articles, exclusive newsletters, commenting, and virtual events with our leading journalists
Already have an account? sign in
Join our new commenting forum
Join thought-provoking conversations, follow other Independent readers and see their replies