Cecil the lion hunter Walter Palmer illegally killed this black bear nearly ten years ago
The dentist has gone to ground since finding himself at centre of global outcry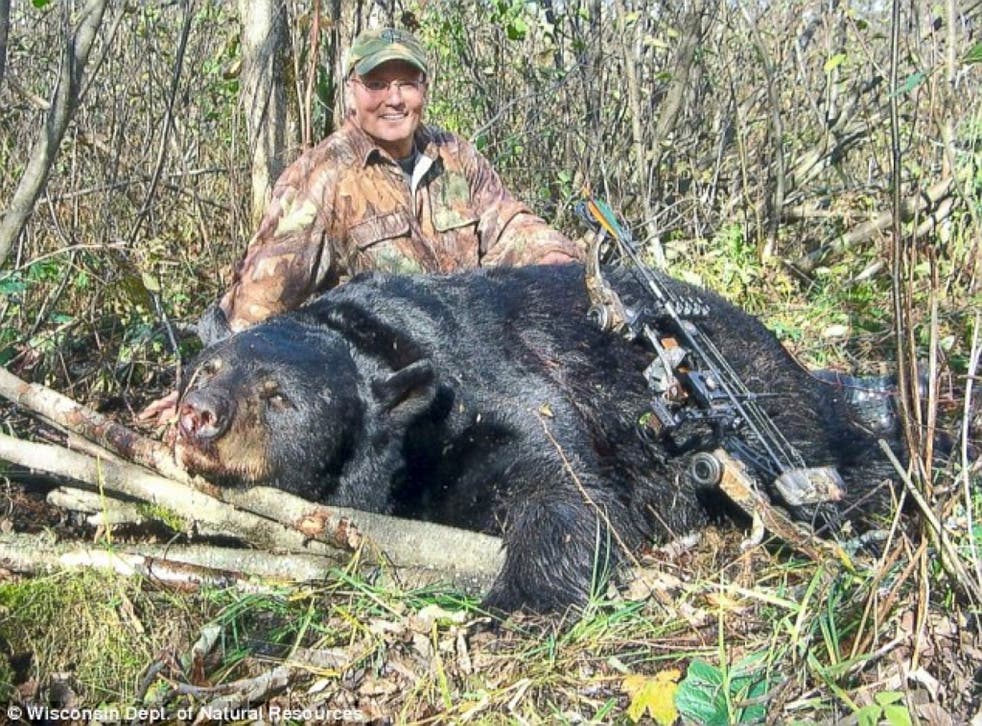 This is a picture of a black bear that was illegally hunted and killed almost ten years by the US doctor at the centre of the Cecil the lion controversy.
The images, obtained by US media after a Freedom of Information Act request, shows Walter Palmer, a dentist from Minnesota, posing with the animal, which he killed in Wisconsin.
Federal prosecutors who pursued Mr Palmer said he and the guides he employed agreed to lie about what had happened. After being tried and pleading guilty, he was fined $3,000 after signing an agreement.
Mr Palmer has found himself at the centre of global outrage last month after it was revealed he had killed a well-known, 13-year-old lion in Zimbabwe, just outside the Hwange National Park. Although he has not faced any legal charges in connection with that killing, he has been lying low ever since.
Officials in Zimbabwe said Mr Palmer paid veteran safari guide Theo Bronkhorst at least $50,000 to help him bag a big lion in Zimbabwe when he went on safari last month.
Mr Palmer, an accomplished bow hunter, has hunted big game around the world, including moose, deer, buffalo, mountain lions and even a polar bear, according to the New York Times.
In 2003, Mr Palmer was convicted of a misdemeanour in Otter Tail County, Minnesota, for fishing without a licence and paid a small fine.
Three years later, Mr Palmer was hunting black bear in northern Wisconsin when he shot a bear in an area where he was not permitted to hunt in.
According to court documents, Mr Palmer had a permit to kill a bear in one county, but he shot the bear 40 miles from away in an area where he did not have a permit to hunt.
"As soon as the bear was killed, Palmer and the three guys he was with – the guides - agreed they would lie about it," prosecutor John Vaudreuil told ABC News. "He was lying to us."
In a statement about his killing of the lion, Mr Palmer, who temporarily closed his dental office, admitted to killing the lion but said he had no idea that Cecil "was a known, local favourite, was collared and part of a study until the end of the hunt" nor that they were in a restricted area.
"I relied on the expertise of my local professional guides to ensure a legal hunt," Mr Palmer said in the statement.
"Again, I deeply regret that my pursuit of an activity I love and practice responsibly and legally resulted in the taking of this lion."
Join our new commenting forum
Join thought-provoking conversations, follow other Independent readers and see their replies