Chapecoense plane crash: Prosecutors detain LaMia airline boss
As whistleblower claims she raised concerns before doomed flight, which killed 71 people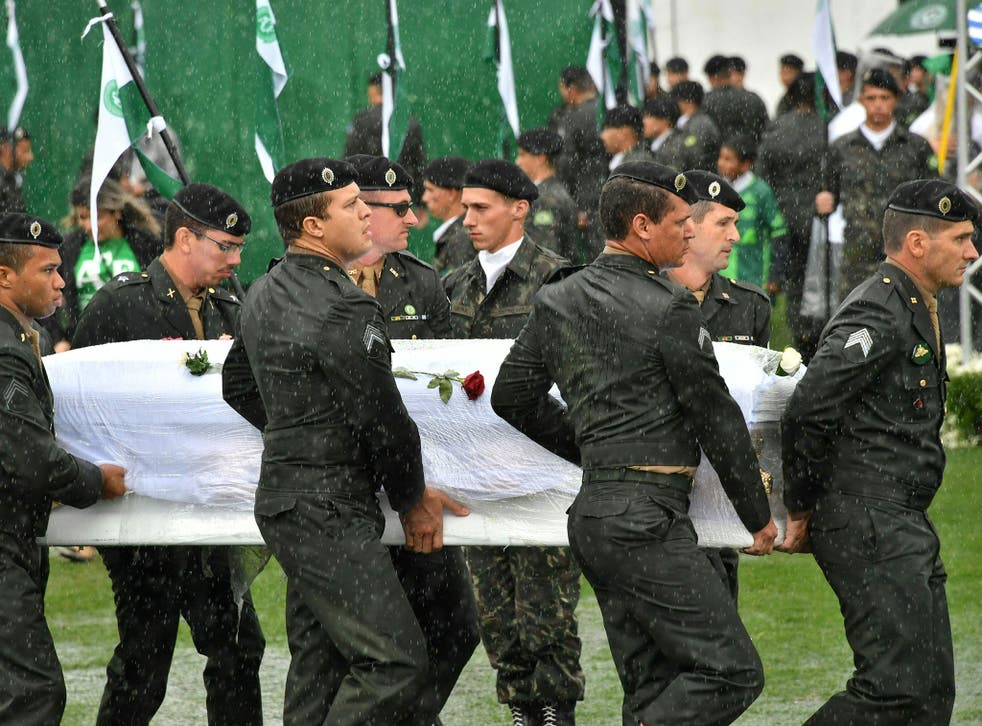 Bolivian police have detained the head of the airline whose plane crashed in Colombia, killing 71 people including many players and staff from a top Brazilian football team.
The focus of investigations appears to be whether the disaster was a result of negligence, with the short-range LaMia aircraft attempting a more than four-hour flight from Santa Cruz to Medellin, for which it barely had enough fuel.
The plane came down in the Andes outside Medellin when the pilots were asked to carry out a holding pattern while another plane, also declaring an emergency, came in to land. Only six of the 77 people on board survived the crash.
Authorities are also looking into the circumstances through which the LaMia airline was granted permission to fly earlier this year.
Gustavo Vargas, the airline's chief executive who was picked up by police in Santa Cruz along with a mechanic and a secretary who worked with him, is a retired Bolivian air force general and his son was, at the time, head of the office responsible for licensing aircraft in Bolivia's civil aviation agency.
Prosecutors have suspended several aviation officials, including Vargas's son, and raided the offices of both the airline and the agency that overseas air traffic in Bolivia.
The three LaMia employees would be questioned for eight hours, officials said, before a decision would be made on whether to formally arrest them.
Prosecutors from Brazil, Bolivia and Colombia are expected to meet in Santa Cruz to combine efforts in determining the causes of the crash. They also are studying how the airline, which despite a questionable history amassed an impressive list of clients from among South America's top football clubs, was allowed to operate.
One of the six survivors of the crash said he had been reassured by the airline before take-off that the plane would make a refuelling stop in the Bolivian town of Cobija, as it had on previous flights north.
"I don't know if it was a fuel problem - the investigation will determine that," Erwin Tumiri said from his modest home in Cochabamba, where he is recovering from the crash. "But every time we flew we went first to Cobija and returned the same way to refuel. On this occasion they said we'd do the same."
Meanwhile, an employee in Bolivia's aviation agency turned up on Tuesday in Brazil seeking asylum.
In a document widely circulating in Bolivian media, the worker, Celia Castedo, appears to have pointed out a number of irregularities in the aircraft's flight plan, including not having enough fuel, to LaMia's dispatcher, who was killed in the crash. The authenticity of the document could not be immediately verified.
Brazilian federal police said Ms Castedo applied for refugee status upon crossing the border by land.
In Bolivia, a senior government official said Ms Castedo, who was among officials suspended following the crash, was potentially evading justice and should be immediately deported.
"What she has done is very serious," minister Carlos Romero told reporters, denying that she faced any persecution in Bolivia. "It's a way of escaping the judicial system."
Ms Castedo's son Sebastian said that the truth would "come later by authorities other than those in Bolivia". He said he did not know where his mother was.
Additional reporting by agencies
Join our new commenting forum
Join thought-provoking conversations, follow other Independent readers and see their replies