Chapel Hill shooting: 'Muslim lives matter' campaign returns after deaths in North Carolina
Three young Muslims were gunned down in their home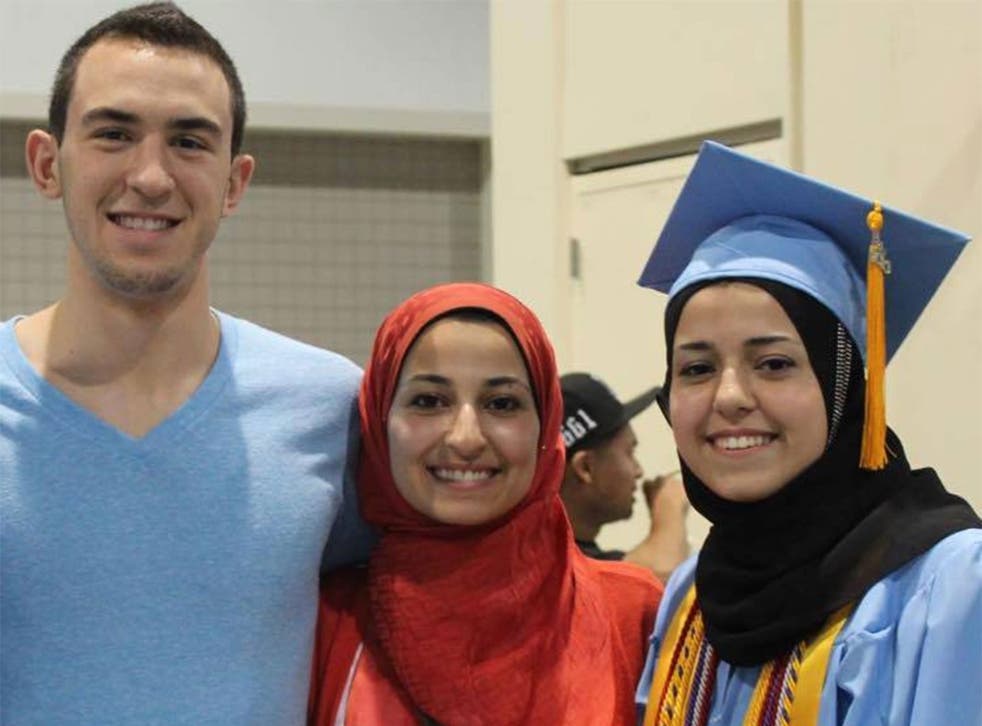 A social media campaign designed to draw attention to attacks and acts of hatred against Muslims has resurfaced in the wake of the shooting of three young people in their home in North Carolina.
Deah Shaddy Barakat, 23, his wife Yusor Mohammad Abu-Salha, 21, and her sister Razan Mohammad Abu-Salha, 19, were shot in the head shortly after 5pm on Tuesday evening.
Their deaths have prompted an outpouring of anger on social media – not least at the lack of media coverage the incident has received in the US.
In pictures: the Chapel Hill shooting

Show all 8
A 46-year-old man who described himself as an "anti-theist" on Facebook, Craig Stephen Hicks, has been arrested after handing himself in in relation to the shooting.
And while police say a preliminary investigation suggests the incident may have "motivated by an ongoing neighbour dispute over parking", Chapel Police Chief Chris Blue said they were also looking into "the possibility that this was hate-motivated".
Writing in this newspaper, Sabbiyah Pervez said coverage of the incident "proves the West's dehumanisation of Muslims is almost complete".
"Muslims have felt the repercussions more than ever before," she said, of the War on Terror.
"We have been collectively blamed, scapegoated and attacked for not doing enough. In doing so we have lost sight of the simple fact that hate begets hate.
"The more you paint a community as foreign, as a threat, as outsiders, you risk dehumanising them. And this has happened to such an extent that when they are murdered, there is no desire to give them the same sort of attention we would otherwise give all victims of terror."
The "Muslim Lives Matter" hashtag has been in use at least since October last year, when it was utilised in a general complaint against "Islamophobia or profiling of Arabs".
Since then, it has featured prominently in calls for more to be done for the Palestinians in Gaza and the victims of torture identified in a recent report into CIA interrogation techniques.
The hashtag gained widespread traction, however, in the aftermath of the shootings at the Charlie Hebdo magazine offices in Paris. Then, it was largely used in defence of those targeted in an anti-Muslim backlash.
By Wednesday afternoon after the shootings in Chapel Hill, more than 11,000 tweets were an hour were being sent featuring the phrase "Muslim Lives Matter". More than 40,000 have been sent in total since the attack was first reported.
Register for free to continue reading
Registration is a free and easy way to support our truly independent journalism
By registering, you will also enjoy limited access to Premium articles, exclusive newsletters, commenting, and virtual events with our leading journalists
Already have an account? sign in