Charles Krauthammer reveals he has only weeks left to live
'I am grateful to have played a small role in the conversations that have helped guide this extraordinary nation's destiny,' Mr Krauthammer writes
Jeremy B. White
San Francisco
Friday 08 June 2018 22:17 Comments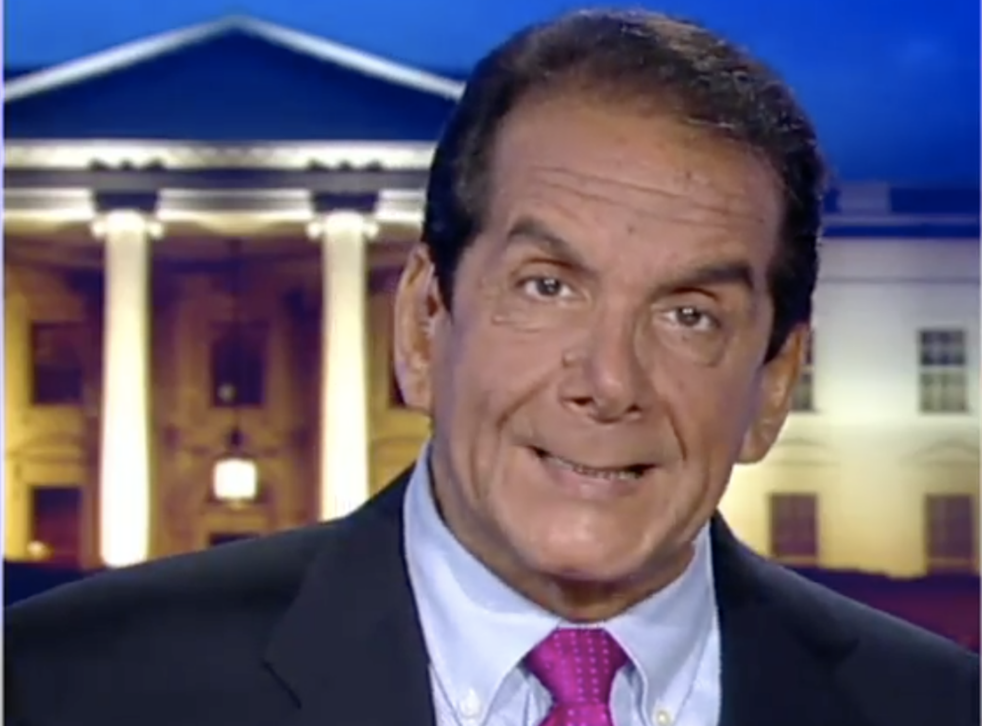 Conservative columnist Charles Krauthammer announced that he likely has only a few weeks left to live.
In a short essay published in the Washington Post, the 68-year-old writer and commentator revealed that he had been battling cancer over the past year and had worsened in recent weeks.
"I leave this life with no regrets", Mr Krauthammer wrote. "It was a wonderful life - full and complete with the great loves and great endeavors that make it worth living. I am sad to leave, but I leave with the knowledge that I lived the life that I intended".
For years Mr Krauthammer has been one of the more prominent conservative intellectuals, broadcasting his views in widely syndicated columns and frequent appearances on Fox News and, before that, PBS. He was awarded back-to-back Pulitzer prizes for commentary in 1986-87.
"I believe that the pursuit of truth and right ideas through honest debate and rigorous argument is a noble undertaking", Mr Krauthammer wrote. "I am grateful to have played a small role in the conversations that have helped guide this extraordinary nation's destiny".
He is known in particular as a reliably hawkish voice, amplifying the neoconservative argument for the invasion of Iraq and serving as a vocal critic of Iran.
World news in pictures

Show all 50
Numerous conservative thinkers and writers paid tribute to a man who has played a powerful role in shaping political discourse in America.
"I've met many extraordinary people in my 57 years," Commentary editor John Podhoretz said on Twitter. "Charles Krauthammer is without question the most extraordinary".
Media titan Rupert Murdoch, whose empire of conservative outlets includes Fox News, said in a statement that Mr Krauthammer was "a profound source of personal and intellectual inspiration for all of us at Fox News".
Michael Gove and Rupert Murdoch's relationship should be investigated, says Private Eye editor Ian Hislop
"His always principled stand on the most important issues of our time has been a guiding star in an often turbulent world, a world that has too many superficial thinkers vulnerable to the ebb and flow of fashion, and a world that, unfortunately, has only one Charles Krauthammer", Mr Murdoch said.
During his first year at Harvard Medical School, Mr Krauthammer suffered a diving board accident that confined him to a wheelchair. He went on to graduate before transitioning into writing.
Register for free to continue reading
Registration is a free and easy way to support our truly independent journalism
By registering, you will also enjoy limited access to Premium articles, exclusive newsletters, commenting, and virtual events with our leading journalists
Already have an account? sign in
Join our new commenting forum
Join thought-provoking conversations, follow other Independent readers and see their replies