Charles Manson: Neo-Nazis hail serial killer a visionary and try to resurrect fascist movement created on his orders
Fascist admirers declare Manson 'a great revolutionary', a 'warrior of truth, and 'a hero' amid attempts to recreate the Universal Order movement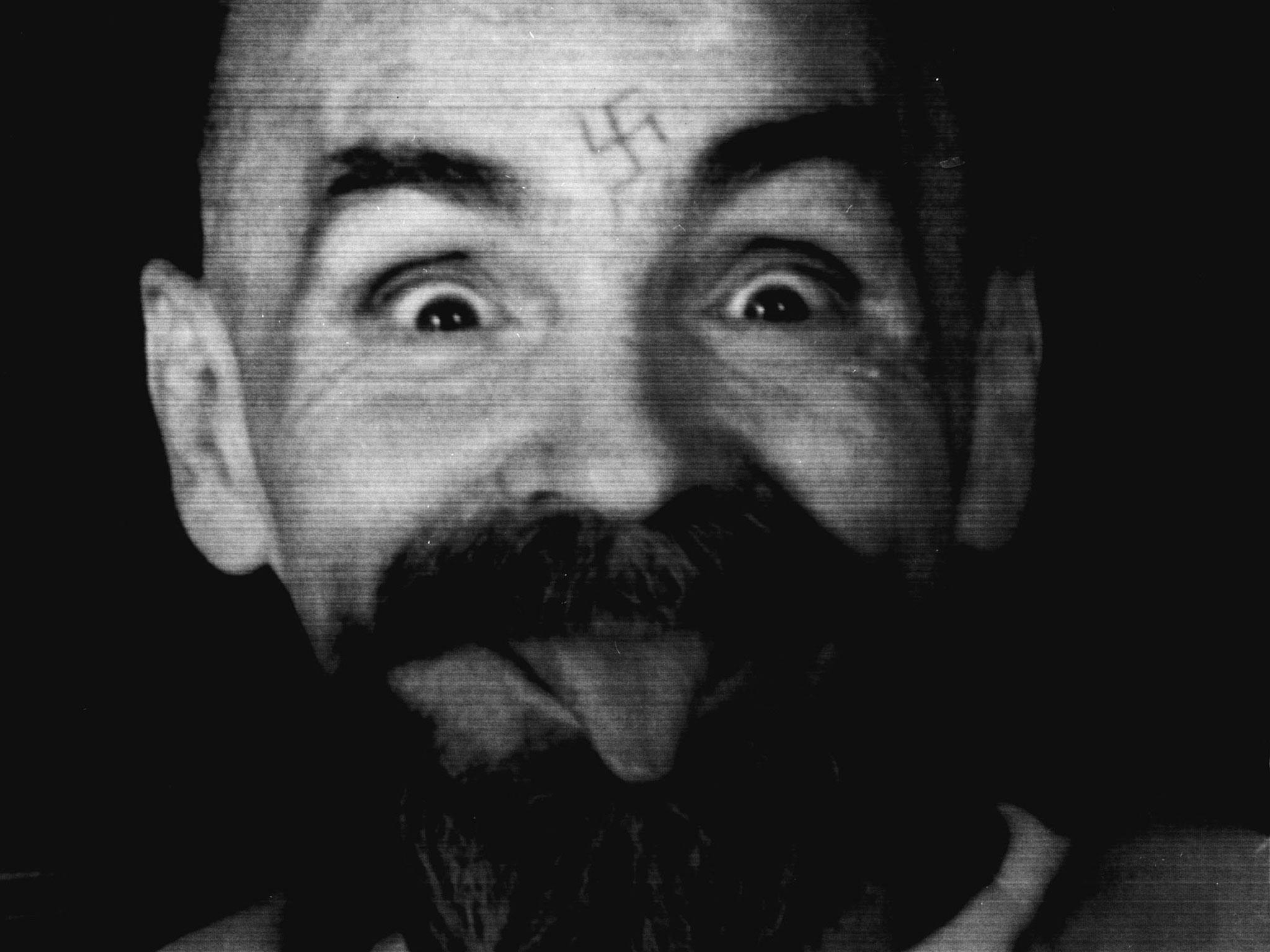 Neo-Nazis are hailing Charles Manson as a visionary leader and actively trying to resurrect a revolutionary fascist movement created on the serial killer's orders.
While the rest of the world regards Manson's death as the end of a murderous cult leader, admirers on the website of the US-based AtomWaffen Division (AWD) group are calling Manson "a great revolutionary", a "warrior of truth", and "a hero".
Their tributes appear to support both Manson and AWD, which this summer started trying to recreate the Universal Order movement set up in the 1980s by "National Socialist revolutionary" James Mason, who had claimed to be acting on the suggestions of the killer himself.
Mr Mason had faded into obscurity, but earlier this year AWD members made contact with him and created a new Universal Order website, which now tells visitors: "Those of you who are in here, perhaps, will create history. That is our intention."
The recreation of Universal Order represents a fresh attempt at a revolutionary fascist movement allegedly suggested by Manson to his admirer Mr Mason, who wrote about the killer as if he were a living prophet.
Mr Mason called the serial killer who carved a Swastika into his forehead "a man whom I revere, [whose] words came to me as an honour", and who offered "very coherent meaning behind his apparent facade of madness".
In a rambling, quasi-mystical tribute first composed in 1984, Mr Mason wrote: "There is a great leader/philosopher in our midst, alive and involved today, with a name and a reputation world-renowned and a following of his own.
"His actions have been mightier, his ideas loftier, his eloquence greater, his philosophy superior and his impact ten thousand times that of anything the Movement can offer as its closest runner-up.
"The day will never come when this man will cease to be The Leader as long as he is alive. He is aware of all this himself and is in total humility about it, just as was Hitler … He is Charles Manson."
Describing how Manson had effectively suggested the Universal Order movement and its name in the early 1980s, Mr Mason wrote: "As far as Manson is concerned, I was advised to forget what I was doing in the National Socialist Liberation Front and start over fresh.
"The decision was made to start UNIVERSAL ORDER, a name suggested to me by the highest authority. (Manson himself.)"
Serial killer Charles Manson dies aged 83
In newsletter posts later collected together in his 1992 book Siege, Mr Mason called Universal Order "everything National Socialism is and much, much more, geared to the present conditions, as dynamic as - maybe more so than - National Socialism because its true leader [Manson] is alive, a contemporary of all of us."
In his book, Mr Mason also praised the Manson Family killings of Sharon Tate and others as revolutionary "direct action", denying the victims' innocence with the comparison that "it was indeed a damnable shame that Hitler did not, in fact, kill at least six million Jews during the War".
He wrote approvingly of Manson's "Family", whose members had seen themselves as preparing for an apocalyptic race war, urging: "It must be done again in hundreds of thousands of locations across the country … tribes of White Warriors, bands of White Men with their Women and Children who have drawn together and then pulled away from the System to allow it to fall without taking them with it."
Earlier this year members of AWD republished Siege as an online book, as well as creating the new Universal Order website.
The moves came after AWD members managed to track Mr Mason down, having spent years trying to find him.
An "AWD representative" interviewed Mr Mason in March, and quoted him as saying: "My views on Manson have not changed. We had a society post-WW2 that was disintegrating, a mile a minute. We had a hippie generation, a country that was heading headlong into national suicide. Manson's commune was solidly, solidly white.
"Then, after the arrests took place, the Left, the Jewish left, tried to make him a symbol. And, as a reaction to that, he carved a big Swastika into his forehead. My opinion of Manson has not changed. All of the institutions of our system have been changed, they're being used against us."
He also appeared to suggest the ban on UK neo-Nazi terrorist group National Action wouldn't work, and declared himself "mildly encouraged" by the "Trump phenomenon".
The article contained a link to the online version of Mr Mason's book Siege, and was enthusiastically received by neo-Nazis.
One website visitor asked whether it would be possible to write to Mr Mason and another said: "Amazing! Can't wait to read more and see the docs. Congratulations on tracking this legend down. Hail Mason!"
The Universal Order website appears to have been created in the summer.
At least one ironmarch visitor paying tribute to Manson has now linked to the Universal Order site, where as recently as Sunday, Mr Mason seemed to be writing in praise of the Nazi eugenics programme.
An ironmarch user calling himself Blackshirt, who appeared to have ties to Britain, declaring himself interested in Oswald Mosley's British Union of Fascists and "Cornish Nationalism", posted the link along with the quote "The Truth is One", attributed to Manson.
Others have also paid tribute to Manson on the ironmarch website, which is billed as a "global fascist fraternity" and carries the slogan "Gas the k***s, race war now".
Praising "the rebel known as Manson", another user, "Virgil" wrote: "Now that he's passed the world really does feel a little emptier.
"You know, that old wish as a kid to talk to Charles is gone now, I'll never get that opportunity to just sit with him face to face and really listen to him. Wherever he is now I hope to meet him there one day.
"The legend lives on and the martyr was born."
A Finnish user wrote a poem in tribute, calling Manson a "warrior of truth" whose soul had "ascended to Valhalla", posting a picture of Manson alongside the insignia of Nazi Germany's SS.
Join our commenting forum
Join thought-provoking conversations, follow other Independent readers and see their replies