Charleston church shooting survivors sue FBI for permitting Dylann Roof to buy gun
A lawsuit has been filed by three survivors and the families of five people who died 
Andrew Buncombe
New York
Saturday 02 July 2016 15:41 Comments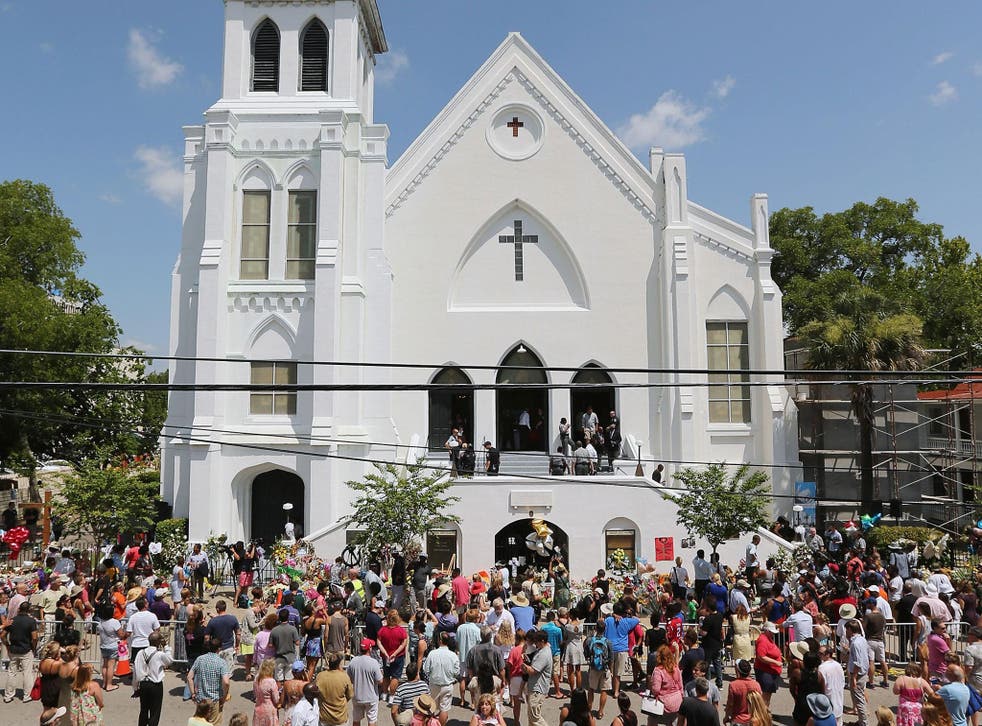 The FBI is being sued by survivors of the deadly attack on a church in Charleston who say that mistakes by investigators allowed alleged shooter Dylann Roof to purchase a gun.
Nine people were killed in June 2015 as they attended a bible study at the Emanuel AME Church in the South Carolina city. Dylann Roof, 22, a white supremacist, has been charged with nine counts of murder over the shootings and he faces the death penalty if convicted.
In a lawsuit filed by three people who survived the attack and the estates of five of those who died, the FBI is accused of being negligent when it carried out a background check of Mr Roof before he bought the gun last year.
If the agency had done its job, Mr Roof's prior arrest for drugs would have shown up, and the bureau would have denied his request to purchase a handgun, the lawsuits allege.
Lawyer Andy Savage said on Friday that his clients hoped the litigation would lead to improvements in gun safety.
"In this case, you had an unqualified purchaser that slipped through the cracks," Mr Savage told the Associated Press. "And the result is what happened on June 17."
USA: Church shooting survivor gives emotional statement to Dylann Roof in court
Justice Department spokesman Patrick Rodenbush declined to comment on the pending litigation.
The shootings by a young white man of nine black parishioners who had welcomed him to their church renewed debates about race relations in the US. In the aftermath of the attack, a racist online manifesto authored by Mr Roof was discovered, along with images of him posing with Confederate flags and at locations from the US Civil War.
The shooting led to the removal of the battle flag – long considered a symbol of enduring racism – removed from government offices and universities.
Law enforcement agencies have acknowledged since last summer that mistakes were made involving Mr Roof's April 2015 gun purchase. FBI Director James Comey has said the transaction should have been denied, and he promised a full review.
Lexington County Sheriff Jay Koon told the AP that a jail clerk entered incorrect information for Mr Roof's February 2015 drug arrest, and that while the mistake was noticed within days, it was not fixed in a state database.
In pictures: Images attached to Dylann Storm Roof 'manifesto'

Show all 10
So when Mr Roof sought to buy the gun two months later, an FBI examiner spotted the arrest, but called the wrong agency to get his record. Without the necessary documents, the purchase had to go through.
Congress has limited federal background checks to three days, although states can extend this window.
South Carolina legislators filed a number of bills to increase the window after the shootings, but none have advanced.
The Senate Judiciary chairman ultimately promised a hearing this summer, but it still has not been scheduled.
Register for free to continue reading
Registration is a free and easy way to support our truly independent journalism
By registering, you will also enjoy limited access to Premium articles, exclusive newsletters, commenting, and virtual events with our leading journalists
Already have an account? sign in
Join our new commenting forum
Join thought-provoking conversations, follow other Independent readers and see their replies