Charleston shooting: Three members of same family and senator among nine massacre victims
The victims were well-known members of the community who were active in religion, politics, athletics and education
Justin Carissimo
,
Lizzie Dearden
Friday 19 June 2015 10:18 Comments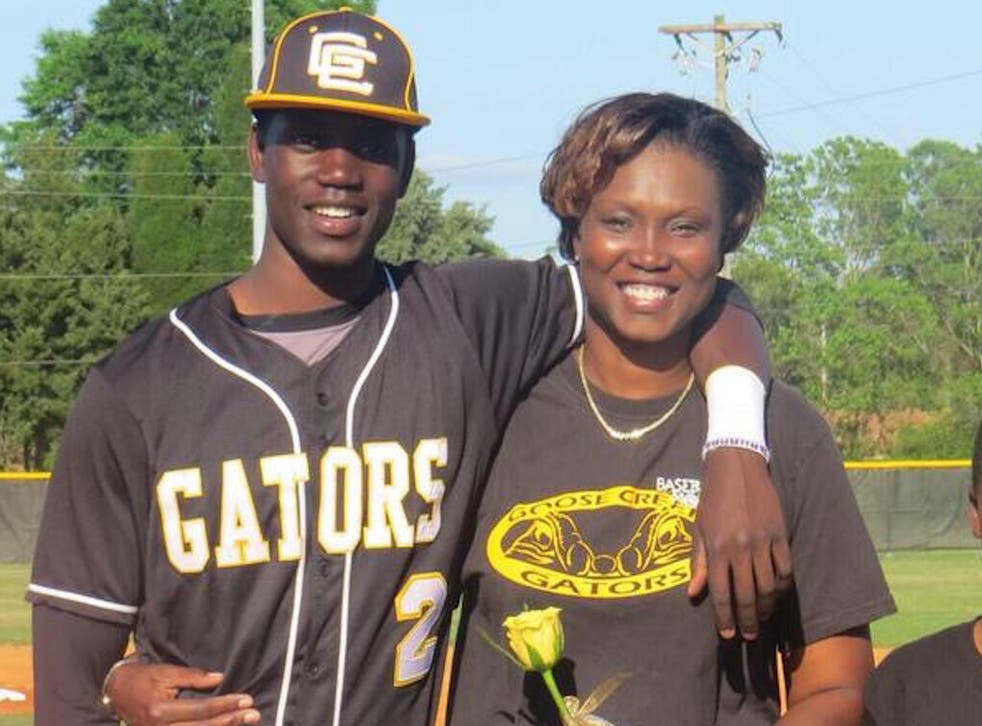 Nine people have been identified as the victims from the mass shooting at a historically black church in Charleston, South Carolina.
The six women and three men were gunned down on Wednesday night when a suspected terrorist opened fire at Emanuel African Methodist Episcopal Church.
Clementa Pinckney, 41
Mr Pinckney was a 1995 graduate of Allen University who is described as a legend and icon. He was a South Carolina state Senator and an advocate for police reform. The Democratic politician pushed for police officers to wear body cameras.
Married with two children, he had spent 19 years in the South Carolina legislature after being elected aged just 23, becoming the youngest member of the House.
He had started preaching a decade before that, aged just 13, and saw politics as another way to serve his community.
Washington Post reporter David Broder called him a "spirit-lifter" after meeting the pastor in 1998.
"I always felt God had called me to serve within the church because of what the church stands for," Mr Pinckney told the Charleston Post and Courier in 2010. "This has always been home."
Tywanza Sanders, 26
Mr Sanders was the youngest victim of the massacre and a would-be poet, who was trying to have a collection published shortly before his death.
A graduate of Allen University in South Carolina, he received his Business Administration degree in 2014. The university issued a statement saying that Mr Sanders was a well-known student who was committed to his studies.
"He presented a warm and helpful spirit as he interacted with his colleagues. Mr Sanders was participating in the Bible Study session at Mother Emanuel church at the time of the shooting."
People magazine reported that he was killed trying to save his aunt Susie Jackson, who also died, alongside her cousin Ethel Lance.
Mr Sanders' friend, Torrence Shaw, told the magazine: "He tried to step in front of his aunt to save her."
His last post on Instagram was a quote by African-American baseball player Jackie Robinson, saying: "A life is not important except in the impact it has on other lives".
Cynthia Hurd, 54
Mrs Hurd was the manager of one of Charleston County's biggest libraries and spent her life helping people, according to friends who called her a "good woman".
Her brother was North Carolina senator Malcolm Graham, who told the Charlotte Observer: "She was just a beautiful person. She didn't deserve it."
Mrs Hurd worked as a librarian for 31 years, serving as branch manager of the John L. Dart Branch from 1990-2011 before becoming manager of the St Andrews Regional Library.
A statement from the library service said: "Charleston County Public Library is devastated by the senseless shootings Wednesday night at Mother Emanuel AME Church in downtown Charleston that took the lives of nine members of our community, including one of our own - St. Andrews Regional Library Manager Cynthia Hurd.
"Cynthia was a tireless servant of the community who spent her life helping residents, making sure they had every opportunity for an education and personal growth."
All 16 public libraries in Charleston County were shut yesterday in her honour.
Sharonda Coleman-Singleton, 45
Ms Coleman-Singleton was a high school track coach and pastor at the Emanuel AME Church, who had three children.
Her son, Chris, wrote a heartbreaking message on Instagram on Thursday afternoon.
"In this picture there are two new Angels in the sky. One of them happens to be my mommy. It's funny how I always told you that you went to church too much. You would laugh it off and say, 'Boy you can never have too much of the Lord,'" he wrote.
"You were a better mother than I could have ever asked for. This has truly broken my heart in every way possible, but I know I have to stay strong for my little brother and sister. I thank everyone for your prayers and thoughts, but I'm positive this strong woman is in a better place now. Keep my family in your prayers as we continue with this horrid grieving process.'
Susie Jackson, 87
Ms Jackson was a longtime member of Mother Emmanuel Church, and sang in the choir and was on the church's usher board, according to ABC 5 in Cleveland. Her family lives in Cleveland and Ms Jackson had just visited the family.
Her grandson, Tim Jackson, said she was a very loving, giving person with a great smile.
"She was a loving person, she never had no animosity toward nobody," her son Walter Jackson told the Charleston Post and Courier.
She was one of three members of the same family murdered within minutes. Her nephew, Tywanza Sanders, tried to protect her and her cousin Ethel Lance, a sexton of the church, also was killed.
Depayne Middleton-Doctor, 49
Ms Middleton-Doctor was a minister who had preached in Baptist and AME churches around Charleston for more than a decade.
She retired in 2005 as Charleston County director of the Community Development Block Grant Program and went on to work for Souther Wesleyan University in admissions.
SWU President Todd Voss described her as "always a warm and enthusiastic leader," who believed in the school's mission to help students achieve their potential by connecting faith with learning," the Post and Courier reported.
Her family member Laura Middleton posted the following message on Facebook:
"My beautiful Songbird. This is a hard one to Swallow. I will truly miss you my love. Your beautiful personality, your laughter, your smile ,and your love for everyone. May you RIP Depayne Middleton. You will be missed. Love ya mean it my angle. Mwah! Smooches!"
"Please keep her four beautiful girls in prayer and a host of family. Thanks."
Daniel Simmons Sr., 74
Mr Simmons was a retired pastor from another church in Charleston who attended Emanuel AME Church every Sunday for services and bible study, according to his daughter.
A woman who identified herself as his granddaughter wrote on Twitter that "all Simmons go out with a fight" after news emerged that he died during emergency surgery.
In an email to Mashable, she added: "My grandfather was an amazing man. It seemed like everything that he spoke was pure wisdom...and as a teenager, I need all the wisdom I can get."
Mr Simmons was the only victim to die at the hospital.
Myra Thompson, 59
Ms Thompson was the wife of reverend Anthony Thompson, a Vicar at Holy Trinity Reformed Episcopal Church in Charleston.
Her daughter was also part of the Big Bethel AME Church in Atlanta, where Rev John Foster told WXIA television the congregation was praying for her yesterday.
Ethel Lance, 70
The great-grandmother had worked as a caretaker at the Gaillard Municipal Auditorium and Emanuel AME for more than 30 years.
Her grandson Jon Quil Lance told the Post and Courier newspaper in Charleston that Lance was a hardworking Christian and "the heart of the family."
Ms Lance reportedly had five children, seven grandchildren and four great-grandchildren.
Her cousin, Susie Jackson, was also murdered in the massacre alongside her nephew, Tywanza Sanders.
Register for free to continue reading
Registration is a free and easy way to support our truly independent journalism
By registering, you will also enjoy limited access to Premium articles, exclusive newsletters, commenting, and virtual events with our leading journalists
Already have an account? sign in
Join our new commenting forum
Join thought-provoking conversations, follow other Independent readers and see their replies