Charlotte shooting: Gunman kills two on University of North Carolina campus
Another pair suffer life threatening injuries, medical officials say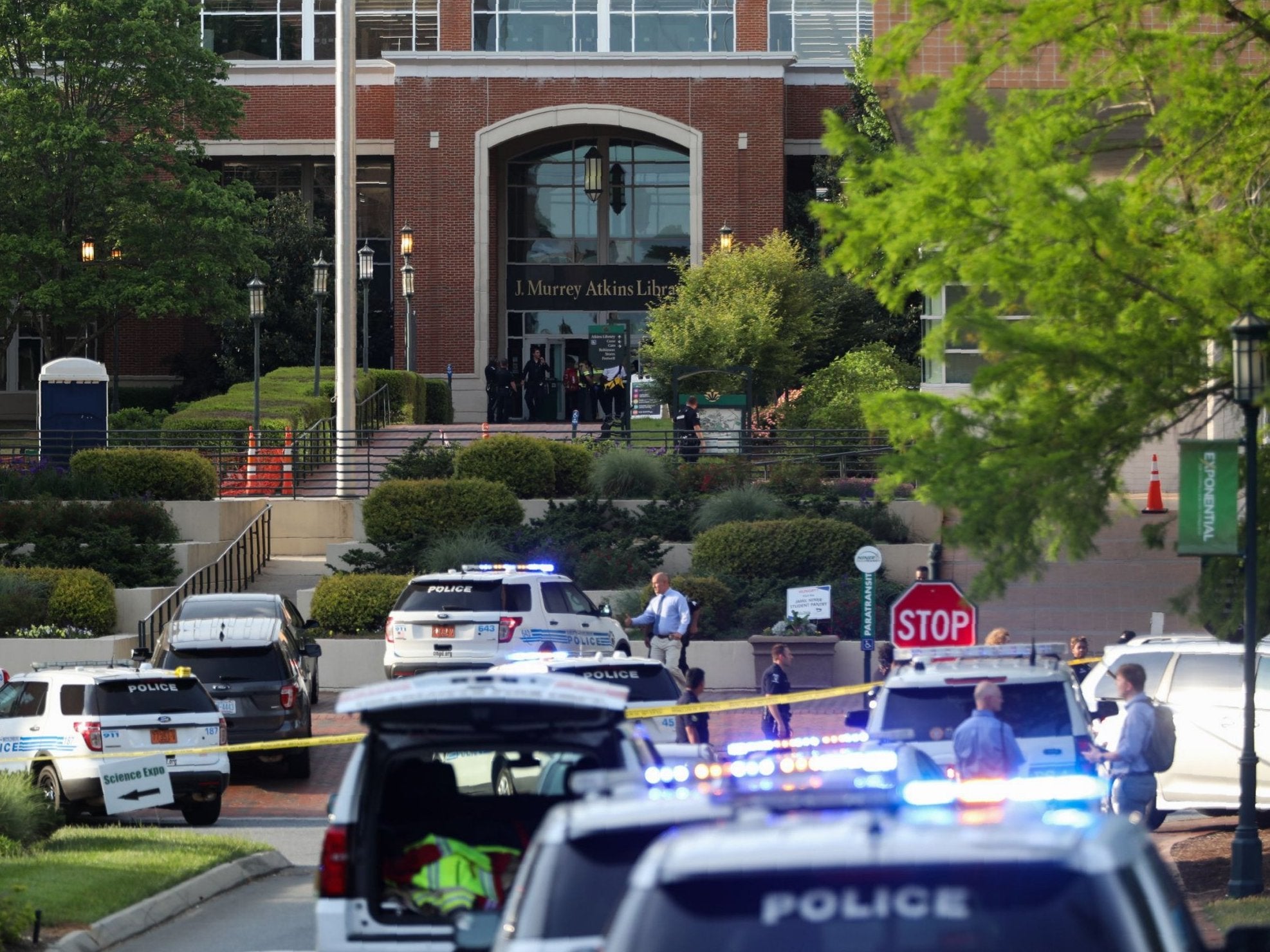 A gunman killed two people when he opened fire on the Charlotte campus of the University of North Carolina, medical officials said.
Their bodies were found at the scene according to the Mecklenburg Emergency Medical Services Agency, which added that two people sustained life threatening injuries in the attack.
Another two were injured, but their injuries were not thought to be life threatening.
The university tweeted that an "active shooter" had been reported near the university's Kennedy Hall administrative building shortly before 6pm local time. Students should "run, hide, fight", it said. "Secure yourself immediately," it added. "Monitor email."
On its website it said that the campus was on lockdown and that students and staff should "remain in a safe location."
World news in pictures
Show all 50
The injured were taken to Carolinas Medical Centre.
It was not immediately clear whether the victims were students or whether a suspect was in custody, but Nasim Fekrat claimed on Twitter that one of the injured was a 20-year-old from Saudi Arabia.
Mr Fekrat who describes himself as a "blogger and learner", wrote: "The shooter was detained immediately," he tweeted."He ran out of bullets, emptied one magazine and that was it."
He added later that they were surrounded by police.
Video footage posted to social media showed students evacuating campus buildings with their hands raised as police officers ran past them towards the scene of the shooting.
Police officers were sweeping buildings across the campus, the university tweeted, telling students to "follow officer commands".
A spokeswoman for Charlotte-Mecklenberg Police Department confirmed there had been an active shooter at the university but declined to give any further information.
Officials at the university which has more than 26,500 students and 3,000 faculty and staff, could not be reached for comment.
The police department set up a media staging area nearby.
Join our commenting forum
Join thought-provoking conversations, follow other Independent readers and see their replies