Charlottesville: Black protester Deandre Harris 'beaten with metal poles' by white supremacists
The 20-year-old was left bloodied with a broken wrist and needing eight staples for his wounds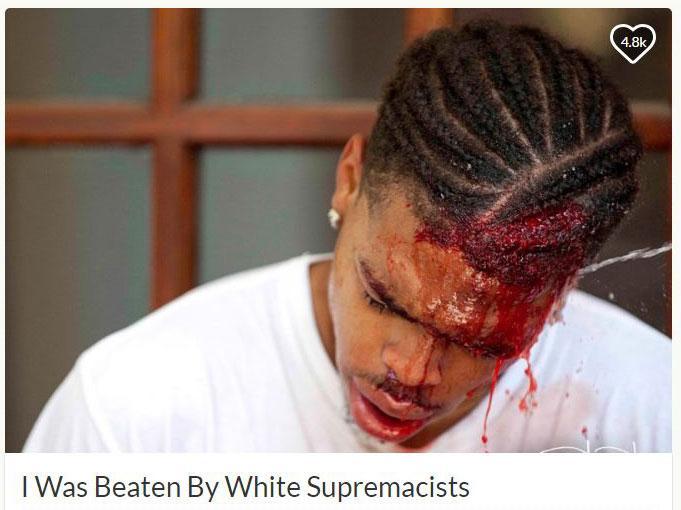 More than $118,000 (£91,700) has been raised for an African American man who was brutally beaten by a group of white supremacists in a horrific attack in Charlottesville.
Shocking pictures and footage were captured of Deandre Harris being chased by a gang of white men before he was savagely beaten with what appear to be poles at the protests in Virginia this weekend, leaving him needing hospital treatment.
The 20-year-old was left covered in blood with a broken wrist and needing eight staples for his head wounds when the attack happened in a parking garage near Charlottesville police station. Images of his bloodied face and the wounds he sustained have been shared on social media.
Three people died and dozens were injured on Saturday after violence broke out at the Unite the Right rally being held by white supremacists and counter-protests being held by anti-fascists.
"They were beating me with poles. I have eight staples in my head, a broken wrist and a chipped tooth," Mr Harris told The Root.
"I think for them to be allowed to come here and protest is really crazy. How do you expect the KKK to come to your city to protest, and them not be violent?"
Mr Harris, who works as an instructional assistant for a local high school's special education programme in Charlottesville, set up a GoFundMe page to help cover his medical costs.
"I was chased and beat with metal poles. I was knocked unconscious repeatedly. Every time I went to stand up I was knocked back down. If it was not for my friends that I came with I would have been beaten to a pulp," he wrote on the page, claiming that no law enforcement stepped in to help in the attack.
"I was diagnosed with a concussion, an ulnar fracture, and had to receive eight staples in my head. I also have a laceration across my right eyebrow, abrasions on my knees & elbows, and a chipped tooth," he wrote. "I'm so blessed to be alive to tell my story and show the world that racism is very much still alive".
The crowdfunding page originally had a goal of $50,000 but has now raised over $118,800 (£92,400). Mr Harris wrote in a post that the amount of love he has received since the attack has been "overwhelming".
Join our commenting forum
Join thought-provoking conversations, follow other Independent readers and see their replies