Organiser of deadly white supremacist march in Charlottesville planning second rally, but nobody wants to come
Jason Kessler says Unite the Right anniversary rally could be held in front of White House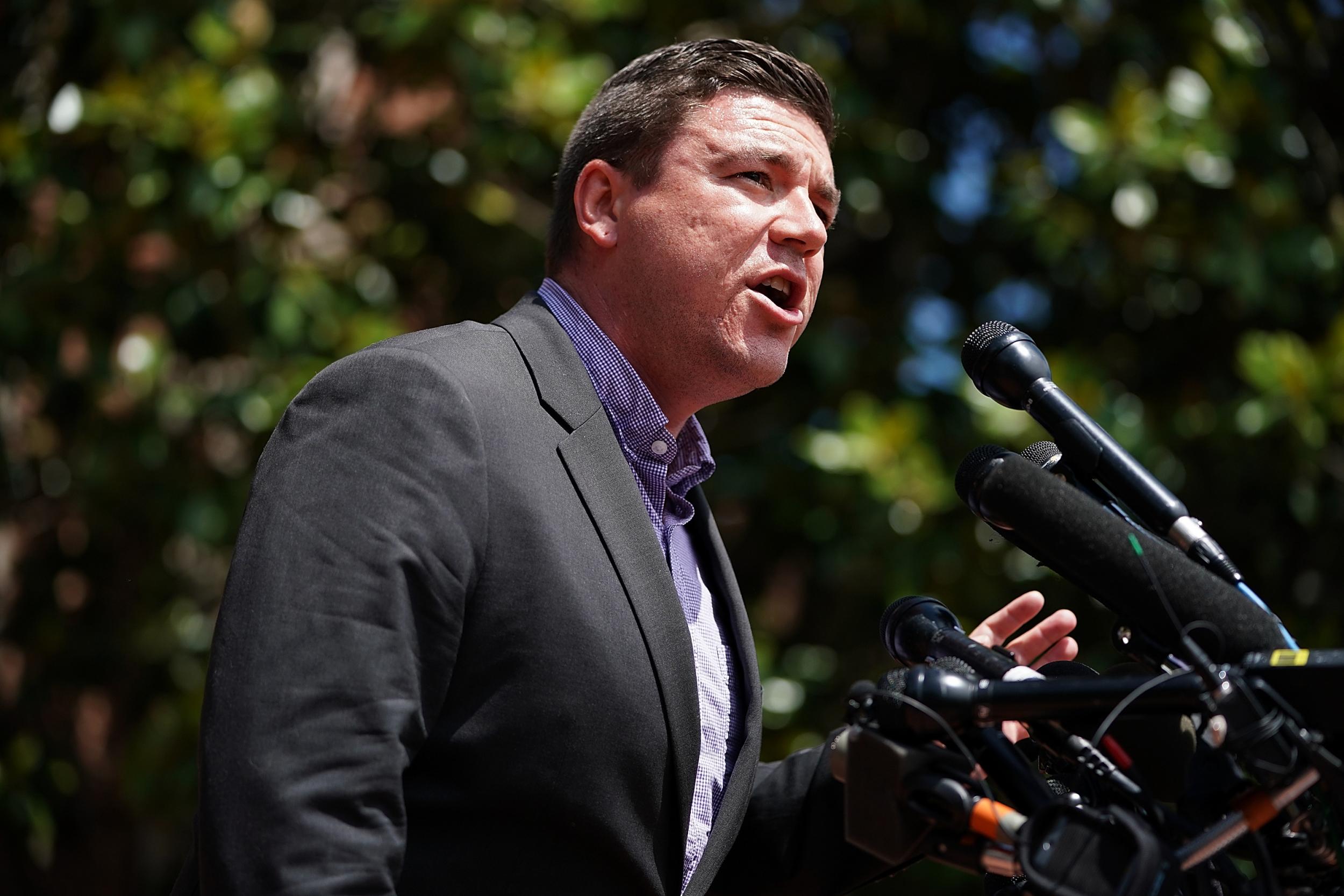 The organiser of a deadly, white supremacist rally in Charlottesville, Virginia, last summer has said he's planning round two – but few of his former associates seem to be on board.
For months, white supremacist blogger Jason Kessler has fought unsuccessfully for a permit to return to Charlottesville – the site of his infamous Unite the Right rally, which brought hundreds of neo-Nazis, Ku Klux Klan members, and "alt-right" activists to the small college town last summer.
Now, he says he has a backup plan: The White House.
"If Charlottesville denies our permit for any reason, it's not safe, we're going to get in vans and we're going to go to Lafayette Park in front of the White House," Mr Kessler said in a YouTube interview with fellow white supremacist Jean-Francois Gariépy.
The city of Charlottesville has already denied Mr Kessler's application for a permit, citing public safety concerns. Dozens of people were injured at last year's rally, and one – 32-year-old Heather Heyer – was killed when a car ploughed through a crowd of counter-protesters.
KKK leader: 'I don't hate that a girl died in Charlottesville'
Mr Kessler is now suing the city, claiming it denied his First and 14th Amendment rights by refusing to issue a second permit. In the meantime, he has urged prospective attendees to book hotel rooms somewhere between Charlottesville and Washington.
But it seems that competition for the hotel rooms will not be too fierce: Several of the most prominent participants in last year's rally have said they don't plan on returning.
Michael Hill, the president of white supremacist group League of the South – which brought a sizeable contingent of supporters to Unite the Right last year – announced in a podcast last week that his group would not be in attendance.
"We don't have anything to gain by going back to Charlottesville," Mr Hill declared.
Other white nationalists such as Richard Spencer and Brad Griffin told Newsweek they were not likely to attend. Alt-right podcaster Mike Peinovich also bowed out, citing the "violent attacks" that white supremacists suffered last year at the hands of "antifa thugs".
Mr Kessler did not respond to The Independent's request for comment.
Violence on the streets of Charlottesville
Show all 9
Last year's rally was met with widespread condemnation from politicians, civil rights groups, and everyday Americans. The months following were not kind to the protesters, many of whom are now facing lawsuits or criminal charges stemming from their participation.
Two participants have already been found guilty of beating of a black counter protester at the rally. The man accused of killing Ms Heyer has been charged with first-degree murder and multiple other crimes. And Mr Kessler himself is facing a federal lawsuit accusing him of conspiring to incite racial hatred and violence.
The "Antifa thugs," meanwhile, are planning their own event for the anniversary of the rally, which they are calling the "Charlottesville Summer of Resistance".
"Local organisers are hard at work laying the groundwork for logistics, fun, resistance, and a diversity of actions and voices for August 11-12, 2018," a recent post on the CVille Resistance 2018 blog read.
"This resistance belongs to every oppressed person of Charlottesville, and we seek to keep it open to that."
The post said details for the event were forthcoming.
Join our commenting forum
Join thought-provoking conversations, follow other Independent readers and see their replies