Charlottesville white supremacists 'terrified' of being exposed online
Neo-Nazis concerned after anti-fascist vigilantes name and shame them on social media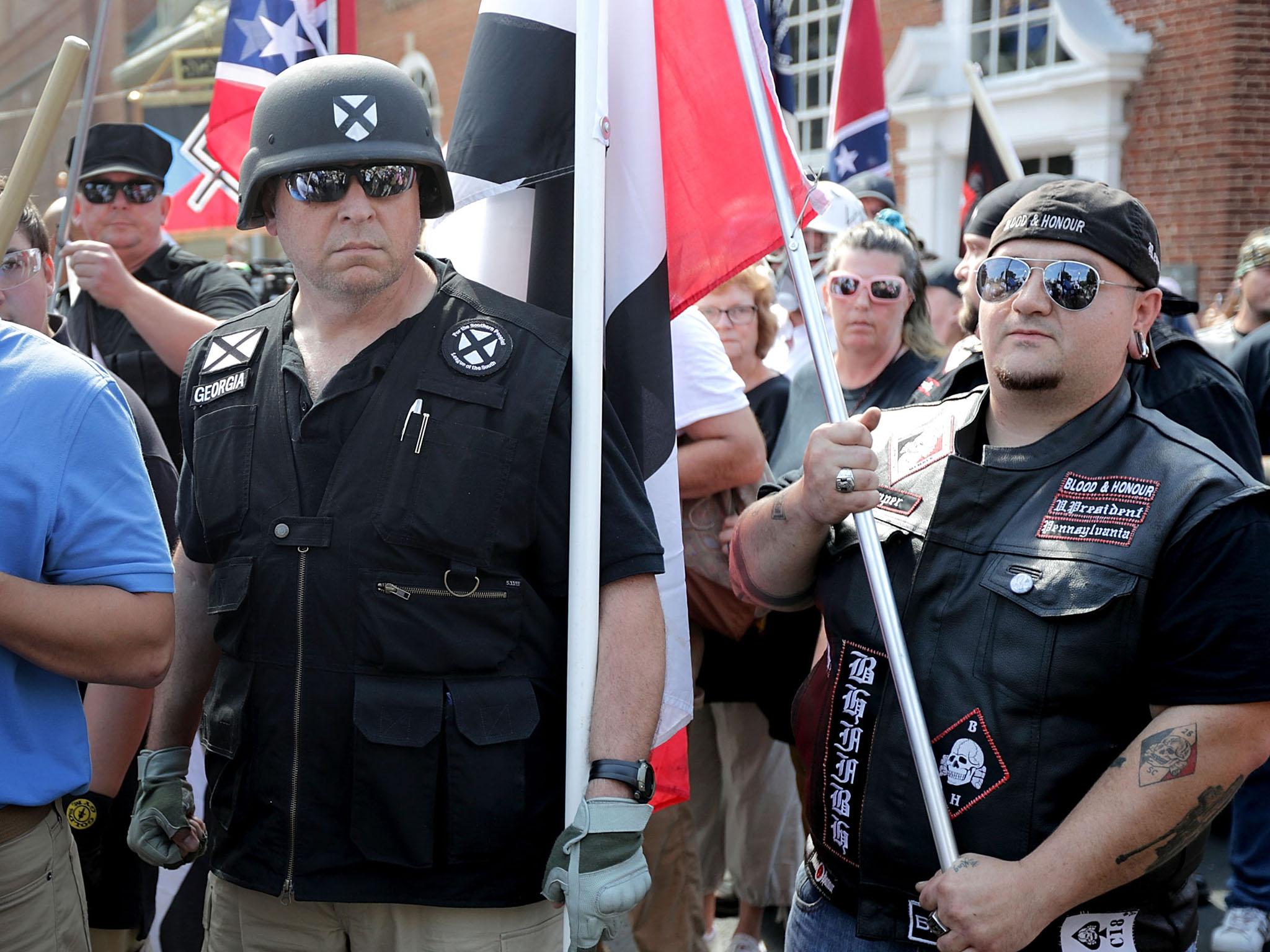 White supremacists involved in the Charlottesville violence are reportedly "terrified" about being publicly exposed, in case they lose their jobs or receive abuse online.
On Monday it emerged anti-fascist vigilantes were naming and shaming white supremacists on social media, after clashes between the two sides overwhelmed the city over the weekend.
"If you recognise any of the Nazis marching in Charlottesville, send me their names/profiles and I'll make them famous," one Twitter user requested.
The rally was the largest congregation of white nationalist groups in over a decade and saw brawls between people holding KKK banners and confederate flags and groups of anti-fascist protesters.
Following the campaign, a man was fired from his job at a hot dog restaurant in Berkeley and another has allegedly been disowned by his family over his involvement in the violence.
The frequency with which people are having their details published online - known as 'doxxing' - is reportedly a major source of concern for the Charlottesville marchers.
Keegan Hankes, an analyst at South Poverty Law Centre's Intelligence Project, said the neo-Nazi protesters were well aware it was "hard to make a living, hard to have a normal social life when all your friends and family know you believe in ethnic cleansing".
"When you see those articles that say, 'We can come out of the shadows now and we don't have to hide our identities,' that's pure bluster," he told Vice.
"That's them trying to embolden their supporters or bring more people into the fold who would otherwise be casual observers or just stay away, because they're afraid of the consequences of being involved. The truth is, they're terrified."
Hundreds of photos of white supremacists appeared online in the wake of the violence. Most of the nationalists are known to use pseudonyms and masking techniques to conceal their identities online, but the photographs have made this problematic.
Donald Trump blames both sides for Charlottesville violence
One forum user, who identified himself as a white supremacist, conceded that the thought of being outed and losing his job was a "horrifying prospect".
"The difference between Charlottesville and other public events is that the organisers were saying 'Do not come to this event without the expectation of being doxxed,'" Mr Hankes added.
Violence on the streets of Charlottesville
Show all 9
"They had some inkling [that they could be outed] given the furore in the weeks leading up to the event, where you saw things ramp up between some of the anti-fascist groups and some of the alt-righters online."
Mr Hankes also confirmed that alt-right supporters had been known to doxx each other in the past. "It is a group of malignant contrarians so they're constantly bickering with each other," he said.
On Tuesday President Donald Trump defended his response to the racially-charged protests, attacking what he called the "alt-left" and saying blame should be shared by both sides.
More than 30 people were injured and a 32-year-old woman died when a car allegedly driven by a white nationalist ploughed into a crowd of counter-protesters.
Join our commenting forum
Join thought-provoking conversations, follow other Independent readers and see their replies