Cheerleaders in critical condition after bus smashes into lorry while travelling back from high school game
Eight injured, with two in critical condition, after school bus crashes into lorry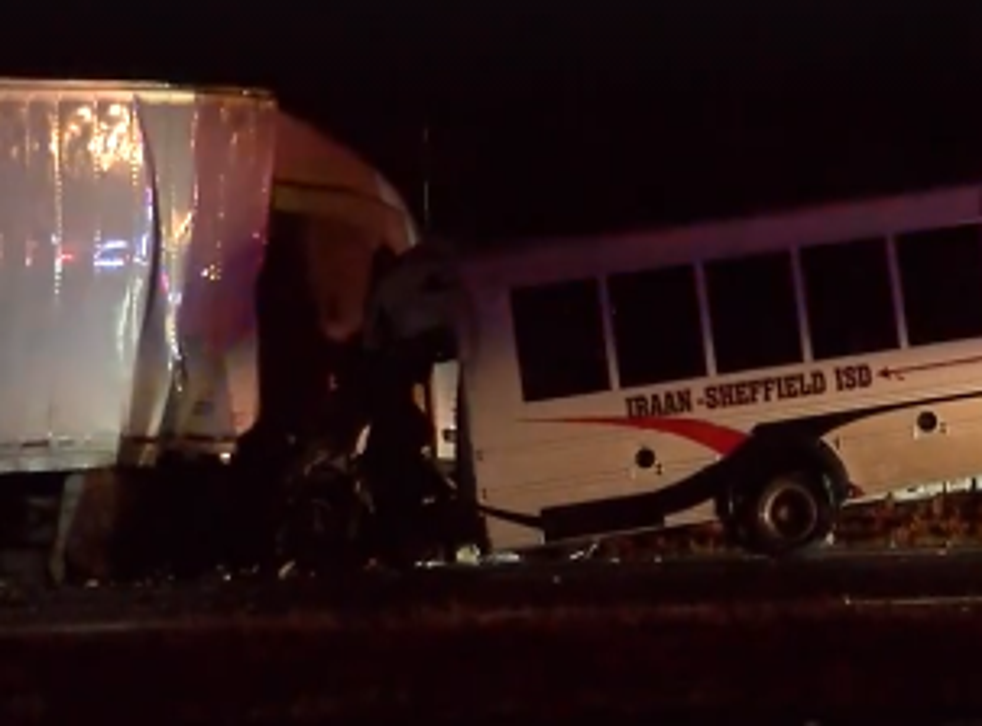 At least eight people have been injured after a bus of high school cheerleaders crashed into a lorry in Texas, according to local reports.
The bus collided with the 18-wheeler as it travelled from Colorado City back to Iraan after an American football game on Friday night.
Two people said to be in critical condition, while two others were in serious condition and four were being transferred to another hospital for further treatment, a spokeswoman at the Scenic Mountain Medical Center, told reporters.
A different spokesperson at the hospital later told The Independent all patients had left, but was unable to provide any further information.
Photos from the crash scene showed an Iraan-Sheffield school bus with its front end crumpled against the damaged side of a lorry.
The Texas Department of Public Safety said westbound lanes of Interstate 20 were closed and traffic was being diverted, local media reported.
The football team the cheerleaders had been performing alongside had reportedly won a big match the previous night.
Tara Dawn Milstead wrote on Facebook: "Please pray for the Iraan/Sheffield football team. They had a great win last night, but on their return trip home the bus carrying the cheerleaders was in an accident injuring at least eight.
"Please pray for these students, and those who witnessed it. I'm sure watching their friends be taken away in ambulance has taken a toll on them."
Join our new commenting forum
Join thought-provoking conversations, follow other Independent readers and see their replies